London Film Awards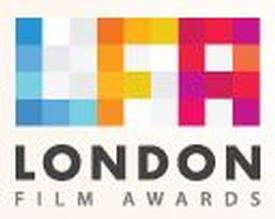 Contact
7095 Hollywood Blvd, Suite 470
Hollywood, CA 90028
(888) 704-7973 (voice)

Web: Click here
Email: info@londonfilmawards.com

Contact: Joseph Paulos, Event Director
Report Card

Overall:

n/a

(0.0/5.0)
Professionalism:

n/a

(0.0/5.0)
Feedback:

n/a

(0.0/5.0)
Signficance:

n/a

(0.0/5.0)
Report Cards:
0
Categories
Objective
As a distinguished international film competition, the London Film Awards celebrates and awards independent film's best and brightest talent spanning the globe. The London Film Awards is a medium for both fresh and masterful talent to have their extraordinary work recognized and honored before their industry peers.
Deadline/Entry Fees
| Deadline | Date | Entry Fee | Days till Deadline |
| --- | --- | --- | --- |
| Early | March 31, 2013 | $30 | |
| Regular | June 30, 2013 | $35 | 37 |
| Late | September 30, 2013 | $40 | 129 |
| Extended | November 15, 2013 | $45 | 175 |
Rules
Screenplays/Teleplays must be the original work of the applicants.
Screenplays/Teleplays that have previously won awards at the London Film Awards are not eligible for resubmission.
If a submission involves two or more writers as applicants, the award will be divided equally among them.
Applicants may submit more than one screenplay/teleplay in any chosen category. Each entry requires an application, payment and script.
Once an entry payment has been processed we cannot provide a refund.
Awards are based on overall merit of the entries. Judges reserve the right not to grant an award.
We strongly suggest that applicants register or copyright their screenplays/teleplays with the Writers Guild of America.
Applicants retain all rights to their entries.
No revisions or missing pages will be accepted once an entry has been received.
Screenplays/Teleplays should be formatted according to current industry standards. To follow standard guidelines for format, consult any popular screenwriting or teleplay writing text for assistance. Font size should be 12 point and in Courier type.
Mailed-in Submissions:
Pages may be double-sided.
Only the TITLE of the screenplay should appear on the front stock cover (legibly written or typed).
A title page with all contact information (TITLE, AUTHOR, AUTHOR'S ADDRESS, PHONE NUMBER, E-MAIL ADDRESS) should be included.
Online Submissions:
Scripts must be in PDF format under 10MB. Returns and Acknowledgements:
Screenplays/Teleplays will not be returned under any circumstances.
Please include a self-addressed, stamped postcard for each submission if you wish acknowledgement of the receipt of your screenplay/teleplay (Mailed-in entries only)
For information on awards, prizes, and success stories, please visit www.londonfilmawards.com
For any questions regarding the screenplay and teleplay competitions, please email info[at]londonfilmawards.com
Awards
The London Film Awards recognizes and awards only the most finely produced films and screenplays with honors in four distinguished tiers. The Official Jury will select one exclusive Grand Prize Winner for each official competition category, the awards' highest and most esteemed honor.
To preserve the prestige and exclusivity of the awards, only a maximum of 10 projects per competition category are honored with awards in the main awards tiers.
Award Tiers:
Grand Prize Winners
The Gold Lion Awards
The Silver Lion Awards
The Bronze Lion Awards

For productions that display exceptional quality and merit, Special Jury Awards are also presented to worthy productions at the discretion of the Official Jury.
Prizes
All Award Winners and Official Finalists are included in our annual international press release announcing the results of the competition to the international media, as well as on our website and via our targeted email newsletter. In addition, when applicable, Winners and Official Finalists will receive prize packages and benefits from our sponsors. All Winners and Official Finalists are eligible to receive our custom, beautifully crafted London Film Awards trophy as commemoration of your achievement.
Also Queued
Writers who have queued this contest have also queued:
User Comments: London Film Awards
This page is restricted to registered members only.
First-time user? Register now to receive FREE email contest updates, news, results, deadline reminders and more. Rest assured, information submitted here is held in strict confidence. MovieBytes never sells or in any way distributes email names or addresses. We promise!
Login
Forget your password? Never got one? You can have one emailed to you immediately by clicking here.
News: London Film Awards
Zero news items found.
Interviews: London Film Awards
Zero interviews found. If you've finished first, second, or third in this competition, we'd like to interview you.