Interview with Matt Dy: An Inside Look at the Austin Film Festival
by Barri Evins
I find the Austin Film Festival unique in so many ways, from the Austin atmosphere that puts everyone at ease - I've crossed paths in the halls with major writers I've admired forever, introduced myself and chatted casually - to the one of a kind combo of contest and conference. Not to mention mouthwatering barbeque! This is Matt Dy's second year as the Screenplay and Teleplay Competition Director, but he's worked for AFF in a number of capacities over the past seven years. Matt studied screenwriting at the University of Texas at Austin and has written a number of screenplays. As the Director, he is responsible for recruiting readers and judges, and reading lots of scripts for the competition. Make that LOTS of scripts! It can be a stressful job, but he loves it.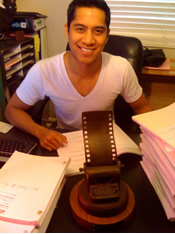 Barri Evins: Tell us a little about the origins of AFF and what makes it stand out among contests.
Matt Dy: The Austin Film Festival was founded in 1994 by Marsha Milam and Barbara Morgan (the current Executive Director). It was the first event of its kind to focus on the writer's contribution to the film and television industries. The Screenplay Competition was established the same year as the Festival and both have been integral to one another from the very beginning.
AFF has never been just another competition. The combination of the Competition and the Conference gives us a unique opportunity to put writers in direct contact with production companies, managers, agents and many others that can help them along their way. We were also one of the first contests to invite studio executives and production companies to judge the semifinalist and finalist scripts.
BE: This contest has grown in popularity very rapidly. How many submissions do you anticipate this your 18th year?
MD: Last year we received 4400 entries which was a benchmark for us. This year we expect to receive as many or hopefully more than last year.
BE: How do you find your first round readers? What are their backgrounds?
MD: Most of my readers have had many years of experience reading for AFF. I believe I have one reader who has read for almost every year of competition. Many of my readers are also writers so they understand what it's like to be in the shoes of the entrant. All readers go through a rigorous screening process including interviews and reading and evaluating test scripts.
BE: I know AFF has some truly prestigious judges. Can you name a few?
MD: In past years, Semifinalist judges have included representatives from Warner Bros., Nickelodeon Movies, ABC Studios, Flower Films, The Donners' Company, Fortis Films, Pixar Animation Studios, and many others. Finalist scripts are primarily read by established screenwriters. Previous Finalist judges have included Herschel Weingrod (Trading Places), Diane Drake (What Women Want), Alvaro Rodriguez (Machete), and Daniel Petrie Jr. (Beverly Hills Cop). Many of our judges continue relationships with our writers beyond the competition. We already have several judges confirmed this year which we'll announce soon.
BE: What are some of the special opportunities for entrants and finalists at the film festival and conference?
MD: We provide discounted registration for all entrants in the Competition. Greater benefits are provided for those that advance including access to special roundtables and exclusive panels with agents, managers, and producers. We also have a popular Pitch Competition where contestants have the opportunity to give a 90 second pitch to a panel of industry judges. One of last year's contestants got his Second Round script optioned from one of our judges after hearing his pitch in the competition. And we always have an awesome line-up for the Conference that you don't want to miss. Past panelists and honorees have included Ron Howard, Danny Boyle, Robert Rodriguez, Shane Black, David Simon, John August, Michael Ardnt, and many more.
BE: AFF is known for it's spectacular parties, but not everyone knows what spectacular opportunities these parties are for writers and why they're so uniquely Austin.
MD: Screenwriters may not have a reputation for partying but they sure do love to party here. It's not always easy to network, so we provide a relaxed, laid-back environment for our registrants to easily meet and talk with our industry guests. Many of our industry panelists from L.A. tell us that they meet and network with more people from L.A. in Austin than they do in their own city. Michael Green, the screenwriter for The Green Lantern, attended the Conference in 2009 and said "Screenwriters all live in Los Angeles, but they only seem to meet in Austin." What's great about our parties is that we have no VIP sections and everyone is given the same access, which makes our industry guests even more accessible to our registrants. Overall, we host a total of nine parties over eight days of the Festival and Conference. Our Film Texas BBQ Supper is probably our most popular party. Texas is known for its BBQ, and we don't disappoint. I also host an unofficial happy hour during the Conference for the writers and judges in the Competition. Here the writers have another great opportunity to meet and network with the judges who read their scripts.
BE: What are some of your favorite success stories?
MD: The success story that everyone remembers most is from 1994, our first year of the Competition. The winner that year was Excess Baggage, written by Max Adams. It was instantly sold after the Festival and was produced with Benicio del Toro and Alicia Silverstone starring. Back then, there were hardly any avenues for a struggling writer to get their work noticed, and we provided that in year one. Since then, we've continued that tradition each year in helping writers get recognized.
1995 winner Ron Peer's script Goodbye Lover was picked up by Gotham Entertainment. The movie stared Patricia Arquette and Dermot Mulroney and was directed by Roland Joffe.
In 1998, Finalist Richard Levine's script Happy Hour was sold and produced starring Anthony Lapaglia and Eric Stoltz.
In 2006, Brian Jung screened his directorial debut film Steel City, based on his 2003 Semifinalist script at AFF and Sundance.
After winning the Latitude Productions Award in 2008, Oren Uziel's script Shimmer Lake was optioned by Fox and now he has another script The Kitchen Sink that was optioned by Matt Tolmach, the former Columbia Pictures Co-President of Production.
In 2010, Enderby Entertainment (Daniel Petrie Jr. and Rick Dugdale's production company) acquired the 2008 Semi-Finalist script, Stranded by AFF alums Rachel Long and Brian Pittman. Rachel and Brian attended the 2008 Festival where they met the producing partners after a Conference panel at the Driskill Hotel.
Kevin Miller, 2010 Finalist in the Comedy category, signed with manager Peter Meyer through a relationship that began at the 2010 AFF. Also, Miller's action/comedy, Mother's Day was quickly optioned after the Festival by Sony producer Harry Gittes (About Schmidt).
Julie Howe, 2010 Comedy Winner for "Jasper Milliken," recently entered into a collaborative production agreement with Experience Media Studios. Michael-Ryan Fletchall will produce with Julie remaining on as co-producer.
For a complete list of success stories visit our web site.
BE: What's new at AFF?
MD: For the first time, we are now accepting pilot scripts for our teleplay competition. While specs are still used for hiring new television writers, pilot scripts have become the currency for staffing at the moment. We've already received several pilot scripts, so I'm happy that people are as excited about this as we are. We also have a new sponsor for the Sci-Fi Award category - Dark Hero Studios. The studio is the creation of David Hayter (screenwriter of Watchmen, X-Men, X2) and Benedict Carver (producer of Doomsday, Tekken). David was a judge for the Sci-Fi category in 2009 and now he's back with his own production company to judge the Semifinalist and Finalist rounds of the competition. Even in our 18th year, we still work hard to make sure that the Competition stays relevant and that we continue to set up our writers for success.
BE: What's the single question about the AFF competition you're asked most often?
MD: "When is your notification date?" is perhaps the most asked question. We send letter notifications in the mail to all First and Second Rounders by the end of August. Semifinalists will be contacted by phone at this time as well. Finalists will be contacted by mid-September and the winners will be announced at the Awards Luncheon during the Conference on Saturday, October 22.
To enter the AUSTIN FILM FESTIVAL SCREENPLAY & TELEPLAY COMPETITION:

Visit our website at www.austinfilmfestival.com for more information.

Screenplay Regular Deadline: May 15 $40
Screenplay Late Deadline: June 1 $50
Teleplay Regular Deadline: June 1 $30


Good luck!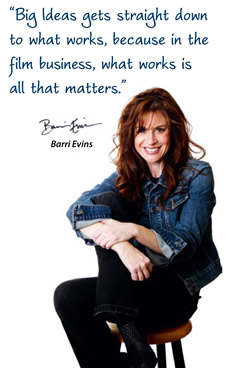 REVOLUTIONIZE THE WAY YOU CREATE!
A working film producer who's sold pitches and specs to all the majors, Barri Evins created BIG IDEAS to give aspiring screenwriters what it takes to achieve their dreams by sharing the techniques she uses with highly paid pros on big league projects. The Big Ideas Screenwriting Seminar revolutionizes the way you write. Create ideas that ignite industry interest. Master tools to craft a successful script faster than you dreamed possible. The seminar includes Barri's mentorship for a year. Follow Big Ideas on Facebook.
NEXT UP:
The BIG IDEAS SEMINAR Weekend takes on 2012!
BOSTON January 20-22 SOLD OUT
CONNECTICUT January 27-29 location TBA
BOSTON MASTERS February 3-5 open only to previous students
BIG IDEAS in LOS ANGELES and WASHINGTON DC are in the works! Interested? Email us!
For more info or to grab your spot contact info@bigBIGideas.com.
Learn more at www.bigbigideas.com.
Find tips and updates at BIG IDEAS for Screenwriters on Facebook.
Sign up for the Big Ideas Newsletter
: Next -
Contests, Contests Everywhere
- learn Contest Secrets, Keep Your Eye on the Prize: Choosing the Right Contest, reveal who was crowned Contest Judge of the Year and more.
Check out our previous What's Next? Newsletter packed with videos, podcasts and pointers.