Interview with Shelly Mellott: An Inside Look at the Big Break Screenwriting Contest
by Barri Evins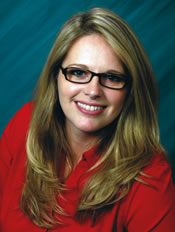 Shelly Mellott has been the editor of Script magazine for over 17 years. She sold the magazine and its ancillary products to Final Draft, Inc. in 2006. Now she serves as a vice president for Final Draft, Inc., overseeing the magazine and several ancillary products, including the Big Break Contest. When not hard at work for screenwriters, she is a mother, avid dressage rider, and member of a pug rescue.
Barri Evins: Tell us a little about the origins of Big Break and what makes it stand out among contests.
Shelly Mellott: The Big Break Contest was founded by Final Draft, Inc. 11 years ago. The goal for the company was to find a way to help scriptwriters find success in an increasingly impenetrable industry. Using the company's name, long history, and connections, we've been able to open many doors for our winners and finalists. A long list of success stories can be found on: http://www.finaldraft.com/products/big-break/.
BE: This contest has grown in popularity very rapidly. How many submissions do you anticipate this, your 12th year?
SM: Given the rate at which we are currently receiving entries, we expect to eclipse the 4,000 mark this year.
BE: How do you find your first-round readers? What are their backgrounds?
SM: Our first-round readers are all working industry analysts. We're very strict about our policy of hiring readers with at least five years experience working for a name producer, agent or manager. We require those years of experience because we want readers who have spent time learning what kinds of scripts industry execs require. We want to find the very best entries that are worthy of industry attention. Last year, our readers proved their worth by finding three winners who almost immediately gained industry representation.
BE: I know Big Break has some prestigious judges for your final five scripts. Can you drop some names?
SM: Last year, the judging panel consisted of Palak Patel of Roth Films, Mitch Solomon of Magnet Management, Todd Garner of Broken Road Productions, Jewerl Ross of Silent R Management, Kirsten Smith (Legally Blonde, 10 Things I Hate About You, Ella Enchanted, The House Bunny), Jeff Graup, CEO of Graup Entertainment, and Brian Spink, formerly of BenderSpink. Other notable judges from past years include Eric Williams of Zero Gravity, Laura Perez and Katharyn Bond Márquez of Converge Entertainment, LLC, Simon Kinberg (Mr. & Mrs. Smith, X-Men: The Last Stand, Sherlock Holmes), Antwone Fisher (Antwone Fisher, ATL), Bobby Moresco (Million Dollar Baby, Crash), Christopher Lockhart, executive story editor at ICM, and Michel Shane, executive producer of I, Robot and Catch Me If You Can.
BE: Tell us about the prizes you've put together for the Three Finalists.
SM: The winner receives $15,000 in cash, a 4-week Filmmaking class from NYFA, and a trailer for his/her script produced by NYFA. Second and third place receive $4,000 and $2,000 respectively. The top three also receive round-trip airfare and a three-night luxury hotel stay in Beverly Hills, an industry breakfast with screenwriter/producer Pen Densham, a mentoring lunch with producer Marvin V. Acuna and several other execs, and extended ScriptXpert Coverage. All three are also awarded their prizes at the Final Draft, Inc. Annual Award Event at the Paley Center for Media in Beverly Hills.
Other finalist prizes that the top three receive include Final Draft software, a one-year Script magazine subscription, a one-year MovieMaker magazine subscription, a one-year Writers Database membership courtesy of Script P.I.M.P., a Gotham Writers' Workshop 10-week class, StoryO from Jungle Software, a one-year subscription to BOSI's Meeting with the Masters Series, a Pitch Perfect video pitch from StoryLink.com, a $50 gift certificate from The Writers Store, a one-year Tier 1 subscription to ShowStarter Scheduling & Budgeting Plus, a Newmarket Press screenplay book, and a free Big Break Contest entry for 2012.
BE: After the Top Three Finalists are announced, what kind of industry attention can they expect from producers, agents and managers?
SM: Our Top Three Finalists garner a great deal of attention. Last year, our first and second-place winners gained representation before they even left Los Angeles. The third-place winner was repped just a few weeks later by both an agent and a manager. All of the representations were a result of the personal meetings we set up at the executive lunch, with the judges, and at the Award Event.
BE: Tell us about the Producers Lunch, a truly special opportunity for the top three. Marvin Acuna is a prolific and very business-savvy producer. Who else might the finalists expect to break bread with?
SM: At this time we don't have specific commitments. As you know, execs' schedule change a great deal and we try to schedule them about two months out from the lunch. Last year's guests included execs from Twentieth Century Fox, The Gersh Agency, and Silent R Management (who now reps last year's winner). We also did a practice pitch meeting with Endeavor co-founder turned manager/producer David Greenblatt (Battle: Los Angeles).
BE: I know you throw an awesome awards party, in a cool location, attended by final-round judges and industry folks. Plus you present an award to a famous writer. I've been to several of these, had great fun, and heard some memorable advice from the pros. What's the Award Event like for the Big Break winners?
SM: The top-three winners are brought to the Paley Center for Media in Beverly Hills via limo. They arrive at the event and walk the red carpet, having their pictures snapped by press. They then mingle for about an hour with the many industry guests. It was during this mingling time that our third-place winner Larry Brenner connected with judge Palak Patel of Roth Films. Brenner is now doing rewrites on his script for that company. The winners also get to meet the Hall of Fame Inductee, who was Aaron Sorkin in 2010. They then receive their awards at the ceremony in the Paley Center theater and spend the rest of the evening meeting and greeting industry people and fellow writers. Most of them classify the evening as "unforgettable."
BE: What's your favorite winner's success story?
SM: I've only been running the contest directly since early last year, so it would have to be one of the 2010 winners. I think it would be Mick Connolly who traveled all the way from Melbourne, Australia. He came in a close second and was a bit disappointed. But the day after the awards, we took the three winners to a practice pitch meeting with Endeavor co-founder turned manager/producer David Greenblatt (Battle: Los Angeles), and Greenblatt loved Connolly's pitch! There was an instant connection and not only did Greenblatt sign Connolly, William Morris Endeavor agent Danny Greenberg signed him as well. What a story!
BE: What's new at Big Break?
SM: We have two exciting additions to the Big Break Contest prize list. First, the winner will receive a four-week filmmaking class from NYFA and assist NYFA students in creating a trailer for the winning script. That trailer will be shown on the Final Draft and Scriptmag.com websites. Additionally, screenwriter/producer Pen Densham will be hosting an industry breakfast in Beverly Hills where the winners have another chance to network and get invaluable advice. Also new this year is our custom-designed online entry system, which is a very easy to use three-step process.
BE: What's the single question about the Big Break competition you're asked most often?
SM: People are very interested in who will be reading their script. As I explained, these are industry professional readers. They are not going to leak your script or steal your idea. If they did, their career as a reader would be over, not only with our contest but also with the other companies for which they read. People also ask about story rights. Unfortunately, we cannot offer them legal advice about the availability of rights to songs or life stories. It is important that you know you own the rights to the story you are telling before you enter. If you gain representation from the contest, your agent or manager is going to want to sell your script and he or she cannot do that unless the rights are free and clear. If there is any question, your money is well-spent consulting an entertainment attorney.
To enter Big Break, visit http://www.finaldraft.com/bigbreak. The deadline is June 1 to enter for $50. The extended deadline is June 15 and that entry fee is $65.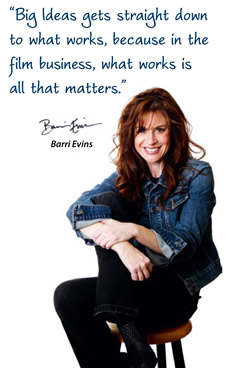 REVOLUTIONIZE THE WAY YOU CREATE!
A working film producer who's sold pitches and specs to all the majors, Barri Evins created BIG IDEAS to give aspiring screenwriters what it takes to achieve their dreams by sharing the techniques she uses with highly paid pros on big league projects. The Big Ideas Screenwriting Seminar revolutionizes the way you write. Create ideas that ignite industry interest. Master tools to craft a successful script faster than you dreamed possible. The seminar includes Barri's mentorship for a year. Follow Big Ideas on Facebook.
NEXT UP:
The BIG IDEAS SEMINAR Weekend takes on 2012!
BOSTON January 20-22 SOLD OUT
CONNECTICUT January 27-29 location TBA
BOSTON MASTERS February 3-5 open only to previous students
BIG IDEAS in LOS ANGELES and WASHINGTON DC are in the works! Interested? Email us!
For more info or to grab your spot contact info@bigBIGideas.com.
Learn more at www.bigbigideas.com.
Find tips and updates at BIG IDEAS for Screenwriters on Facebook.
Sign up for the Big Ideas Newsletter
: Next -
Contests, Contests Everywhere
- learn Contest Secrets, Keep Your Eye on the Prize: Choosing the Right Contest, reveal who was crowned Contest Judge of the Year and more.
Check out our previous What's Next? Newsletter packed with videos, podcasts and pointers.