Interview with Jim G. Sarantinos:
An Inside Look at The High Concept Screenplay Competition
by Barri Evins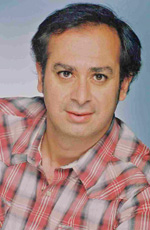 Jim G. Sarantinos began writing poetry and limericks at age eight and finally graduated to TV and features. He began coordinating the High Concept Screenplay Competition in 2009. Last year he became the director of the Hollywood Outreach Program for the Scriptwriters Network, which provides extensive script analysis and development notes for feature scripts. Promising scripts are recommended to over 50 agents, managers and producers, as are the winners of the High Concept Screenplay Competition.
Jim enjoys taking photographs of the beautiful deco buildings in Los Angeles, riding his bike (even on freeways), working out at LA Fitness, studying Buddhism, meditating and practicing yoga at his beloved Runyon Canyon.
Barri Evins: Tell us a little about the origins of the High Concept Screenwriting Competition and what makes it stand out among contests.
JGS: It really evolved from the mission statement of the Scriptwriters Network; writers helping writers gain access to the industry. We regularly receive enquiries from the industry looking for quality scripts and writers. That gave us the initial impetus to run a contest. We are also frequently asked "what sort of material are producers looking for?" Rather than answering with a ubiquitous "good material", the term "high concept" was bandied about. We differ from other contests because they tend to be genre or theme based, while ours is concept based. We also know that studios love this type of material.
BE: I'm just going to ask the question everyone wants to ask right off the bat. What's "high concept?" I spend a lot of time teaching the power of concepts to catapult writer's careers and find that many writers aren't clear on what this term means - especially since it's such a misnomer! What should writers know when trying to decide which script to enter so they have the best chance of winning?
JGS: High concept is a term often used, but little understood. In a nutshell, can you pitch the idea in a single sentence and visualize a movie? These films tend to be larger concept/plot driven movies rather than character driven. This is vital for writers to understand because "high conceptness" is one of the ten judging factors.
BE: This is the contest's second year. How many submissions do you anticipate?
JGS: We received many more entries than we anticipated last year (especially on the deadline) and expecting to double that this year. Entries came from Australia, UK, India, Greece, Sweden, the Netherlands and USA, so we are truly global. That's the beauty of high concept. Everyone on the planet "gets it."
BE: What's the judging process like? What are the first round readers' backgrounds?
JGS: We are thorough and put our readers through the wringer. We can't thank our readers enough. All reads are blind so neither reader nor writer knows who's reading what or whom. Unlike some contests, our readers are required to read the entire script. Every script receives at least two reads in the first round to help reduce reader bias and identify outlying scores. We introduce a third tie breaker reader if necessary. The highest rated scripts then proceed to the second round with new readers. Then we introduce new readers at each further stage to perform the difficult task of whittling the number of entries to 15 semi-finalists, 10 finalists and 3 winners. We're proud of the fact that each script has so many eyes judging it, so every entry gets a fair chance of success by reducing reader subjectivity.
BE: I know the High Concept Screenwriting Competition has some prestigious industry judges for your Top Three scripts.
JGS: We're honored to be working with industry heavyweights with seriously enviable credits, script instructors and consultants around town who manage to slot us in during/ between writing assignments and productions.
BE: While some contests emphasize big prize money, you have created some very unique opportunities for the Top Thirty screenwriters. I know they had me salivating!
JGS: Yes, indeed. We didn't want to create another contest with mega bucks prize money and swag, although our sponsors have kindly donated the software bundles for the winners. The top 30 ranked entries receive free submission to DreamAgo's contest for their Plume & Pellicule screenwriting workshop in Switzerland. Imagine attending a writers' retreat in a Swiss castle!
BE: What kind of industry attention can the 1st, 2nd and 3rd place winners expect?
JGS: Apart from the lavish praise and online promotion by the Scriptwriters Network, the winning scripts are forwarded to respected companies including Lionsgate, Sony Pictures, and Warner Bros.
BE: The winners also receive membership in the Scriptwriters Network, a nonprofit, volunteer-driven organization created by writers for writers that's been around since 1986 and created the contest. What are the benefits of SWN membership?
JGS: The mission of The Scriptwriters Network is to serve its members by enhancing their awareness of the realities of the business, providing access and opportunity through alliances with industry professionals, and furthering the cause and quality of writing in the entertainment industry.
To serve this goal we hold three events each month, at Universal Studios, CBS Radford Studios and the Showbiz Café. These include industry panel discussions and craft based workshops. Members receive free entry to all these events. We also hold a monthly mixer at the X-Bar in Century City. We have the Hollywood Outreach Program for feature writers and the Television Outreach Program for television writers. As part of our community outreach, we also hold a Youth Fellowship Program where younger writers complete a short film script. As we continually raise our profile in the industry, our members have a greater chance of being noticed by heavy hitters and succeeding in the industry. Never underestimate the importance of networking. After all, we're a communication business.
BE: What's your favorite winner's success story so far?
JGS: Things are in the works for our winners, but nothing is yet finalized. However, one of our recent winners of the Hollywood Outreach Program, Kevin Miller, had his script "Happy Mothers Day" optioned by a Sony-based producer. There's a director attached and after numerous rewrites, his script is finally going out to talent.
BE: What's new at High Concept Screenplay Competition?
JGS: This year we added a third monthly event for our members at the beautiful Showbiz Café on Sepulveda in Westwood to make it convenient for writers who don't live in the valley. We also began hosting Scriptwriting Marathons at Bricks and Scones Café in Larchmont Village and write from open to close for three solid days.
BE: What's the single question about the High Concept Screenplay Competition you're asked most often?
JGS: Do you think my script has a chance of winning? Yes! If they can define a single controlling concept in a single sentence or less, then they should enter. Any genre can have high concepts, so the point is to focus on the overall idea.
BE: What other advice can you give to writers?
JGS: As with all feature scripts, define your controlling idea before you start writing. What is the scope of the theme? Think about it as a court case with for and against arguments each conflicting with each other. Don't underestimate the simplicity of a single thematic throughline. Ensure you've nailed your protagonist and antagonist and keep them constant. I've read too many scripts with multiple themes and a bunch of characters making decisions and driving the story in too many directions. Also, raise the stakes. Raise the danger. Even in high concept comedy. Otherwise your script is a flat, episodic series of inconsequential events.
To enter the High Concept Screenwriting Competition, visit:

www.scriptwritersnetwork.org/high_concept_SP_competition.html

Early bird deadline - 31 October 2011 - $45
Regular deadline - 30 November 2011 - $55
Extended deadline - 15 December 2011 - $70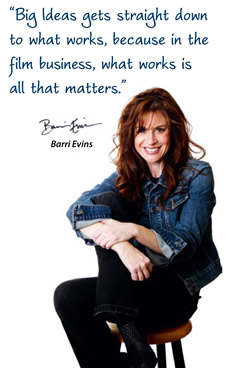 REVOLUTIONIZE THE WAY YOU CREATE!
A working film producer who's sold pitches and specs to all the majors, Barri Evins created BIG IDEAS to give aspiring screenwriters what it takes to achieve their dreams by sharing the techniques she uses with highly paid pros on big league projects. The Big Ideas Screenwriting Seminar revolutionizes the way you write. Create ideas that ignite industry interest. Master tools to craft a successful script faster than you dreamed possible. The seminar includes Barri's mentorship for a year. Follow Big Ideas on Facebook.
NEXT UP:
The BIG IDEAS SEMINAR Weekend takes on 2012!
BOSTON January 20-22 SOLD OUT
CONNECTICUT January 27-29 location TBA
BOSTON MASTERS February 3-5 open only to previous students
BIG IDEAS in LOS ANGELES and WASHINGTON DC are in the works! Interested? Email us!
For more info or to grab your spot contact info@bigBIGideas.com.
Learn more at www.bigbigideas.com.
Find tips and updates at BIG IDEAS for Screenwriters on Facebook.
Sign up for the Big Ideas Newsletter
: Next -
Contests, Contests Everywhere
- learn Contest Secrets, Keep Your Eye on the Prize: Choosing the Right Contest, reveal who was crowned Contest Judge of the Year and more.
Check out our previous What's Next? Newsletter packed with videos, podcasts and pointers.