Interview with Zoe Simmons: An Inside Look at the PAGE Awards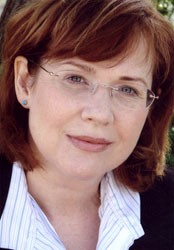 A multi-lingual former military kid, Zoe Simmons was raised all across the U.S., Asia, and Europe, and in the process attended a total of 13 different schools. She received her university degree in English with a minor in Film, and has spent the last 15 years working for a number of production companies in Hollywood, where she does her best work quietly and efficiently behind the scenes. Zoe has found her "home away from home" at the PAGE Awards and happily returns again this year as Contest Coordinator. In this position she processes all script submissions, handles customer relations, oversees and reviews all Judges' Feedbacks and scores, and keeps the contest running ship-shape and on schedule. Zoe would be the first to tell you: She loves her job!
Barri Evins: Tell us a little about the origins of the PAGE Awards. What inspired the creation of this contest?
Zoe Simmons: The PAGE International Screenwriting Awards contest was conceived by a team of Hollywood professionals nine years ago. This handful of industry professionals, all looking for new material, banded together with the idea that bringing global talent to Hollywood's attention via a high-end genre contest would provide a niche service that both they and the studios and production companies need - namely, the development of new writing talent from around the world. At the same time, it would give screenwriters who are not "connected" in the industry an opportunity to get their work read and considered by top industry professionals who are actively looking for new material.
The PAGE Awards has remained consistent with this vision over the years, and I believe this is what sets us apart. While some screenwriting contests may have talked about providing this kind of professional connection, none were really focused on discovering and promoting the type of genre material that Hollywood producers, agents and executives are actually seeking. So although those contests may give prizes to scripts that are very well written, often those scripts are not what the industry is really looking for.
Our aim here at the PAGE Awards is to both nurture aspiring screenwriters and help teach them what Hollywood is looking for - and at the same time to become the "go-to" resource for industry professionals who are searching for talented new writers and exciting new scripts to produce. Happily, as our reputation has continued to grow, that's exactly what's happening. The pros are now coming to us, looking for the next great project to produce and the next new wunderkind writer!
BE: It's exciting that the industry is coming to PAGE for scripts. Who is doing the asking and what kind of requests do you receive?
ZS: Almost every week we receive requests from various literary managers, agents and production companies who are looking for a certain type or genre of feature script or television pilot, as well as from independent producers in search of new features and short films to produce.
When requests come in, we always ask what genre of material that company is specifically interested in, and also what their parameters are regarding cast, location and budget, so we can help target their wish list to maximum effect.
What's particularly "hot" at the moment are the microbudget scripts that can be made on a super small budget, "contained" action scripts or thrillers set in one or two locations, big-budget summer "tentpole" movies, all kinds of comedies, and TV pilots. It's very interesting, although they started out as smaller categories that received few requests, over the past couple of years the demand for our TV Pilots has grown exponentially as the TV market has opened up. But really, we get all kinds of requests with varying budget and cast requirements, and the requests are as diverse as the scripts we receive.
Happily, our Judges and Executive Staff all have long memories where screenplays are concerned, so we can often recommend scripts that will perhaps fit the bill even if they weren't in the Winner's Circle that year. So not only our Winners, but also many of our Finalists and Semi-Finalists receive requests for their scripts, and end up getting optioned or signed as a result.
BE: Speaking of which, you have a very long and impressive list of success stories on your website. What are some of your favorite success stories?
ZS: Well, I am someone who believes in celebrating not just the big successes, but also the small successes along the way, so I'm always thrilled when I see a script entered year after year with better and stronger re-writes suddenly start to get some interest from the Judges and advance further than ever before. That, to me, is a huge win, and worth celebrating, because it shows that the writer is really working and growing, developing a stronger sense of craft and gaining chops. To me, it's very exciting to watch talented writers challenging themselves to climb to the next level of professionalism.
As far as our major success stories go, honestly, there are so many exciting things happening for so many of our Winners, it's hard to pick a favorite. A few that come to mind...
After winning his Gold Prize in 2010, John Scott III was signed by CAA. John's PAGE Award-winning script MAGGIE is now in pre-production and he has landed two major writing assignments, one for Fox and one for Warner Bros.
Simeon Goulden, our 2008 Gold Prize Winner in the TV Sitcom Pilot category, was signed by an agent in London shortly after his PAGE win, wrote several episodes of a couple of different TV shows in the U.K. and U.S., and just had his original sitcom series SPY produced for SKY 1 TV.
Our 2007 Bronze Prize-winning Drama DONOVAN'S ECHO, by Canadian writers Jim Cliffe and Melodie Krieger, was filmed on location in Vancouver, starring Danny Glover. The movie is now making the rounds of the film festivals and will be distributed by Union Pictures.
Our 2010 Bronze Prize-winning Thriller BAD KARMA, by Steve Allrich, was recently filmed on location in Australia, starring Ray Liotta. The movie is now in post-production and will be distributed by Anchor Bay Films.
To really grasp the scope of how well our Winners are doing, you really need to take a look at all the Success Stories pages on our website. Watching all these great things happening is both extremely exciting and truly gratifying for us.
BE: Obviously the fact that you have the contest divided up into genre categories can make a huge difference in the attention a script gets, and ensure that it's judged fairly by going head-to-head with material in similar genres. How do your categories work?
ZS: From the very beginning, the idea of breaking down entries into genre categories was very important to our Executive Staff and Judges - they felt that scripts really should be judged "apples to apples" and not "oranges to apples to nuts." How is it fair to judge a comedy against a sci-fi script against a thriller equally? Bottom line, it's not!
So, the idea of the genre judging was really developed here at the PAGE Awards. And it fits the paradigm of Hollywood, as well, because Hollywood is a genre town. That's a big reason why so many industry professionals come to us looking for material - because our scripts have already been broken down into genre categories. In fact, our concept of genre judging has been so successful that many other contests have now followed suit.
Also, and most importantly, our Judges choose the genres they wish to judge, so they only evaluate scripts in the genres they know and love. This gives our contestants a leg up, as the Judges are pre-disposed to like their work.
That said, the Judges are also very discerning about the genres they read. Many of them are literally walking film libraries, and they have a great deal of knowledge about the history of movies and television, as well. As a result, they select truly excellent scripts to move forward in the competition.
BE: It's impressive that you have all working professionals every step of the way! Tell us a little about your Judges and the Judging process. How do they evaluate scripts? How many times can a writer expect their script to be read?
ZS: Thanks, Barri! Yes, our Judges do a terrific job - and they're a huge part of the reason why the PAGE Awards contest has been so successful.
There are some Judges who love to come back and read for us on a regular basis, but we also have new Judges coming on board each year. The contest has generated so much great "buzz" in the industry, we're always happily fielding emails and welcoming new Judges who are looking for exciting new scripts to champion and produce.
Our Judging Process is very detailed, and we explain it thoroughly on the Judging Procedure page of our website. But among the key elements...
All of our Judging is completely anonymous. Our Judges receive only the script, along with the title, script number, and the category(ies) it is being judged in, so it is a fair and unbiased process.
In the First, Second, and Third Rounds, entries are judged by professional industry script readers, screenwriters, and script consultants, all of whom are very adept at evaluating submissions. Most importantly, we pay them for their time to make sure every script is fairly evaluated. This assures that all the entries will be thoughtfully read and evaluated, which is key in judging any contest.
In the Semi-Final and Final rounds, because the submissions have already been narrowed down to the "best of the best" by industry professionals, we have dozens of agents, managers and producers wanting to judge for us so they can get first look at those top scripts. They know our Finalists' scripts are always very strong, so they want a sneak preview before the results are announced and the winning writers are snapped up by someone else!
Each step of the way, the Judges' scores are added up and tallied into the final cumulative score, with five possible Rounds of Judging if your script keeps moving forward in the contest. So each script that makes it to the Final Round of competition receives a minimum of five reads from industry professionals. That's a lot of good exposure for those scripts, and as a result, not only our Winners, but also quite a few of our Finalists end up being contacted by one of our Judges and offered representation or an option agreement.
So it's a win/win all round, and a very exciting process to be a part of.
BE: In addition to having a lot of categories, PAGE also gives away a lot of prizes - in fact as many as the fabled Baskin Robbins has flavors! And you give away lots of dollars, as well. Tell us about PAGE prizes and how they impact your winners.
ZS: It's true, I think we award more prizes and more prize money than almost any other contest out there! Each year we present 31 Awards - our $25,000 Grand Prize, plus Gold, Silver & Bronze Prizes in each of our ten genre categories - for a total of over $50,000 in Cash & Prizes. Not only does this give every contestant a very good and fair chance of winning, but it also gives our Judges the ability to honor different types of scripts within each genre.
For example, in the comedy category our Judges can award prizes to a wonderful broad comedy, a wonderful satire and a wonderful rom-com - they don't have to select just one. And ultimately, we find that many of our Silver and Bronze Prize Winners do every bit as well in terms of career success as our Gold and Grand Prize Winners. So we're very happy to be able to acknowledge and promote so many talented writers across the board.
Bottom line, more than the money and the prizes, all the publicity that our Winners receive is really what matters most, because that's what gets them reads and meetings that can truly launch their careers. So the money becomes secondary, believe it or not.
BE: I know that 2012 is the 9th Anniversary Year of the PAGE Awards. How many submissions do you anticipate you'll receive this year?
ZS: Well, we never know exactly where we'll end up when the year begins, of course. But for the past few years we've consistently received over 4,000 scripts, submitted from all across the United States and more than 60 foreign countries, so we anticipate around that same amount this year - or perhaps a little more.
We do keep detailed statistics each year and, once all the final entries are in, our Administrative Director, Jennifer Berg, sends an email to our contestants listing the numbers of entries broken down by genre, so the writers can see exactly how many scripts they're up against in their category.
Jennifer also puts together a very cool Contestant Google Map so you can see how many writers entered from each state and each country. It's a lot of fun, and always a big hit with our contestants.
BE: I see you have the option of adding Professional Feedback to a contest entry. That can be a huge bonus for contestants. And I'm honestly blown away by how reasonably priced your Script Services are.
ZS: Thanks, Barri! We know that many writers have to work hard to make ends meet, so we try to keep all of our prices as low as possible.
Although writing Feedback is a huge undertaking for our Judges amidst the hustle and bustle of the contest, we believe that it's very important to provide this service to encourage, educate, and support our contestants. Plus, all professional screenwriters get notes on their scripts throughout their career, so learning to receive notes with equanimity and the "hide of an elephant" is a crucial step in every writer's development.
And while it may sound corny, every year I receive many emails from contestants saying that the Judge's Feedback they received was the best part of the whole experience, and that they feel like the real "win" was getting so many great insights and ideas from our Judges. We love to hear that, because as all the pros will tell you, the real work of screenwriting is in the re-writing. This business is a marathon, not a fifty-yard dash, and we want to turn our writers into marathon runners.
BE: I know you receive a ton of email from writers. What's the single question you're asked most often?
ZS: Probably the question I'm asked most often is "How do I get an agent or manager to help me sell my script?"
It's often extremely difficult for writers who live outside L.A., who don't win a contest, or who are not somehow "connected" in the industry to even get their query letters read and answered, much less get their scripts read by Hollywood representatives. In fact, we've been hearing about this difficulty for such a long time, we've now created a brand new program to help solve the problem! Through our parent organization, Production Arts Group, writers can now sign up for "eMeetings," where we personally introduce you to Hollywood representatives currently in search of new talent.
It's totally groundbreaking - no other contest or anyone else in Hollywood is doing anything like it. For most writers, in this tough economy it's not a reality to quit their job and come to Hollywood to pursue the chance at a career. But with eMeetings, it can all happen right from wherever you live.
We've received incredibly positive feedback from both writers and reps about this new program. If you're interested in learning more, you can read all the details at productionartsgroup.com.
Bottom line, the most telling testimony? Two writers have already been signed as a result of eMeetings - both of whom are based outside of L.A. - and the program is just a few weeks old! We cannot wait to see what will happen as time unfolds.
BE: That sounds very exciting. And I know you have a whole array of other services you provide to writers, as well.
ZS: Yes, our overall goal here at the PAGE Awards is not simply to have a contestant enter one year and that's it - "wham, bam, thanks for your dough" and "buh-bye!" Rather, we try to nurture talent over the course of time.
So in addition to the contest, we also offer some extremely informative publications and helpful services through our website, including our wonderful bi-monthly eZine LOGLINE, which you can subscribe to free of charge; our awesome new eBook The Insiders' Guide to Screenwriting, written by ten of our top Judges; our terrific array of Script Services, where writers can receive professional level notes and marketing packages to help them develop and market their work; and now also the Production Arts Group arm of the PAGE Awards, where we introduce talented new screenwriters to Hollywood representatives who are actively looking for new scripts and new writers.
So it's really a full spectrum, "one-stop" screenwriting experience that provides writers with what they need on multiple levels, helping them develop a mastery of art, craft and business, so they can compete in the professional arena.
To enter the PAGE Awards competition visit http://pageawards.com.
Early Entry Deadline: January 15th $39
Regular Entry Deadline: March 1st $49
Late Entry Deadline: March 31st $59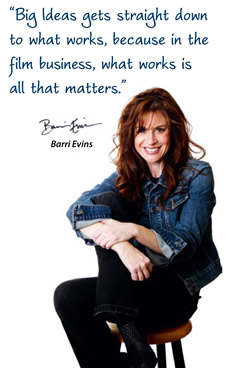 REVOLUTIONIZE THE WAY YOU CREATE!
A working film producer who's sold pitches and specs to all the majors, Barri Evins created BIG IDEAS to give aspiring screenwriters what it takes to achieve their dreams by sharing the techniques she uses with highly paid pros on big league projects. The Big Ideas Screenwriting Seminar revolutionizes the way you write. Create ideas that ignite industry interest. Master tools to craft a successful script faster than you dreamed possible. The seminar includes Barri's mentorship for a year. Follow Big Ideas on Facebook.
NEXT UP:
The BIG IDEAS SEMINAR Weekend takes on 2012!
BOSTON January 20-22 SOLD OUT
CONNECTICUT January 27-29 location TBA
BOSTON MASTERS February 3-5 open only to previous students
BIG IDEAS in LOS ANGELES and WASHINGTON DC are in the works! Interested? Email us!
For more info or to grab your spot contact info@bigBIGideas.com.
Learn more at www.bigbigideas.com.
Find tips and updates at BIG IDEAS for Screenwriters on Facebook.
Sign up for the Big Ideas Newsletter
: Next -
Contests, Contests Everywhere
- learn Contest Secrets, Keep Your Eye on the Prize: Choosing the Right Contest, reveal who was crowned Contest Judge of the Year and more.
Check out our previous What's Next? Newsletter packed with videos, podcasts and pointers.