Updated: 01/27/2023
Final Draft has announced the Grand Prize Winners of the 2022 Big Break Screenwriting Competition.
Upcoming Contest Deadlines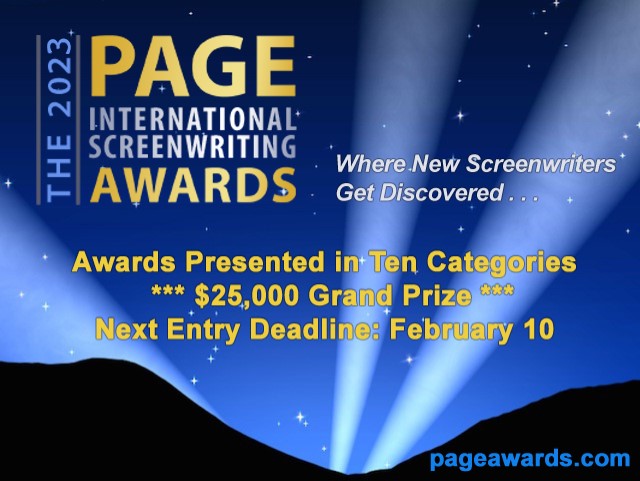 Screenwriting Contest News
CineStory has announced their Original Drama, Comedy, and Sci-Fi/Fantasy division quarterfinalists for the 2023 TV Retreat & Fellowship Contest. Quarterfinalists advance to the semifinalist round, after which there will be another round of judging to determine finalists and division winners. Division winners advance to another judging round to determine the 2023 TV Fellow. [Updated: 01/14/2023]
The Santa Barbara International Screenplay Awards Diverse Writers Outreach has named Tennessee Martin as the winner of their Fall, 2022 Screenwriting Competition, [Updated: 01/13/2023]
Final Draft has announced their Feature and TV category winners for the 2022 Big Break Screenwriting Competition. [Updated: 01/05/2023]
The Kairos Prize, sponsored by The Timothy Plan and Movieguide® has announced the top 10 semifinalists for their 2022-2023 competition. The semifinalist screenplays will be sent to industry leaders for evaluation for the $15,000 grand prize winner. The top 3 scriptwriters will be invited to the Movieguide® Awards Gala and Report to the Entertainment Industry on Feb. 10, 2023, where the grand prize winner will be announced. [Updated: 12/27/2022]
Denise Meyers' Letters from Home has been named the winner of the 2022 Scriptapalooza Fiction Podcast competition. She'll be awarded $1,000 along with a production of her podcast, which is about star-crossed lovers during World War II who fight to keep their relationship alive through impassioned letters, despite distance, forbidden secrets, and the siren call of new romance. [Updated: 12/19/2022]
James Nagel's Back2Good has been named the Best Screenplay Winner of the November Wiki Screenplay Contest. The Best TV and Short Script winners have also been announced. [Updated: 12/12/2022]
Contest Finalist?
Subscribe to WinningScripts PRO to put your loglines and script excerpts in front of hundreds of industry professionals. From MovieBytes.com, the Internet's #1 site for screenwriting contest info.
WinningScripts: Hollywood's Best Unproduced Screenplays
Writers: Promote your screenplays with a subscription to WinningScripts Pro!
Hollywood
IQ
News, opinions, interviews and more from Hollywood and the screenwriting contest scene.
Bob McCullough, founder of Wiki: The World's FASTEST Screenplay Contest, and The Santa Barbara International Screenplay Awards, was born and raised in Los Angeles, and attended Beverly Hills High School and USC. He went to graduate school at the University of Texas where he studied film and television before embarking on a successful career as a TV writer.



Nathan Dame's television pilot Fräulein Schreiber's Mixtape was recently named the Grand Prize Winner of the Write LA Screenwriting Competition.
Screenplay Contest
Deadline Alert
Final Deadlines
(Displaying final deadlines only. Click here to display preliminary deadlines, as well.)
Final:
01/31/2023
WSPro Discount:
No
Late:
02/16/2023
WSPro Discount:
No
Submit your screenplay contest winners. A FREE service from MovieBytes.
Extended:
02/19/2023
WSPro Discount:
No
Final:
02/23/2023
WSPro Discount:
No
Extended:
02/25/2023
WSPro Discount:
$5.00
RIP Final:
02/26/2023
WSPro Discount:
$5.00
Late:
02/27/2023
WSPro Discount:
No
Final:
02/28/2023
WSPro Discount:
No
Final:
02/28/2023
WSPro Discount:
No
Last Chance:
02/28/2023
WSPro Discount:
$20.00
Final:
03/02/2023
WSPro Discount:
No
Final:
03/02/2023
WSPro Discount:
No
Extended:
03/09/2023
WSPro Discount:
$5.00
Film Freeway Extended:
03/15/2023
WSPro Discount:
$5.00
Extended:
03/15/2023
WSPro Discount:
$5.00
Final:
03/19/2023
WSPro Discount:
No
Final:
03/20/2023
WSPro Discount:
$5.00
Last Chance:
03/20/2023
WSPro Discount:
No
Final:
03/23/2023
WSPro Discount:
No
Extended:
03/26/2023
WSPro Discount:
No
Really Late:
03/27/2023
WSPro Discount:
No
Extended (Final):
03/28/2023
WSPro Discount:
$20.00
Extended Deadline:
03/29/2023
WSPro Discount:
No
Extended:
03/31/2023
WSPro Discount:
$5.00
Extended/Final:
03/31/2023
WSPro Discount:
No
Final:
03/31/2023
WSPro Discount:
$10.00
Last Chance:
03/31/2023
WSPro Discount:
No
LAST MINUTE DEADLINE:
04/03/2023
WSPro Discount:
No
Final:
04/03/2023
WSPro Discount:
No
Trending: Contest Queue
The following screenwriting competitions are the "most queued" upcoming contests on MovieBytes: