Updated: 11/15/2020
HollyShorts has announced Mike Kearby as the Grand Prize Winner of the 2020 HollyShorts Screenwriting Competition for his screenplay, The Problem With Time Travel. The winner will be awarded a $10,000 Production Grant from Seattle Film Summit, and the completed film will screen at the 2021 HollyShorts Film Festival, and receive distribution on Bitpix.
Upcoming Contest Deadlines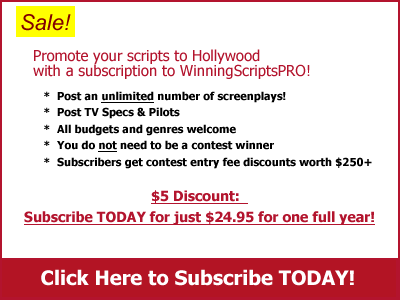 Screenwriting Contest News
Write LA has posted their live read of Grand Prize Winner Nathan Dame comedy pilot script, Fräulein Schreiber's Mixtape. [Updated: 11/09/2020]
Bloody Mary by Dan Ast and John C. Thursby has been named the Grand Prize winner of the 2020 ScreamFest Screenwriting Competition. [Updated: 11/04/2020]
Producers have requested to read a number of Scriptapalooza's 2020 finalists. [Updated: 11/04/2020]
Edward Balli from Canada won the Best Screenplay Grand Prize Winner for this year's Flickers' Rhode Island International Film Festival (RIIFF) Screenplay Competition for his screenplay is entitled "Leadeth." [Updated: 11/03/2020]
The Austin Film Festival has announced their 2020 Script Competition winners. [Updated: 11/02/2020]
Shore Scripts has announced their feature screenplay and 1-hour and 1/2-hour TV pilots quarterfinalists. Semifinalists will be announced November 10th [Updated: 10/25/2020]
Finalists have been announced from among more 1,000 submissions to the HollyShorts Film Festival. The top 3 screenplays will be announced/awarded during the HollyShorts Awards Ceremony on November 15, with the winning script receiving a $10,000 production deal courtesy of Seattle Film Summit. [Updated: 10/24/2020]
The International Screenwriting Association has announced Robert Ripley (The Mender) and Danielle Nicki (The First White President) as their 2020 FAST TRACK XII Fellowship Winners. Genre winners and finalists have also been announced.

[Updated: 10/21/2020]
The winners of the 2020 PAGE International Screenwriting Awards competition have now been announced, and this year's $25,000 Grand Prize was awarded to Claire Tailyour for her haunting, evocative thriller MOTHER WILD. [Updated: 10/15/2020]
The Austin Film Festival has announced their contest finalists. 59 scripts were chosen for the Final Round with one winner to be determined in each of the 18 categories. The winners will be announced during this year's Conference. [Updated: 10/14/2020]
Contest Finalist?
Subscribe to WinningScripts PRO to put your loglines and script excerpts in front of hundreds of industry professionals. From MovieBytes.com, the Internet's #1 site for screenwriting contest info.
WinningScripts: Hollywood's Best Unproduced Screenplays
Writers: Promote your screenplays with a subscription to WinningScripts Pro!
Hollywood
IQ
News, opinions, interviews and more from Hollywood and the screenwriting contest scene.
Screenplay Contest
Deadline Alert
Final Deadlines
(Displaying final deadlines only. Click here to display preliminary deadlines, as well.)
Final:
11/30/2020
WSPro Discount:
No
Extended:
11/30/2020
WSPro Discount:
No
Submit your screenplay contest winners. A FREE service from MovieBytes.
Final:
11/30/2020
WSPro Discount:
No
Final:
11/30/2020
WSPro Discount:
No
Final:
11/30/2020
WSPro Discount:
No
Final:
12/05/2020
WSPro Discount:
No
Decision:
12/07/2020
WSPro Discount:
No
Final:
12/09/2020
WSPro Discount:
$5.00
Late:
12/13/2020
WSPro Discount:
$10.00
McCammon:
12/13/2020
WSPro Discount:
$5.00
Last Chance:
12/15/2020
WSPro Discount:
No
Extended:
12/15/2020
WSPro Discount:
No
Final:
12/16/2020
WSPro Discount:
No
Final:
12/18/2020
WSPro Discount:
No
Final:
12/21/2020
WSPro Discount:
No
Final Deadline:
12/21/2020
WSPro Discount:
No
Extended:
12/26/2020
WSPro Discount:
$5.00
Final:
12/31/2020
WSPro Discount:
$20.00
Extended:
01/07/2021
WSPro Discount:
No
Final:
01/08/2021
WSPro Discount:
No
Final:
01/15/2021
WSPro Discount:
No
Extended:
01/20/2021
WSPro Discount:
No
Final:
01/21/2021
WSPro Discount:
No
Final:
01/21/2021
WSPro Discount:
No
Final:
01/22/2021
WSPro Discount:
No
Trending: Contest Queue
The following screenwriting competitions are the "most queued" upcoming contests on MovieBytes: