Updated: 09/27/2016
Friends and writing partners Colette Freedman and Brooke Purdy scored an important breakthrough earlier this month when they were named the Grand Prize Winners of the 2016 Creative World Awards for their post-apocalyptic screenplay, The Last Book Store. We caught up with the two prolific writers to ask about their partnership, their process, and their future.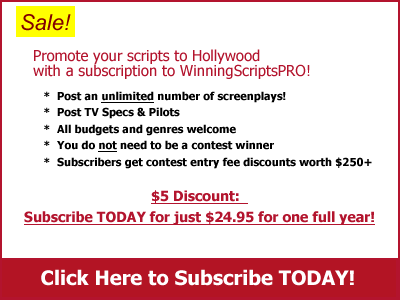 Screenwriting Contest News
Leach Of Liverpool by Robin Christian has been named the winner of the 2016 Contest of Contest Winners Screenwriting Competition. [Updated: 09/21/2016]
The 2nd Annual Scriptapalooza Fellowship (deadline September 30th) has announced their 6 mentors. [Updated: 09/20/2016]
After four rounds of competition, the Judges of the PAGE International Screenwriting Awards have now announced the scripts that have advanced to the Final Round of competition — the top 10 scripts in each of the contest's 10 genre categories. [Updated: 09/15/2016]
The Austin Film Festival has named their 2016 Screenplay Competition Semifinalists, representing the top 1% of all submissions. The scripts were chosen from a record field of 9,100 individual scripts. Finalists will be revealed by early October and the winners will be announced during this year's Conference at the Awards Luncheon on Saturday, October 15 at the historic Austin Club. [Updated: 09/13/2016]
Watch the winning screenplay readings performed by professional actors at the festival in August 2016. 16 winning screenplays! [Updated: 09/02/2016]
The Last Book Store, by Colette Freedman and Brooke Purdy, has been named the Grand Prize Winner of the 2016 Creative World Awards. [Updated: 09/02/2016]
Scriptapalooza has named their latest Pilot, Sitcom, 1-Hour, and Reality TV Contest Winners. [Updated: 08/30/2016]
Semifinalists have been announced for the 2016 Finish Line Script Competition. [Updated: 08/29/2016]
Partner
Subscribe to
WinningScripts PRO
to put your loglines and script excerpts in front of hundreds of industry professionals. From MovieBytes.com, the Internet's #1 site for screenwriting contest info.
WinningScripts: ScriptLinks
An aged informer who'd been in the Federal Witness Protection Program develops Alzheimer's and bcomes a potential threat to a retired Organized Crime Don who places him on a "hit list" fearing he might reveal a hidden secret that will subject him to prosecution, incarceration and a death sentence.
Author: John J. Maffucci
Genre: Drama,Thriller
After the brutal murder of his mother, an orphan becomes a technologically advanced vigilante, dispensing justice to violent predators who evaded punishment due to loopholes in the law.
Author: John J. Maffucci
Genre: Drama,Sci-Fi
A couple, victimized by unscrupulous individuals in the financial industry and both mistakenly diagnosed with terminal cancer, concoct a joint scheme in which their nemesis unwittingly finances their exorbitant worldwide vacation under the watchful eye of an unorthodox Guardian Angel.
Author: John J. Maffucci
Genre: Drama,Comedy,Romantic Comedy
An inveterate thief rediscovers God after he mistakenly steals the identity of a high-profile mobster in the Witness Protection Program who is marked for execution and is pursued by Organized Crime contract killers.
Author: John J. Maffucci
Genre: Drama,Supernatural
It's 2084. Several states have seceded in the USA and formed the United Socialist Republic. A brilliant, rebellious freedom-loving student experiences what life would be like when he resists the tolitarian regime.
Author: John J. Maffucci
Genre: Drama,Action-Adventure
An elderly, benevolent female philanthropist inadvertently employs a crimianl psychopath who generates havoc in her family, ultimately causes her death, justifying retaliation against him by her loyal, enigmatic, avenginng cat.
Author: John J. Maffucci
Genre: Drama
After an accident, a standup comedian finds himself transported to heaven where he becomes an "Angel in Training." In order for him to earn his wings, he must return to earth and successfully defend an innocent prisoner at a Parole Board Hearing. During his spiritual journey, he touches and transforms the lives of the people he meets including the innocent victim, the quilty party and others along the way.
Author: John J. Maffucci
Genre: Comedy,Family
An American citizen of Hispanic descent suffering from a fatal disease is denied medical treatment from his HMO is prosecuted for medicaid fraud after he impersonates an illegal alien and receives the medical assistance that saves his life.
Author: John J. Maffucci
Genre: Drama
A young boy who loves animals must cope with his father's insistence that he will someday work in the slaughterhouse that has employed the men of his family for the past several generations. [18 awards/honors including, Grand Jury Prize winner of 2014 Hollywood Screenplay Contest, Grand Jury Prize winner of 2015 Las Vegas Screenplay Contest, and Grand Prize Winner of the 2014 London Film Awards (Feature Screenplay Category).
Author: Jonathan LaPoma
Genre: Drama
An obsessive-compulsive twenty-one-year-old Peruvian woman, hoping to find love and relief from her mental illness, travels from Lima to the USA on a work-abroad program and takes a job at a small ski resort in Montana. [8 awards/honors including, Honorable Mention, 2014 Indie Gathering Film Festival and Top Three Finalist, 2015 River Bend Film Fest]
Author: Jonathan LaPoma
Genre: Drama,Romance
More WinningScripts ...