Who Will be the Contest Judge of the Year?
Lounging around in my luscious silk pajamas, my thoughts begin to drift. Perhaps I'm just restless, but I find myself thinking about scoring. One by one, almost unbidden, sultry Contest Judges of the Month from 2011 traipse through my mind. I can't help but wonder who out of our thirteen mysterious, mesmerizing, and sometimes merciless judges - don't forget our set of scintillating twins - is worthy of the honor of Contest Judge of the Year? Mirror, mirror on the wall, who's the highest scorer of all?
A bevy of judges - producers, writers and directors, oh my, agents, managers, consultants and out and out readers, even the ever illusive studio exec, have paraded past, and bared it all to give you a one of a kind view. They've revealed exactly how to woo them, how to have your way with them and what it takes to become a winner. Not to mention offering up a very explicit scolding on what is sure to leave you out in the cold, without so much as a kiss on the cheek, before they send you packing.
Let's flip back through the pages together, savoring the delectable details. Peruse all our bunnies here. Linger on the well-turned phrase, the seductively simple advice, the arousing moments of encouragement. Was there a bit airbrushing here and there? I'll never tell…
A long list of credits and big, shiny Academy Awards® are always a turn on. On the other hand, an articulate exchange, the incisive opinion, a razor sharp wit, send me head over heels. Flattery? Please, I've heard it all. What's more disarming than the sharp sting of the unvarnished truth?
Who's to say what floats your boat?
At last, it's time to turn the tables. Instead of being judged, you ARE the judge! AND you can win a prize. Decide which Super Centerfold has earned the title of Contest Judge of the Year.
Vote for free - vote with your heart or vote with your head - but vote just once - between now and February 1st.
Our Contest Judge of the Year will be announced February 8th along with all our winning voters.
Maybe it's something about the season, but I've decided to sweeten the Prize Package!
THE PRIZES:
EVERYONE WHO VOTES for Contest Judge of the Year receives a 10% discount on any BIG IDEAS Screenwriting Seminar, held around the country in 2012 – so spread the word!
THE FIRST FIVE WRITERS to vote for the winning CJOY will be given the opportunity to submit a logline and a one-page synopsis of their screenplay.
CREATORS OF THE TOP THREE MOST "HOOKY" CONCEPTS get a thirty minute phone consultation with me to hone their logline and strengthen their synopsis. Announced on Valentine's Day! A $75 value.
WRITER OF THE BEST REVISED ONE PAGER WILL BE GIVEN "A KEY TO THE CLUB." Their One-Pager submitted directly to the Contest Judge of the Year. Priceless.
TO SIGN UP FOR THE BIG IDEAS NEWSLETTER and VOTE CLICK HERE.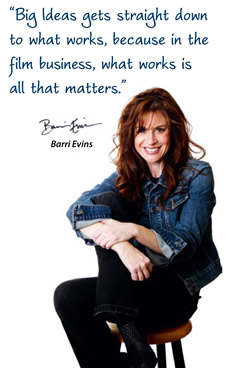 REVOLUTIONIZE THE WAY YOU CREATE!
A working film producer who's sold pitches and specs to all the majors, Barri Evins created BIG IDEAS to give aspiring screenwriters what it takes to achieve their dreams by sharing the techniques she uses with highly paid pros on big league projects. The Big Ideas Screenwriting Seminar revolutionizes the way you write. Create ideas that ignite industry interest. Master tools to craft a successful script faster than you dreamed possible. The seminar includes Barri's mentorship for a year. Follow Big Ideas on Facebook.
NEXT UP:
The BIG IDEAS SEMINAR Weekend takes on 2012!
BOSTON January 20-22 SOLD OUT
CONNECTICUT January 27-29 location TBA
BOSTON MASTERS February 3-5 open only to previous students
BIG IDEAS in LOS ANGELES and WASHINGTON DC are in the works! Interested? Email us!
For more info or to grab your spot contact info@bigBIGideas.com.
Learn more at www.bigbigideas.com.
Find tips and updates at BIG IDEAS for Screenwriters on Facebook.
Sign up for the Big Ideas Newsletter
: Next -
Contests, Contests Everywhere
- learn Contest Secrets, Keep Your Eye on the Prize: Choosing the Right Contest, reveal who was crowned Contest Judge of the Year and more.
Check out our previous What's Next? Newsletter packed with videos, podcasts and pointers.