Ms. February: Contest Judge of the Month!
Here's the second in my monthly series revealing the inside skinny on Judges and Readers of the Top Screenwriting Contests in the country. Everything you ever wanted to know about these mysterious creatures but had no way to ask.
These bunnies are willing to bare it all for me, a fellow judge, producer, screenwriting teacher and friend, so I can bring you the scintillating scoop on who is reading your contest script and what they really, really want. Use this unique peek into their minds so your next contest encounter will turn these juicy judges to putty in your hands.
Ultimately, it's your turn to vote on your favorite Play Judge of the Year. The writers who nominate the winning PJOY, receive a 10% discount on the BIG IDEAS Screenwriting Seminar, held around the country, a $40 value. You'll learn to create your most successful script before you ever type "Fade In." One weekend takes you from "What to Write?" to "Ready to Write!" and gives you the tools to complete your script faster than you dreamed possible.
And now, Ms. February! She's the sporty type, sculpted, powerful and fully exposed in this revealing centerfold.
Ms. February's Vital Statistics
First round Scriptapalooza judge for three years and counting.
Her Reel Life
Lit Agent guiding writers, directors, novelists and the like through the shark-infested waters of the film industry.
Ms. February's Turn Ons
Romantic comedies that don't instantly make me think of 12 other ones. Jokes that make me laugh out loud. Quirky sense of humor. Twists that I truly don't see coming. A character that will have actors lining up to play it. Cat and mouse thrillers that are as much about character as they are the chase.
Ms. February's Turn Offs
Exposition, exposition - don't tell me - show me - surprise me! Also, do not jump on the bandwagon - "Twilight" is not a little movie hiding its light under a bushel. It's out there already so please don't send me your teenage vampire/werewolf angst stories. If your script requires paragraphs of description then you need to rewrite before sending. The more white space - the better.
Her Favorite Position ... to Read In
On the porch in a papasan chair - shoes off/feet up - sipping something slightly bad for me.
The Dirty Little Secret Ms. February wants to Share
Spelling and grammar does count. Please proofread. If there are spelling errors on the first page that says the writer doesn't care enough about their own work so how is an agent supposed to convince anyone else to care. Also, who you are as a person is just as important as your writing. A large part of being a successful writer is being a people person. If you can't go into a room and talk to people and sell yourself then it doesn't matter how brilliant your writing is. Practice your people skills as much as you do your writing. One more secret - yes, agents really do look (every hour of every day) for great scripts and great storytellers so keep at it and hopefully, our paths will cross one day very soon.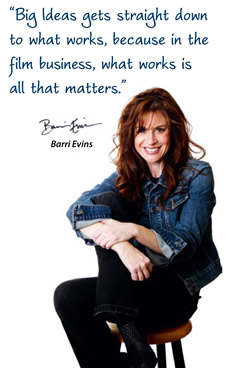 REVOLUTIONIZE THE WAY YOU CREATE!
A working film producer who's sold pitches and specs to all the majors, Barri Evins created BIG IDEAS to give aspiring screenwriters what it takes to achieve their dreams by sharing the techniques she uses with highly paid pros on big league projects. The Big Ideas Screenwriting Seminar revolutionizes the way you write. Create ideas that ignite industry interest. Master tools to craft a successful script faster than you dreamed possible. The seminar includes Barri's mentorship for a year. Follow Big Ideas on Facebook.
NEXT UP:
The BIG IDEAS SEMINAR Weekend takes on 2012!
BOSTON January 20-22 SOLD OUT
CONNECTICUT January 27-29 location TBA
BOSTON MASTERS February 3-5 open only to previous students
BIG IDEAS in LOS ANGELES and WASHINGTON DC are in the works! Interested? Email us!
For more info or to grab your spot contact info@bigBIGideas.com.
Learn more at www.bigbigideas.com.
Find tips and updates at BIG IDEAS for Screenwriters on Facebook.
Sign up for the Big Ideas Newsletter
: Next -
Contests, Contests Everywhere
- learn Contest Secrets, Keep Your Eye on the Prize: Choosing the Right Contest, reveal who was crowned Contest Judge of the Year and more.
Check out our previous What's Next? Newsletter packed with videos, podcasts and pointers.