Mr. March: Contest Judge of the Month!
Welcome to this month's expose bringing you the inside story on Judges and Readers of the Top Screenwriting Contests in the country. Everything you ever wanted to know about these mysterious creatures but had no way to ask.
These bunnies are willing to bare it all for me, a fellow judge, working producer, screenwriting teacher, friend and colleague, so I can bring you the scintillating scoop on who is reading your contest script and what they really, really want. Use this unique peek into their minds so your next contest encounter will turn these Juicy Judges to putty in your hands.
Then turn the tables! It's your chance to vote for your favorite PlayJudge of the Year. Each writer who nominates the winning PJOY, receives a 10% discount on the BIG IDEAS Screenwriting Seminar, held around the country. You'll learn to create your most successful script before you ever type "Fade In." One weekend takes you from "What to Write?" to "Ready to Write!" and gives you the tools to complete your script faster than you dreamed possible.
And now, Mr. March, quite clever and brutally candid, as well as completely out there in this revealing centerfold.
Mr. March's Vital Statistics
I've only been a judge once, maybe twice that I can think of, the last one for Final Draft's Big Break. Ten scripts, none were bad, but none were great or should I say really, really good. They told a story but they lacked that sense of excitement and surprise, that new refreshing angle on a scene. And I wanted the scripts to be great, to be excellent. All boats rise in a high tide and a great script that becomes a great film helps the business, helps us all.
His Reel Life
I'm a screenwriter/producer. Have had 7 or 8 films made from scripts written by myself and my writing partner. Have been nominated for an Oscar twice, once for a short, another time for a screenplay.
Mr. March's Turn Ons
There's an old Hebrew proverb that says the reason God created people is that he likes stories. There's nothing more fun than a good story, well maybe one thing, but to pick up a script read Fade In and then have that script take you on a page turning exciting ride is heaven. Good characters that make you care whether they live or die or get what's coming to them is the key. You can't have a good story without good characters. Not possible.
Mr. March's Turn Offs
The only turn off in a script is one that is boring... You turn the page through obligation, not because you can't wait to read the next page. Have no objections to any kind of story as long as it's interesting, fun, exciting, scary. You can scare me, make me angry, teach me something, make me laugh, laugh at me, just don't bore me.
His Favorite Position ... to Read In
A big fat chair with my dog snoring and, way too often, farting, nearby. Favorite thing to read from... the Kindle.
The Dirty Little Secret Mr. March wants to Share
Writing is not a hobby. If your intent is that "Oh, well, I'll try it for a bit and see what happens"...if that's your attitude, don't even try. You have to say, "This is what I am going to do with my life; I am going to be a writer." It's a very difficult way to earn a living, but you do it because that's all you want to do, that's all you can do... I would make a lousy bank teller, or aluminum siding salesman. Writing is what I do every day, 24/7. Often one hates to write, but it's great having written. Write the next great script, we'll be happy for you, we'll be happy to see it on the screen. A good script helps everyone.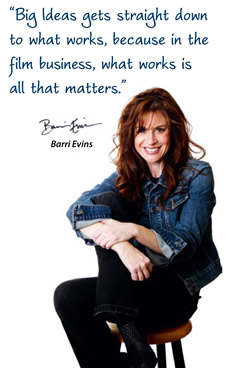 REVOLUTIONIZE THE WAY YOU CREATE!
A working film producer who's sold pitches and specs to all the majors, Barri Evins created BIG IDEAS to give aspiring screenwriters what it takes to achieve their dreams by sharing the techniques she uses with highly paid pros on big league projects. The Big Ideas Screenwriting Seminar revolutionizes the way you write. Create ideas that ignite industry interest. Master tools to craft a successful script faster than you dreamed possible. The seminar includes Barri's mentorship for a year. Follow Big Ideas on Facebook.
NEXT UP:
The BIG IDEAS SEMINAR Weekend takes on 2012!
BOSTON January 20-22 SOLD OUT
CONNECTICUT January 27-29 location TBA
BOSTON MASTERS February 3-5 open only to previous students
BIG IDEAS in LOS ANGELES and WASHINGTON DC are in the works! Interested? Email us!
For more info or to grab your spot contact info@bigBIGideas.com.
Learn more at www.bigbigideas.com.
Find tips and updates at BIG IDEAS for Screenwriters on Facebook.
Sign up for the Big Ideas Newsletter
: Next -
Contests, Contests Everywhere
- learn Contest Secrets, Keep Your Eye on the Prize: Choosing the Right Contest, reveal who was crowned Contest Judge of the Year and more.
Check out our previous What's Next? Newsletter packed with videos, podcasts and pointers.