Mr. April: Contest Judge of the Month!
Welcome to this month's expose bringing you the inside story on Judges and Readers of the Top Screenwriting Contests in the country. Everything you ever wanted to know about these mysterious creatures but had no way to ask.
These bunnies are willing to bare it all for me, a fellow judge, working producer, screenwriting teacher, friend and colleague, so I can bring you the scintillating scoop on who is reading your contest script and what they really, really want. Use this unique peek into their minds so your next contest encounter will turn these Juicy Judges to putty in your hands.
Then turn the tables! It's your chance to vote for your favorite PlayJudge of the Year. Each writer who nominates the winning PJOY, receives a 10% discount on the BIG IDEAS Screenwriting Seminar, held around the country. You'll learn to create your most successful script before you ever type "Fade In." One weekend takes you from "What to Write?" to "Ready to Write!" and gives you the tools to complete your script faster than you dreamed possible.
And now, Mr. April, a manly manager, with a surprisingly softer side, exposed in this revealing centerfold.
Mr. April's Vital Statistics
I have been a judge in a handful of competitions over the last five years including Scriptapalooza. I don't want to do too many of them, but I like to read fresh voices.
His Reel Life
I am a manager who started my own company. We represent writers and actors predominantly and looking to work with more directors. I pride my self and the company on development of writers as well as creating goals, strategies, and interesting projects for the marketplace in film or television.
Mr. April's Turn Ons
I am always first and foremost interested in the characters on the page. Right now, horrors thrillers, and action films are getting made easier, but I do have a soft spot for Romantic Comedies.
Mr. April's Turn Offs
It is always disappointing to start a script that does not grab you from the first few pages. Screenwriting is a tough medium, but at the core has to be a compelling story that forces me to turn the page. Also, it is tough for me to read a piece by a writer who doesn't go to the movies and understand what types of films are getting made right now. Being educated in film is a prerequisite to being a writer in the field.
His Favorite Position&to Read In
I don't get to do this much except on the weekend, but reading on my laptop outside at my local coffee shop. Nothing beats that.
The Dirty Little Secret Mr. April wants to Share
Great writing is one thing and almost the most important facet of a screenplay, but a close second is a logline and a hook. Films are getting harder and harder to make, so you better be able to tell someone quickly what to expect before they read it. If not, they might never get to it. Have passion for your project, but be practical. Also, know that every word you write is not magic or in stone because screenwriting is a team sport. Many people are involved in getting a film made, and everyone wants to have input, so let's face it, we need all the allies we can get. Good luck out there.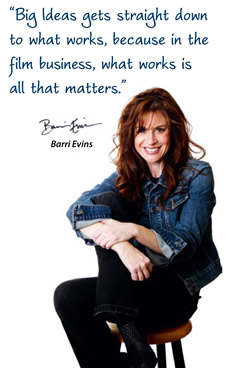 REVOLUTIONIZE THE WAY YOU CREATE!
A working film producer who's sold pitches and specs to all the majors, Barri Evins created BIG IDEAS to give aspiring screenwriters what it takes to achieve their dreams by sharing the techniques she uses with highly paid pros on big league projects. The Big Ideas Screenwriting Seminar revolutionizes the way you write. Create ideas that ignite industry interest. Master tools to craft a successful script faster than you dreamed possible. The seminar includes Barri's mentorship for a year. Follow Big Ideas on Facebook.
NEXT UP:
The BIG IDEAS SEMINAR Weekend takes on 2012!
BOSTON January 20-22 SOLD OUT
CONNECTICUT January 27-29 location TBA
BOSTON MASTERS February 3-5 open only to previous students
BIG IDEAS in LOS ANGELES and WASHINGTON DC are in the works! Interested? Email us!
For more info or to grab your spot contact info@bigBIGideas.com.
Learn more at www.bigbigideas.com.
Find tips and updates at BIG IDEAS for Screenwriters on Facebook.
Sign up for the Big Ideas Newsletter
: Next -
Contests, Contests Everywhere
- learn Contest Secrets, Keep Your Eye on the Prize: Choosing the Right Contest, reveal who was crowned Contest Judge of the Year and more.
Check out our previous What's Next? Newsletter packed with videos, podcasts and pointers.