Ms. June: Contest Judge of the Month
It's June, My Lovelies, and time to strip down to something really revealing. I know your secret desire. You want ... a pro. Someone who does it for the money, baby, not love. A reader ... who's a writer. A struggling writer. And you're supporting her habit. B-r-r-r-r-h. The thought is enough to send shivers up and down your spine.
But don't be scared. Sure doing it not merely once or twice but, let's say ten times a day may result in numbness, rage and incredible fatigue, but isn't that exactly what you want to witness with your own weary eyes?
These bunnies are willing to peel off their layers and bare it all for me, a fellow judge, working producer, screenwriting teacher, friend and colleague, so I can bring you the scintillating scoop on who is reading your contest script and what they really, really want. Take advantage of this unique peek into their minds so your next contest encounter will render these Juicy Judges utterly unable to let go of your script.
Then turn the tables! It's your chance to vote for your favorite Contest Judge of the Year. Each writer who nominates the winning CJOY receives a 10% discount on my BIG IDEAS Screenwriting Seminar, held around the country. Create your most successful script before you even type "Fade In." One weekend takes you from "What to Write?" to "Ready to Write!" Target stories that ignite industry interest and discover revolutionary new tools that empower you to complete a successful screenplay faster than you ever dreamed possible.
Here we have Ms. June. You lie helpless in the palm of her hand. A flick of her wrist - ouch - and you are over and out. She's been there, read that, but dontcha' love a gal who knows the ropes?
Ms. June's Vital Statistics
I have been a judge, reader, script doctor, and coverage-er, since 2001. Hundreds of scripts a year pass before my bloodshot eyes. Primarily, I've judged for Slamdance's Screenplay and Teleplay contests. I've also read for Film Independent's director, producer and screenwriting labs. For Slamdance, I read and judge all the rounds and am then part of the final deliberation. I "vote people off the island" from beginning to end.
Her Reel Life
I hold an MFA in Screenwriting from UCLA, have won a few contests, am repped by a manager, have been hired for rewrites, take network meetings on pilots I've written and often can be found belting out show tunes (badly) as I hike Runyon Canyon. As there are so many judges who do all that, I'm sure I'm blowing the anonymity of this column.
Ms. June's Turn Ons
Scripts that make me hate the writer because "I wish I'd thought of that." A great turn of phrase, even in description. A tight story that inspires me long after I put it down. Something that really hits the top of my intelligence.
Ms. June's Turn Offs
Men who touch their own nipples. Any script over 130 pages. Lots of typos. Writers who tell me what amazing A-list celebrities will play these roles. Long chunks of description that are not broken up and go on for days. Anyone who summarizes something in an arrogant way without doing the writing, i.e.: "And as Bob and Ivan hit on the ladies, hilarious dialogue and hijinks ensue." Write it!
Her Favorite Position ... to Read In
At another job, getting paid for both. On a comfy couch, with comfy comfort food. The optimum word being comfy.
The Dirty Little Secret Ms. June Wants to Share
When I pick up a script, I pray to Vishnu, HaShem and the Baby Jesus that it will be good. I want it to be good. I want to know that I'm being paid to read something that I would pay to read. I want to be engrossed. Now, it is true that some people have different genre preferences. I may be happier to read a quirky, fun comedy than something that starts with: "It is the year 3050 on the Planet Quagar and all the Space Cowboy Princesses have received their Prime Directives." But I have read enough to know what is good in all genres and be impartial. Just know: If you don't win, place or show, it does not always mean your doggie wasn't excellent. Readers are human. They even have bad days. Or a contest may be skewed certain types of films, whether it's indie pics or mainstream fare. But no matter what, one thing remains true: an original, intriguing story, written in a bold voice, will always stand out.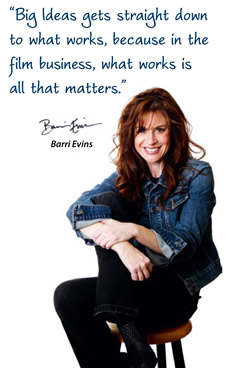 REVOLUTIONIZE THE WAY YOU CREATE!
A working film producer who's sold pitches and specs to all the majors, Barri Evins created BIG IDEAS to give aspiring screenwriters what it takes to achieve their dreams by sharing the techniques she uses with highly paid pros on big league projects. The Big Ideas Screenwriting Seminar revolutionizes the way you write. Create ideas that ignite industry interest. Master tools to craft a successful script faster than you dreamed possible. The seminar includes Barri's mentorship for a year. Follow Big Ideas on Facebook.
NEXT UP:
The BIG IDEAS SEMINAR Weekend takes on 2012!
BOSTON January 20-22 SOLD OUT
CONNECTICUT January 27-29 location TBA
BOSTON MASTERS February 3-5 open only to previous students
BIG IDEAS in LOS ANGELES and WASHINGTON DC are in the works! Interested? Email us!
For more info or to grab your spot contact info@bigBIGideas.com.
Learn more at www.bigbigideas.com.
Find tips and updates at BIG IDEAS for Screenwriters on Facebook.
Sign up for the Big Ideas Newsletter
: Next -
Contests, Contests Everywhere
- learn Contest Secrets, Keep Your Eye on the Prize: Choosing the Right Contest, reveal who was crowned Contest Judge of the Year and more.
Check out our previous What's Next? Newsletter packed with videos, podcasts and pointers.