Mr. August: Contest Judge of the Month
There's a fine line between pain and pleasure. For those of you who crave a bit of both, here's our first well-known Script Consultant. Writers may turn to Mr. August seeking gratification, only to find their appetites left unsatisfied.
A word of caution - it's gonna sting. His comebacks - ouch - the most scathing we've heard. Mr. August has no interest in playing nice. In fact, he'd love it if you wound up hating him.
The Contest Judge of the Month reveals what goes on behind the curtain of Screenwriting Contests. These bunnies are willing to bare it all, so I can bring you the scintillating scoop on who is reading your script and what they really, really want. Exploit this unique peek into their minds so your next contest encounter will render these Juicy Judges utterly unable to get your story out of their mind.
Then turn the tables and judge the judges! The power is in your hands when you decide who is worthy of being the Top Contest Judge of the Year. Each writer who nominates the winning CJOY receives a 10% discount on the BIG IDEAS Screenwriting Seminar, held around the country.
Here's Mr. August, sans sugar coating. He has a rep for being rough, and Mr. A likes it that way. As the lusciously licentious writer Donatien Alphonse François, perhaps better known as the Marquis de Sade, once said, "This might hurt a little."
Mr. August's Vital Statistics
I'm currently judging the thriller/horror category of the semifinals of the PAGE Awards, which I also judged last year (and picked the winner!). Years ago, I judged the semi-finals of Scriptapalooza (because my boss at the time who was a judge, didn't want to).
His Reel Life
I'm a recovering Hollywood Development Executive who has worked on both studio and independent films. And over the past few years, I have parlayed my experience as an executive into becoming one of the leading script consultants and running my own company. I was ranked in the Top 20 "Cream of the Crop" script consultants by Creative Screenwriting Magazine in 2010. I am also an author of a screenwriting book and teach seminars to writers all across the country. I was trained as a screenwriter, but thankfully other people's scripts and procrastination saves me from writing my own stuff.
Mr. August's Turn Ons
For me, my turn ons are any truly crisp, witty banter and dialogue that jumps off the page, a quirky yet still commercial voice, a first page that sets up a great world and tone, and any script that makes me forget that I'm supposed to be writing notes on it. But I can count on one hand how many scripts I've read this year where this was the case...and I read a TON of scripts.
Mr. August's Turn Offs
I have a lot of writing turnoffs, actually. I'm always turned off by slight, repetitive, over-written dialogue. I'm always turned off by characters who don't speak genuinely for the type of person they are or one-dimensional protagonists or antagonists. One of my biggest turnoffs is actually massive typos and grammatical mistakes. It's such an easy thing to fix. I don't have patience for lazy writers. It's such a small thing, but if you don't know the difference between it's/its, your/you're, their/they're, etc., then you're not ready to be a professional writer. And if you're describing someone's age, it's "20s" -- NOT "20's"! Other than that little stuff, personally, fantasy isn't my favorite thing to read - but it's only a turnoff when the writer actually believes that the alien-parallel universe-astral planes-angels-demons-invisible temples stuff they are writing about, is REAL! The Crazies may be great in bed, but they're not great in a room with studio execs!
His Favorite Position ... to Read In
Feet up, on my side, sprawled out on my couch. Or...in the bathroom. It's the only place where there are no distractions and I actually get a ton of reading done in there.
A Dirty Little Secret Mr. August Wants to Share
Well I think I just shared one in the last question lol. But...here are some other dirty little secrets... There are less than 10 contests out there that actually matter and that anyone in Hollywood pays attention to, and I'm incredibly picky about which ones I lend my name to - and you should be too! That's why I'm judging the PAGE Awards. And here's my other dirty little contest secret - just because you win a contest, doesn't mean your script is sellable or commercial - it just means it was better written than a lot of others. And if all you are is a quarterfinalist - no one cares! That isn't good enough to mention in a query letter unless it's Nicholls. Contests are the one place where VOICE and talent is king and no one cares about your age, race, gender or hometown, so for all those who don't know how to break in from outside of LA - here's your chance! I also want to say that not all judges are the bitter, jaded, once-optioned writer types who are only reading your script to compare their own talents to yours (that's what DoneDealPro is for!)... Some of us are bitter, jaded former executives and producers too! Good luck!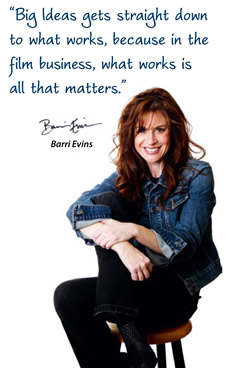 REVOLUTIONIZE THE WAY YOU CREATE!
A working film producer who's sold pitches and specs to all the majors, Barri Evins created BIG IDEAS to give aspiring screenwriters what it takes to achieve their dreams by sharing the techniques she uses with highly paid pros on big league projects. The Big Ideas Screenwriting Seminar revolutionizes the way you write. Create ideas that ignite industry interest. Master tools to craft a successful script faster than you dreamed possible. The seminar includes Barri's mentorship for a year. Follow Big Ideas on Facebook.
NEXT UP:
The BIG IDEAS SEMINAR Weekend takes on 2012!
BOSTON January 20-22 SOLD OUT
CONNECTICUT January 27-29 location TBA
BOSTON MASTERS February 3-5 open only to previous students
BIG IDEAS in LOS ANGELES and WASHINGTON DC are in the works! Interested? Email us!
For more info or to grab your spot contact info@bigBIGideas.com.
Learn more at www.bigbigideas.com.
Find tips and updates at BIG IDEAS for Screenwriters on Facebook.
Sign up for the Big Ideas Newsletter
: Next -
Contests, Contests Everywhere
- learn Contest Secrets, Keep Your Eye on the Prize: Choosing the Right Contest, reveal who was crowned Contest Judge of the Year and more.
Check out our previous What's Next? Newsletter packed with videos, podcasts and pointers.