Ms. September: Contest Judge of the Month
It's been a long, hot, script-filled summer, and now Ms. September is blowing off some steam. She may go off on a bit of bender, but she's as crystal clear on what brings her down as what she finds intoxicating. A reader for some of the most prestigious contests, it's up to her to decide if your script is making the next round or if it's last call.
No need to ply her with exotic cocktails; Ms. September knows you're only interested in scoring. She's willing to hop into the back seat and strip down to the naked truth on skimming (c'mon, we all do it) and she'll satisfy you with the low-down on high page count (surprise - size matters).
The Contest Judge of the Month reveals what goes on behind the curtain of Screenwriting Contests. These bunnies are willing to bare it all, so I can bring you the scintillating scoop on who is reading your script and what they really, really want. Exploit this unique peek into their minds so your next contest encounter will render these Juicy Judges utterly unable to get your story out of their mind.
Then you be the judge! Decide which centerfold is worthy of being our Contest Judge of the Year. Each writer who nominates the winning CJOY receives a 10% discount on the BIG IDEAS Screenwriting Seminar, held around the country.
Clearly a fellow story-a-holic, Ms. September's motto is "Make mine a double!" As long as you're quenching her thirst, you sweet talker, you'll score some serious points. Otherwise, you haven't got a shot. Hi, Ms. September!
Ms. September's Vital Statistics
I've been a contest judge since 2001 and used to write coverage for development companies. I currently read for the CineStory Screenwriting Competition, the UCLA Professional Program Competition and the Nicholl Fellowships in Screenwriting Competition. I started reading for the Nicholl three years ago. Before that, I read maybe fifty to a hundred scripts a year. Now I read more than four hundred a year. What I've learned more than anything else from reading all these scripts is that I'll forgive a writer for a lot if that person tells me a damn good story.
Ms. September's Reel Life
I'm a recovered assistant director who is grateful to never again have to yell, "quiet please" on a movie set. At home, well, that's another story. I'm also a produced screenwriter who's done assignments for hire and has an MFA in screenwriting. I recently started writing and directing shorts and plan to move on to features.
Her Turn Ons
Tell me a unique, character-driven story with kick-ass dialogue and I'm yours. Rule of thumb: if all roads DON'T lead to Rome (your main character), if all your scenes and every bit of dialogue and every character don't in some way relate to your main character's journey, then you're not writing a character-driven piece. And I don't care if you're writing an indie feature about a transsexual hockey player or a tent pole action feature about a hard-ass female spy and the nebbish she's kidnapped, if your main character isn't driving the bus, then you haven't written the best script you possibly can. Do not pass go; do not collect two hundred dollars, just DO IT AGAIN. And again. Until you know your main character inside out and when you write a scene, your first thought isn't, "What happens next?" but "What would my main character do next?" Then you're gold.
Her Turn Offs
Bad formatting, crappy dialogue, typos and scripts that are over a hundred and twenty pages - a hundred and twenty pages will piss me right off if the script feels even remotely flabby. That being said, I've read some great scripts that are one hundred and fifty pages. But I'm here to tell you that a script has to absolutely incredible for me to overcome my knee-jerk, pissed off reaction to a high page count. Once I see that, I go hunting for problems because there's rarely a good reason to run long. This is your one shot at making it through to another read, another round, a possible change in your career. Write lean. And if you can't write lean, then be brilliant. Cause that's the only way I'm going to forgive you.
Her Favorite Position ... to Read In
In the bathtub. Though now that I read just about everything on my computer, the bathtub has become sadly impossible. So now I read really early in the morning, say 5 AM, when the whole world (or at least my household) is asleep and I'm sprawled on the couch with a Tempur-Pedic pillow under my legs and a cup of coffee on the floor next to me.
A Dirty Little Secret Ms. September Want to Share
My name is - well, I can't tell you my name, but I can tell you that I'm a story addict. I am truly, madly, deeply addicted to stories that will rock my world with writing that shouts, "No one can tell this story like I can." As a story addict, I find it almost impossible to skim scripts because I want to know what happens next but skim I will if a writer is careless or lazy with formatting or storytelling. Also, I take competition reading seriously. I got my first agent, a big spec salesman who wouldn't have read me otherwise, because I won a competition. I want to get my score right because someone else out there got mine right (at least in my opinion). So if you feed my addiction with a story that's so good that it makes me forget I have children (I love you kids), I'll give you a good score.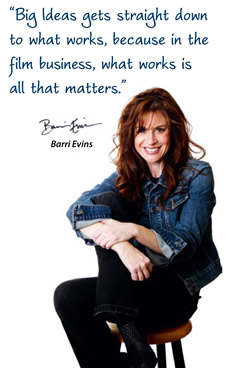 REVOLUTIONIZE THE WAY YOU CREATE!
A working film producer who's sold pitches and specs to all the majors, Barri Evins created BIG IDEAS to give aspiring screenwriters what it takes to achieve their dreams by sharing the techniques she uses with highly paid pros on big league projects. The Big Ideas Screenwriting Seminar revolutionizes the way you write. Create ideas that ignite industry interest. Master tools to craft a successful script faster than you dreamed possible. The seminar includes Barri's mentorship for a year. Follow Big Ideas on Facebook.
NEXT UP:
The BIG IDEAS SEMINAR Weekend takes on 2012!
BOSTON January 20-22 SOLD OUT
CONNECTICUT January 27-29 location TBA
BOSTON MASTERS February 3-5 open only to previous students
BIG IDEAS in LOS ANGELES and WASHINGTON DC are in the works! Interested? Email us!
For more info or to grab your spot contact info@bigBIGideas.com.
Learn more at www.bigbigideas.com.
Find tips and updates at BIG IDEAS for Screenwriters on Facebook.
Sign up for the Big Ideas Newsletter
: Next -
Contests, Contests Everywhere
- learn Contest Secrets, Keep Your Eye on the Prize: Choosing the Right Contest, reveal who was crowned Contest Judge of the Year and more.
Check out our previous What's Next? Newsletter packed with videos, podcasts and pointers.