Contest Judge of the Month: Mr. October
Didn't see it coming, but I must confess, Mr. October stole my heart. I love a man who lets me know exactly what feels good. Just like you, he's after the big score. I'll bet you fall for Mr. O too. Director, producer, actor - he's seen plenty of action.
If you're lucky enough to sit at the table with the blunt Mr. October, you'd better bring it kid, because the stakes are high. Not a chance you'll get lucky and pull one over on him. Oh, there's nothing up his sleeve, it's just that he's played with the Big Boys. Go all in or go home.
The Contest Judge of the Month reveals what goes on behind the curtain of Screenwriting Contests. These bunnies are willing to bare it all, so I can bring you the scintillating scoop on who is reading your script and what they really, really want. Exploit this unique peek into their minds so your next contest encounter will render these Juicy Judges utterly unable to get your story out of their mind.
Then YOU be the judge! Decide which Centerfold is worthy of being our Contest Judge of the Year. Each writer who nominates the winning CJOY receives a 10% discount on the BIG IDEAS Screenwriting Seminar, held around the country.
When it comes to an opinionated man, I'm a soft touch. Truth is, I'm not going to be washing Mr. October out of my hair any time soon. His secrets cut straight to the chase. No smoke and mirrors, just the real deal. Yes this will sting, but it's well worth it.
Mr. October's Vital Statistics
For at least 20 years I have been a judge for several contest finalists. Among them: The Nicholl Fellowship, The UCLA Screenwriting Award, Scriptapalooza. In my professional life, I normally don't employ readers. Therefore, I read A LOT of scripts, still anticipating - as Samuel Johnson defined second marriages - "The triumph of hope over experience."
Mr. October's Reel Life
I am an Academy Award-winning producer and director, and serve on the Motion Picture Academy board of selectors for their Literary and Foundation grants. I have taught screenwriting at several universities, and serve occasionally as teacher and graduate thesis examiner for the Peter Stark Graduate Producing Program at USC. I'm an active member of the Motion Picture Academy, The Television Academy, The Directors Guild, The Producers Guild, and SAG.
Almost all of my films have been written by first-time writers.
His Turn Ons
Simply put: ORIGINALITY. Scripts that obviously come from the heart. Wittiness - not jokes. Characters - not car chases. Cleverness - not contrivances. Passion - not sex. Suspense - not scares. Surprise - not shock. Craft. Craft. Craft.
His Turn Offs
Where to start? OK...let's start on the first page: scripts that start with a flashback scene or an outrageous "grabber." Scripts that aren't correctly formatted, spelled, or punctuated. Letters of introduction that tell me how much money it's going to make; how inexpensive it'll be to make; comparisons to other movies...especially the description, "_____(movie) meets _____(movie)." Excessive length (over 120pp); excessive dialogue or screen directions; song lyrics; directing, acting, or editorial directions (especially the use of SMASH CUT). Dream sequences; descriptions about what a character is feeling or thinking - I call them "mind-reading." (Scenes - and movies - are about what characters do...not what they are thinking.)
Any script about vampires, zombies, psychic experiences, aliens, talking animals, zany teenagers, spoofs of other movies, alternate realities, serial killers, vigilantes, superpowers, time travel, robots, cross-dressers, angels or devils, evil scientists, paranormal activities, or precocious kids is going to have a VERY difficult time holding my attention, much less winning me over.
Flashbacks.
Food fights.
Characters laughing at stuff that's not funny.
Voice-over.
Writers who don't know "its" from "it's," or "your" from "you're."
His Favorite Position ... to Read In
I can't read in one position: I'll fall asleep. Any script that keeps me reading in one position is a script I'll probably option. Any script that keeps me reading to the end is going to get a callback.
The Dirty Little Secret Mr. October Want to Share
Secret #1: Compressing your typeface or changing your format to mask your script's excessive length won't work. You can't fool us.
Secret #2: It's easy to open a script with an attention-grabbing sequence: don't bother. 99% of the time scripts don't get better. The talent (or lack of it) that's on the first few pages will be there for the rest of the script. There's no use trying to mask it with fancy footwork.
Secret #3: Almost all the voodoo and graphs and rules and "secrets" you read in screenplay manuals is useless or, worse, misleading. Only a handful are worth the paper they're printed on. I've never heard a professional writer, director or producer refer to any of the silly theories or putative "rules" propounded in such books...except in jest.
Secret #4: There are almost no "great undiscovered scripts." At least, not for long. A great script glows in the dark. It will find its way to someone who will "get it."
Secret #5: Good isn't good enough. If your script isn't excellent, you're wasting our time...so don't waste yours trying to sell it. Excellence is the only interesting or rewarding goal. Don't write a script to make money; you probably won't: write it because you have to; then you might have a chance. And for God's sake...don't write it to win a contest.
Secret #6: Only a very few screenwriting contests are worth your time, effort, and considerable entry fees. If experienced, working professionals aren't reading your work, you better ask, "Who is?"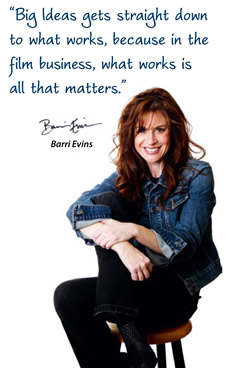 REVOLUTIONIZE THE WAY YOU CREATE!
A working film producer who's sold pitches and specs to all the majors, Barri Evins created BIG IDEAS to give aspiring screenwriters what it takes to achieve their dreams by sharing the techniques she uses with highly paid pros on big league projects. The Big Ideas Screenwriting Seminar revolutionizes the way you write. Create ideas that ignite industry interest. Master tools to craft a successful script faster than you dreamed possible. The seminar includes Barri's mentorship for a year. Follow Big Ideas on Facebook.
NEXT UP:
The BIG IDEAS SEMINAR Weekend takes on 2012!
BOSTON January 20-22 SOLD OUT
CONNECTICUT January 27-29 location TBA
BOSTON MASTERS February 3-5 open only to previous students
BIG IDEAS in LOS ANGELES and WASHINGTON DC are in the works! Interested? Email us!
For more info or to grab your spot contact info@bigBIGideas.com.
Learn more at www.bigbigideas.com.
Find tips and updates at BIG IDEAS for Screenwriters on Facebook.
Sign up for the Big Ideas Newsletter
: Next -
Contests, Contests Everywhere
- learn Contest Secrets, Keep Your Eye on the Prize: Choosing the Right Contest, reveal who was crowned Contest Judge of the Year and more.
Check out our previous What's Next? Newsletter packed with videos, podcasts and pointers.