Contest Judge of the Month: Mr. November
Allow me to introduce Mr. November. Charming. Powerful. And with a very big desk. His reputation is expanding faster than the number of screenwriting contests. Sharks dedicate a week to him. He is The Most Interesting Man in The Industry. He is, in fact, a Studio Executive.
The things you have heard about him are all true. It is true that Mr. November taught a monkey to take pitches. His personality is so magnetic he is unable touch a script with brass brads. You might seek his advice. He will tell you, "Find out what it is in writing that you don't do well, and then don't do that thing." You might beg for a meeting with him. Mr. November would respond, "There's a time and place for that. The time is never. You can figure out the place on your own."
The Contest Judge of the Month reveals what goes on behind the curtain of Screenwriting Contests. These bunnies are willing to bare it all, so I can bring you the scintillating scoop on who is reading your script and what they really, really want. Exploit this unique peek into their minds so your next contest encounter will render these Juicy Judges utterly unable to get your story out of their mind.
Then YOU be the judge! Vote in January for the hottest Centerfold, worthy of being Contest Judge of the Year. Nominate the winning CJOY and receive a 10% discount on the BIG IDEAS Screenwriting Seminar, held around the country.
A man rich in stories, Mr. November's legend precedes him. He could disarm you with his looks or his notes. Either way. Chicks hang on his every word, especially when he says, "green light." He doesn't always read scripts, but when he does, he prefers to read naked. It's up to your characters to turn him on. As Mr. November says, "The after party is the one you want to attend." Oh, and "Stay hungry my friends."
Mr. November's Vital Statistics
I've lost count. I've judged and mentored for CineStory. Some of the college ones as well. But I read so much at work, I feel like I am always judging something.
Mr. November's Reel Life
A studio executive who has overseen some hits. A flop. And a direct to DVD movie. But all with some cool actors in them. Produced a little bit. But I mostly pretend to be the arbiter of cool. His Turn Ons
A script that turns me on turns me on. Other than that, something that is commercial but manages to remember to have great characters does too.
His Turn Offs
Any script that forgets that the people in the script are the most important part. A monkey can write a generic action sequence. A nun can write some R-rated humor. But if you forget to make the people in the action or comedy come alive...well...you're dead.
His Favorite Position...to Read In
Face down. Naked.
A Dirty Little Secret Mr. November Wants to Share
Well...I'm certainly not a failed writer. I was a golf caddie. And people always ask if that means I am a great golfer. I'm not. Similarly I can judge a great script, discover its merits (commercial or not), and tell you how to fix it. Speaking of commerciality...what does that mean? What would a studio executive rather make: a movie about a stuttering King that is period...or a giant commercial VFX bonanza with a green superhero that is a big branded item? One made hundreds of millions; the other lost it. One had amazing characters and took the viewers for a ride. The other just was a ride.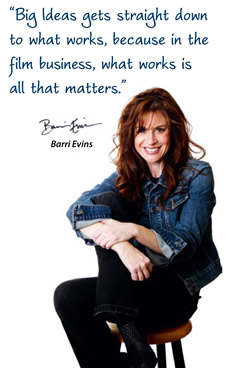 REVOLUTIONIZE THE WAY YOU CREATE!
A working film producer who's sold pitches and specs to all the majors, Barri Evins created BIG IDEAS to give aspiring screenwriters what it takes to achieve their dreams by sharing the techniques she uses with highly paid pros on big league projects. The Big Ideas Screenwriting Seminar revolutionizes the way you write. Create ideas that ignite industry interest. Master tools to craft a successful script faster than you dreamed possible. The seminar includes Barri's mentorship for a year. Follow Big Ideas on Facebook.
NEXT UP:
The BIG IDEAS SEMINAR Weekend takes on 2012!
BOSTON January 20-22 SOLD OUT
CONNECTICUT January 27-29 location TBA
BOSTON MASTERS February 3-5 open only to previous students
BIG IDEAS in LOS ANGELES and WASHINGTON DC are in the works! Interested? Email us!
For more info or to grab your spot contact info@bigBIGideas.com.
Learn more at www.bigbigideas.com.
Find tips and updates at BIG IDEAS for Screenwriters on Facebook.
Sign up for the Big Ideas Newsletter
: Next -
Contests, Contests Everywhere
- learn Contest Secrets, Keep Your Eye on the Prize: Choosing the Right Contest, reveal who was crowned Contest Judge of the Year and more.
Check out our previous What's Next? Newsletter packed with videos, podcasts and pointers.