Contest Judge of the Month: Ms. December
Oh the weather outside is frightful, but Ms. December is so insightful! How better to wrap up a year of Contest Judges than with the present I know you're simply aching to unwrap…an agent to call your very own. Representation, now that's a stocking stuffer baby. The kind that makes you wanna run outside and show it off to all the other writers in the neighborhood.
Ms. December's dreaming of the right screenplay, just like the ones she loves to sell. Making teardrops glisten, and writers listen, to hear they're staffed on a TV show. She's hoping for the right screenplay, with every single page you write. May your dialogue be witty and bright, and may all your screenplays be tight.
The Contest Judge of the Month reveals what goes on behind the curtain of Screenwriting Contests. These bunnies are willing to bare it all, so I can bring you the scintillating scoop on who is reading your script and what they really, really want. Exploit this unique peek into their minds so your next contest encounter will render these Juicy Judges utterly unable to get your story out of their mind.
Now that you've read the Twelve Months of Contest Judges, it's your turn to judge them! Vote in January for the hottest Centerfold, worthy of being Contest Judge of the Year. Nominate the winning CJOY and receive a 10% discount on the BIG IDEAS Screenwriting Seminar, held around the country.
Having an agent is the hap-happiest thing of all. It's the most wonderful time of your career. But you better watch out. Do better than try. You better not doubt. I'm telling you why. She sees you when you're slacking. She knows when you're a fake. She knows if you are bad or good, so be good for your story's sake.
Ms. December can bring tidings of great joy. And that's what contests are all about, Screen Writer.
Ms. December's Vital Statistics
I'm a judge for the non-profit CineStory Foundation Screenwriting Contest. I've been involved with the organization for well over a decade and have been a judge for the final round about 5 or 6 times. I only judge the finals of the contest because it's the most fun and it always involves a free meal. I'm no fool. A high score will get you to that round, but for the finals dinner, all the judges have to come and make a case for the script they want as the winner. It can get pretty raucous!
Ms. December's Reel Life
I'm a film and television literary agent. I represent screenwriters, directors, an occasional producer and sell the film rights from books. I'm coming up on about year 22 in the business and when I read a perfectly written line of dialogue or a scene which surprises me I still get a total thrill...
Her Turn Ons
CRAFT, CRAFT, CRAFT. It's ALL about craft, folks.
I LOVE when I can think to myself, "I didn't see that coming," but it makes total sense, or the writing is so strong that I can take the ride knowing that at some point it will make sense. I love stories where I feel a bit challenged and exposed… I once took on a client because I sobbed all the way home from the screening of his film thinking, "How did he get inside my head and my heart?!" I get totally turned on by confident writing and voice. It's very exciting to discover someone who has craft so sublime that you forget you are reading a script and get completely enveloped by the story. Of course, being an agent, I get turned on when I read a script and think, "Wow, this writer has a career ahead of them!"
Her Turn Offs
There are too many things to name in terms of nuts and bolts that make me nuts: scenes that don't lead anywhere, dialogue that goes round and round, typos, bad formatting, sloppy work in terms of character, story, prop tracking.
Also, I don't want to read a story about a talking dog. I don't want to read a story about the film business. I particularly do not want to read a story about a talking dog IN the film business. However, I'm a sucker for a boy and his dog story, providing the dog does not talk.
Her Favorite Position…to Read In
I have a big expensive leather club chair that I'm supposed to love reading in, but I don't. So I usually end up in bed or on the couch with piles of pillows to prop me up with the script resting on another pillow on my lap. Finding the right glasses-to-manuscript distance is becoming more and more of a problem as I age!
A Dirty Little Secret Ms. December Want to Share
CineStory Foundation is the best-kept secret in Hollywood. Sure, if you win you get to brag to your mom. Sure, if you win, you get some scratch and a bag of goodies just like all the other contests. But, if you win CineStory, what you get is something that you won't find anywhere else: an invitation and tuition paid (!) to the magical CineStory writers' retreat in the mountains of Idyllwild, California.
At this retreat you'll get to work, walk, eat, talk and laugh with fancy, working, caring Hollywood executives and pro-writers who have donated their time and energies because they love story as much as you do. And because of that, they'll push you to take your craft to the next level. You'll get one-on-one discussions about your script, your dreams, your ideas and a yearlong mentorship with two of them to help guide you to the next place in your career.
I said it before and I'll say it again. The journey and the prize is the craft.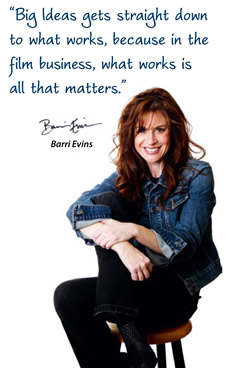 REVOLUTIONIZE THE WAY YOU CREATE!
A working film producer who's sold pitches and specs to all the majors, Barri Evins created BIG IDEAS to give aspiring screenwriters what it takes to achieve their dreams by sharing the techniques she uses with highly paid pros on big league projects. The Big Ideas Screenwriting Seminar revolutionizes the way you write. Create ideas that ignite industry interest. Master tools to craft a successful script faster than you dreamed possible. The seminar includes Barri's mentorship for a year. Follow Big Ideas on Facebook.
NEXT UP:
The BIG IDEAS SEMINAR Weekend takes on 2012!
BOSTON January 20-22 SOLD OUT
CONNECTICUT January 27-29 location TBA
BOSTON MASTERS February 3-5 open only to previous students
BIG IDEAS in LOS ANGELES and WASHINGTON DC are in the works! Interested? Email us!
For more info or to grab your spot contact info@bigBIGideas.com.
Learn more at www.bigbigideas.com.
Find tips and updates at BIG IDEAS for Screenwriters on Facebook.
Sign up for the Big Ideas Newsletter
: Next -
Contests, Contests Everywhere
- learn Contest Secrets, Keep Your Eye on the Prize: Choosing the Right Contest, reveal who was crowned Contest Judge of the Year and more.
Check out our previous What's Next? Newsletter packed with videos, podcasts and pointers.