My Plausibility Problem
Part 6 of our "Survival" series for screenwriters.

I'm a drag.

If you ever go to the movies with me, I apologize in advance. Why?

Plausibility.

Obviously, standards shift depending on genre- whether its Michael Clayton or Zombieland, Erin Brockovich or Airplane! More is expected from, say, a drama than a spoof comedy.

For dramas, real-world rules should be in place. If you write something that would never happen, it raises a red flag. If your audience can't "buy" X Y or Z, you might lose them. Movies by their nature are a fantasy, yes, but if we're not grounded in some sense of reality, then that's all it is- the fantastical. Which is fine if you're writing Donnie Darko, but not so fine if it's Donnie Brasco.

THE BOWLING BALL TEST

If a bowling ball drops on the foot of a character in your drama, will it hurt? Real world laws have to count for something. Gravity applies.

Problem is, I get bothered even when not talking about 007 movies, Tarantino flicks, or graphic novel adaptations ...

WIZARD OF OZ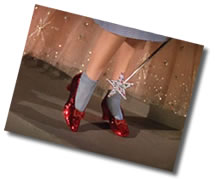 Am I the only one to wonder: A bucket of water? In that exact corner of the castle? C'mon! Let's see if I've got this right: Water is death for the Wicked Witch of the West. Being all powerful, you'd think she'd have left a general order for NO WATER ALLOWED in the castle. It also means she's never taken a drink of water or a drink of anything in her entire life ... but let that one go for now ...

Did one of her Winged monkeys bring the water in, not comprehending her weakness? Maybe an ambitious Tower Guard plotting an overthrow? How all-powerful is she if she gets doused by a swish of water and her "beautiful wickedness" goes pure liquid?

See what I mean? I have a plausibility problem.

DOUBLE INDEMNITY

I revere this movie. One of the greatest noirs of all-time. Screenplay by Billy Wilder and Raymond Chandler. Book by James M. Cain. These are names that will be around a hundred years from now.

But ...

Doesn't it bug you that Walter Neff (Fred McMurry) agrees to commit a murder with Phyllis Dietrichson (Barbara Stanwyck) ... after three scenes?

Scene 1: Phyllis' House. Walter tries to sell her insurance, likes what he sees, makes a pass, she rebuffs his advance, they make a date for him to return when the husband is home.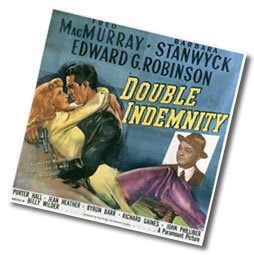 Scene 2: Phyllis' House. Husband absent, more sexual innuendo, Phyllis inquires about a 50K accidental death policy, Walter gets the intention, calls her on it, gets kicked out.

Scene 3: Walter's apartment. Phyllis arrives late night, more sparring, more sexuality innuendo, Phyllis is miserable, teary, telling of her awful life. Walter, being the iconic film noir male, can't lay off. He agrees to kill the husband.

One of the great movies of all time and I've got a problem with it? Sad indeed.

EYES WIDE SHUT

Kubrick is god. I'm only a flea at his heel, but even a flea has will ...

You're telling me there's a secret society composed of dozens, if not hundreds of people. They wear cool masks and robes, have somber rules and rituals followed by outrageous orgies that end in torture or death for any who dare to reveal them and ...

It's all been kept a secret until Tom Cruise shows up?

Notice I'm not asking how-if we're portraying a modern day world-it hasn't been made public in some fashion, on Twitter or Facebook or YouTube-I'm just saying ... hundreds of people at these events? Going on for years? And it takes Tom Cruise for it to leak out?

GLADIATOR

"It vexes me. It vexes me very much."

Question: If he vexes you, why not just kill him? You're CAESAR! Why would you care what the mob says?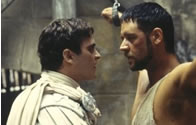 Answer: Because there's no movie if Commodus (Joaquin Phoenix) rams a sword through Russel Crowe, reborn as Gladiator, when he discovers him. That discover happens at about the story's mid-point. It if happened as it probably would in real life, there's no movie.

Idiot, it's NOT real life! It's escape, it's entertainment. It's the magic of movies, that silver light. Suspension of disbelief. I get it. That's why people pay $11 or more to sit in the dark for 90 minutes.

And yet, I can't shut it off. Always questioning- motivation, logistics- such and such would never happen. My moviegoing friends ignore me, feed me popcorn and Snickers bars, anything to shut me up. It doesn't work.

I have a plausibility problem.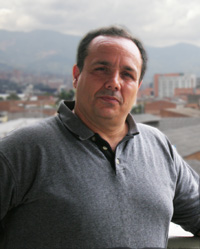 PAUL PEDITTO wrote and directed Jane Doe, an A-PIX Films release starring Calista Flockhart. The film was awarded Best Feature at the New York Independent Film & Video Festival and grossed over 2 million dollars.
Six of his screenplays have been optioned, among them Crossroaders to Haft Entertainment (Emma, Dead Poet's Society).
He has won semi-finalist honors at Nicholl Fellowship Screenwriting Awards and Slamdance.
Other imdb credits include Home In The Heartland, and The Group, which was accepted at multiple film festivals around the country.
Four of his stage plays have been published by Dramatic Publishing Company, two of which were presented on National Public Radio's "Chicago Theaters On The Air" series. Over 25 productions of his theatrical work have been performed in Chicago, Philadelphia, Los Angeles and New York. His adaptation of Nelson Algren's Never Come Morning won 9 Joseph Jefferson Citations including Best Play and Best Adaptation. His adaptation of Ben Hecht's 1,001 Afternoons In Chicago is a two-time Jefferson Award nominee. Pura Vida, a stage play based on his novel, was produced at Chicago's Live Bait Theater, earning a feature article in the New York Times.
He teaches screenwriting at Columbia College and Chicago Filmmakers, professionally consulting on thousands of screenplays since 2002. His book Writing Screenplays is now available for purchase.