There Are No Absolutes In Screenwriting
WRITERS WRITE!

True.

Haven't bought Syd Field's SCREENPLAY book in over a decade, but an old copy states ...

"You need two to three hours a day to write a screenplay."

Really? So, you're saying if I can't find two to three hours per day, every day, then I can't write a screenplay? What if I have to work ten hours a day to keep four walls around me, and the lights and heat burning within those four walls, and the cat fed, etc ... then I can't write a screenplay?

Screenwriting is about energy. That is what you need to write a screenplay. Not to mention all of this is beside the point as far as the conversation about how to write a good screenplay. We'll save that battle for another day. As to debunking that you need to do X Y or Z to write a script, it's bullshit. Speaking of which, let's get to this one before I forget ...

YOU MUST KNOW YOUR ENDING BEFORE YOU START!

This is Syd's key maxim, the one on which he created a multi-million dollar book and lecture empire--the necessity of needing to know your ending before you start writing the script. It might strike you as odd that I, a self-confessed UBER-OUTLINER, call bullshit on Syd Field for this. But I do ...

Syd, don't tell me that I have to do anything. Not 'til you start pumping up that IMDB profile of yours. If Charley Kaufman or Quentin Tarantino or Woody Allen told me I had to do this or that to write a screenplay, I might listen. But they never would. Because there is no one prepackaged set of rules for success.

Do I outline? Sure. The script I just finished was outlineed. Because I put that time in, I knew the idea top to bottom, beginning to end. The writing of the outline (a 15 page beat sheet) took almost three months to conceive. I wrote the script in just under three weeks. Doesn't that prove Syd is right? Nope. It merely means that the process of outlining is right for me. Maybe you work better with a more organic approach, letting your character have space to move within the context of the story, NOT working out every damn detail before you start. Who the hell wants to take a vacation where you know what you're going to do every minute of every day? That "if it's Monday it must be Brussels" school of writing is death. So, find the process that works best for you, and avoid the clichés of screenwriting gurus.

WRITE WHAT YOU KNOW!

As with all these prepackaged notions, the real answer is that the cliche is true ... sometimes. Only a fool wouldn't notice that details from real life are hard to beat. You can't go wrong populating your screen world with details about how Uncle Al wears that comb-over or how Aunt Ethel tears the backs off those Maryland crabs and slurps at the claws. Details from the real world stand out in a script exactly because they're real. You can't make that shit up. Dialogue, too. Maybe they're tossing gems at you on the California Blue Line Saturday at midnight or noon on the line at Home Depot. Thank those good people by writing down the insanely great things they say and fitting them into the script you're writing. Make no mistake, the drunken chatter of Wrigley Field fools is all yours if you hear it and jot it down. You just wrote it.

What this maxim leaves out is that I would be capable of writing something of value if I knew nothing about the subject matter. It would be like saying an actress without a drug addiction couldn't pull off the role of a drug addict. In the era of Google, I can be a fake expert in just about any field in short order. It's called research and it's not a new concept. Craft around the subject you know nothing about. If you"re craftsman enough, the reader will never know.

Bottom line: If you write what resonates with you personally, and it resonates universally, you might be a writer with a career in front of you.

DON'T GO TO L.A. UNTIL YOU'RE INVITED!

Ok, I made this one up. But it goes to the heart of the question about whether writers need to be in Los Angeles to have a career. Back in the day my answer would have been, "I am my script."If my script can travel anywhere and represents me, isn't that enough of a presence? If I need to take a meeting I can fly in. There are plenty of writers who famously do NOT live in Los Angeles.

True.

If you queried people in the biz, however, I think overwhelmingly you would hear that if you're serious about writing as a career, you DO need to be in L.A. If relationships are the key, it's a no-brainer. Studio money, the agencies ... all are almost exclusively out there. You're meeting people casually as you never would in Chicago, let alone Idaho. I could tell you multiple stories of students who had no luck here in Chicago moving to Los Angeles and after a few years-and yes, it'll be AT LEAST a few years, even if you're lucky and talented-meeting people, getting optioned, signing with agents. That process started because they were serious enough to move to Los Angeles.

Does that mean you have to? Of course not. But it doesn't hurt to be there.

GOTTA HAVE AN AGENT!

Sure, I miss those 18 buck hamburger lunches at Dolce or Knew or Che. It's nice being at a big agency and being treated like you're the shit. It's nice when you know Ryan Gosling is reading your script, or that you're only a step or two away from a breakthrough because of a meeting your agent set up for you at -- Production Company. Agents wield the power in town and there's no way around them. They've got the Divine Rolodex that can change your world with a phone call. You have no access without the agent. You're out of the club.

But what if you're OK with being out of the club?

What if you choose to not go the Studio or Independent film route?

What if you're Oren Peli and you raise $15,000, shoot for a month in a old house and make PARANORMAL ACTIVITY? What if you're Daniel Myrick and Eduardo Sánchez and you go out in the woods with a couple actors and come out with BLAIR WITCH PROJECT?

What if you're a pal of mine whose first movie was budgeted at 40K and got into Sundance two years ago without an agent?

There are hundreds of such stories.

You don't need an agent.

Is having one a good thing? Sure, why not? Is it the ONLY way? Hell no.

There are no absolutes in screenwriting.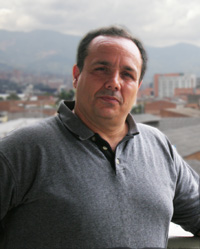 PAUL PEDITTO wrote and directed Jane Doe, an A-PIX Films release starring Calista Flockhart. The film was awarded Best Feature at the New York Independent Film & Video Festival and grossed over 2 million dollars.
Six of his screenplays have been optioned, among them Crossroaders to Haft Entertainment (Emma, Dead Poet's Society).
He has won semi-finalist honors at Nicholl Fellowship Screenwriting Awards and Slamdance.
Other imdb credits include Home In The Heartland, and The Group, which was accepted at multiple film festivals around the country.
Four of his stage plays have been published by Dramatic Publishing Company, two of which were presented on National Public Radio's "Chicago Theaters On The Air" series. Over 25 productions of his theatrical work have been performed in Chicago, Philadelphia, Los Angeles and New York. His adaptation of Nelson Algren's Never Come Morning won 9 Joseph Jefferson Citations including Best Play and Best Adaptation. His adaptation of Ben Hecht's 1,001 Afternoons In Chicago is a two-time Jefferson Award nominee. Pura Vida, a stage play based on his novel, was produced at Chicago's Live Bait Theater, earning a feature article in the New York Times.
He teaches screenwriting at Columbia College and Chicago Filmmakers, professionally consulting on thousands of screenplays since 2002. His book Writing Screenplays is now available for purchase.