Stealing




Should you ever do it?

C'mon... seriously? The answer is FUCK yeah.

Let me bow to my betters, first some thoughts on the subject by Jim Jarmusch, appropriately stolen/borrowed from a pal's Facebook entry:



"Nothing is original. Steal from anywhere that resonates with inspiration or fuels your imagination. Devour old films, new films, music, books, paintings, photographs, poems, dreams, random conversations, architecture, bridges, street signs, trees, clouds, bodies of water, light and shadows. Select only things to steal from that speak directly to your soul. If you do this, your work (and theft) will be authentic. Authenticity is invaluable; originality is non-existent. And don't bother concealing your thievery - celebrate it if you feel like it. In any case, always remember what Jean-Luc Godard said: "It's not where you take things from - it's where you take them to."



Please understand, I'm not advocating plagiarism. Plagiarists are stunningly UN-original. I'm advocating, like Jarmusch, something more akin to re-interpretation. Old school filtered through your lens, coming out new. Like Picasso...

Never been big on Cubism but the modern "influences" upon Picasso clearly coalesced into a startling "new" form. Yet Picasso himself was the one who uttered (or supposed uttered) the most famous words on this subject. "Good artists borrow, great artists steal." This isn't a call for outright copying of copywritten materials. It's a nod to the undeniable fact that every generation steals from the generation before it, taking their vision to new directions using new technologies and old themes to bring us to an entirely new place creatively. The difference between innovation and boring unoriginality is located firmly between the ears of the artist/writer.

This take on Romeo and Juliet is interesting too...

"The best example I can think of would be Shakespeare's theft of Romeo and Juliet. The story is an Italian tale, probably by Bandello. It was translated into English (by Arthur Brooke), and then retold by some guy named William Painter in prose form, and then retold a third time by Shakespeare in play form. The story was well known at the time and many people then knew full well that it was adaptation. But the brilliance of Shakespeare's adaptation has completely occluded any prior versions from memory, so that Romeo and Juliet is indelibly associated with Shakespeare.

Others have done re-adaptations of Romeo and Juliet, such as West Side Story written by Arthur Laurents. But West Side Story will always be remembered as a musical based on the Shakespeare play.

Thus, Shakespeare was stolen from Bandello, Brooke and Painter because now Shakespeare in a sense owns Romeo and Juliet. Whereas Arthur Laurents merely borrowed from Shakespeare, since people will always remember West Side Story as an adaptation of a Shakespeare work.

Or another example: Bram Stoker stole his Dracula character from John Polidori, since now we now indelibly associate that character with Stoker's version, whereas Anne Rice has merely borrowed it from Stoker."

Lastly, from recent personal experience, dialogue for my micro-budget script was "stolen" from certain conversations, none of which, being 100% verbal, are copy written or copy-writable, but which were absolutely perfect for my script to establish tone and location. I freely admit to "borrowing" from the genius of the speakers - just as I would thank two people in front of me on a line at Target if they gave me dialogue to steal. If you hear it, if it's in open air and not in a fixed form that is copy written, then grab a freakin' pen and write it down. You just wrote it!

I'd tell you more about my movie subject matter but I'm afraid you'd stea- be inspired and borrow it!

[Disclaimer: I make no claims to creativity in this post.]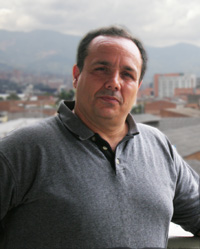 PAUL PEDITTO wrote and directed Jane Doe, an A-PIX Films release starring Calista Flockhart. The film was awarded Best Feature at the New York Independent Film & Video Festival and grossed over 2 million dollars.
Six of his screenplays have been optioned, among them Crossroaders to Haft Entertainment (Emma, Dead Poet's Society).
He has won semi-finalist honors at Nicholl Fellowship Screenwriting Awards and Slamdance.
Other imdb credits include Home In The Heartland, and The Group, which was accepted at multiple film festivals around the country.
Four of his stage plays have been published by Dramatic Publishing Company, two of which were presented on National Public Radio's "Chicago Theaters On The Air" series. Over 25 productions of his theatrical work have been performed in Chicago, Philadelphia, Los Angeles and New York. His adaptation of Nelson Algren's Never Come Morning won 9 Joseph Jefferson Citations including Best Play and Best Adaptation. His adaptation of Ben Hecht's 1,001 Afternoons In Chicago is a two-time Jefferson Award nominee. Pura Vida, a stage play based on his novel, was produced at Chicago's Live Bait Theater, earning a feature article in the New York Times.
He teaches screenwriting at Columbia College and Chicago Filmmakers, professionally consulting on thousands of screenplays since 2002. His book Writing Screenplays is now available for purchase.