A Screenwriter's Prenuptial Agreement
I'll be talking more about the project I'm working on, PRIVATE SESSION, the closer we get toward production in the early part of 2013. This will be micro-budget all the way, no A or B names attached to our little 40K movie, yet I'm optimistic. Why wouldn't I be? My director partner Boris and I are seeing the movie the same way, content-wise, visually. Micro = I can raise the budget myself = minimal (I hope) compromises. Imagine Wells and Cassavetes in the time of the Alexa or 7D camera? Orson wouldn't have to make those awful Mateus wine commercials. Cassevetes wouldn't be making other people's movies just to grab the cash he needed for his own endeavors. Micro, a beautiful thing.

With the democratization of cinema comes everyone and their Uncle making these movies. But only a few of the tens of thousands made will rise above the surface to gain an audience. It'll ultimately come down to what it always has, the technical skill to visualize, and the stories themselves.

If you're about to endeavor on one of these micro journeys, I need to bring up a life lesson that JANE DOE taught me, which is: Cover thy ass.

No blanket statements but seems to me writers and the business end aren't natural companions. Yet this shit MUST be talked about. Take my own experience for PRIVATE SESSION ...

My partner Boris is producer/director. I'm the writer. Simple, right? That's an understanding any Columbia Film and Video freshman could understand.

Yeah, but ...

What happens when we seek financing and I hand the script off to one of my contacts; what if one of them bites? Say, one of the producers of MONEYBALL, who is an acquaintance of mine from way back. Up for an Oscar this year, she's a player. What if she likes the script? What if she wants to come on as producer, to add a zero, or even two zeros to our stated $50,000 budget? What if she wants to send it to A-list people? G-R-E-A-T, right?

Yeah, but...

But what if she wants a director with a "track record"? What if she wants to bounce my partner Boris? Would he be satisfied with just a producer credit in a larger film? Would he feel betrayed? How much compensation will he need to step away? And what if she wanted to bring another writer on board? Would I be good with that?

How about if, through that connection, I bring in the majority of the money to the project? Doesn't that bump my share of producer profits? By how much? Do I get a producer credit? What is my percentage as writer? What percentage are we allocating for potential investors? What's expected of me after the script is finished in terms of time and money commitment?

See what I mean? A thousand questions ... My partner and I need a prenuptial agreement. All these contingencies need to be discussed. Paperwork needs to be drawn up specifying the EXACT roles and expectations of each person.

Do you have a similar situation for your upcoming movie? Have you thought about all these contingencies?

The I'm-just-the-writer-don't-bug-me bit won't cut it with micro. Traditional roles of writer and producer go by the wayside when everyone has to contribute everything they can to the cause. And if no money can be found for a $200 an hour entertainment lawyer? Sit down and hash out this uncomfortable stuff, clarify expectations, maybe write out a basic agreement, sign the paperwork and put it away like a prenuptial agreement.

Trust me, you'll be glad you did.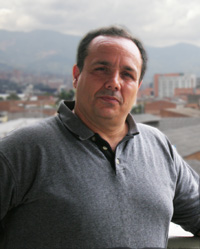 PAUL PEDITTO wrote and directed Jane Doe, an A-PIX Films release starring Calista Flockhart. The film was awarded Best Feature at the New York Independent Film & Video Festival and grossed over 2 million dollars.
Six of his screenplays have been optioned, among them Crossroaders to Haft Entertainment (Emma, Dead Poet's Society).
He has won semi-finalist honors at Nicholl Fellowship Screenwriting Awards and Slamdance.
Other imdb credits include Home In The Heartland, and The Group, which was accepted at multiple film festivals around the country.
Four of his stage plays have been published by Dramatic Publishing Company, two of which were presented on National Public Radio's "Chicago Theaters On The Air" series. Over 25 productions of his theatrical work have been performed in Chicago, Philadelphia, Los Angeles and New York. His adaptation of Nelson Algren's Never Come Morning won 9 Joseph Jefferson Citations including Best Play and Best Adaptation. His adaptation of Ben Hecht's 1,001 Afternoons In Chicago is a two-time Jefferson Award nominee. Pura Vida, a stage play based on his novel, was produced at Chicago's Live Bait Theater, earning a feature article in the New York Times.
He teaches screenwriting at Columbia College and Chicago Filmmakers, professionally consulting on thousands of screenplays since 2002. His book Writing Screenplays is now available for purchase.