News, opinions, interviews and more from Hollywood and the screenwriting contest scene.
Interview with ISA Fast Track Fellow David Baugnon
49-year-old David Baugnon grew up in New Orleans, and graduated from Loyola University there as a Communications major. He spent 4 years teaching in Kobe and Osaka, Japan, after college and then moved to New York in 1997. where he makes his living writing, mentoring and teaching screenwriting. He was recently named an International Screenwriters Association Fast Track Fellow for his script, The Messiah Project.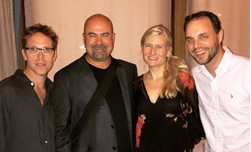 Left to right: Chris DeWan, David Baugnon, Felicity Wren and Max Timm.
HollywoodIQ: Congats on your recent Fellowship. Do you enter a lot of contests?
David Baugnon: I didn't submit to contests for many years, mainly because I knew my work wasn't quite there yet. But once I think it is there, I go big and submit to a wide array of contests. You never know if a reader will respond to your material. I always listen to critiques and sometimes pay for the extra feedback, but it can get quite expensive. That said, it's been vindicating to have a few of my scripts get recognition in multiple contests, and yes, it can be a way to launch your career.
HIQ: Tell us about The Messiah Project.
David Baugnon: The logline for "The Messiah Project" pilot reads: After her husband is killed in combat, an Army scientist creates a rapid healing serum that transforms a Special Ops squad into indestructible soldiers. When the squad goes rogue, she must hunt down the renegade soldiers before their actions can trigger global chaos by fulfilling a biblical prophecy.
Max Timm at ISA personally drove me to all the meetings they had scheduled that week, which included meetings at CAA, The Weinstein Company, Marvel, Echo Lake and Benderspink to name a few.
I actually entered two scripts into the ISA Fast Track on a whim. I got the email flyer and figured why not. I was psyched to hear that both scripts made the top 10 and Messiah was selected (along with Chris DeWan's TV pilot, Wunderland) as the two winners in October.
I have to say the win completely exceeded my expectations. Many contest wins are mostly a pat on the back and a pdf certificate. ISA's Fast Track flew me out from NY and put me up at the Grafton on sunset for five nights. And Max Timm at ISA personally drove me to all the meetings they had scheduled that week, which included meetings at CAA, The Weinstein Company, Marvel, Echo Lake and Benderspink to name a few. The meetings were informational, i.e. not pitch sessions but I did end up pitching some work and it was apparent that the mentors had read and appreciated the material and a few gave some helpful feedback. At the time, that spec was attached to a producer but it has recently come back under my control and is available.
HIQ: What's next? Are you working on a new project? Do you have representation? Will you keep in touch with your Fast Track mentors?
I just finished a first draft of a new TV Pilot about four undercover policewomen who work in Paterson, New Jersey, a project I'm developing with Sharon Easton, the creator of the show and an officer with 26 years on the force there. Very gritty but fun. Initial reaction has been really strong and favorable. I'm also working on a new feature but I'm keeping that under wraps for now. I absolutely hope to keep in touch with the Fast Track Mentors, all of whom where gracious and fun to talk to. In fact, one of the mentors was creative coach Lee Jessup and she was great, so much so that I hired her as a coach, so I will definitely be in touch with her. And I really can't praise the ISA staff enough- Felicity Wren and Max were incredibly generous with their time, support and guidance ... that's what put the ISA Fast Track over the top for me. The party for Chis and myself afterwards was the cherry on top.
(Posted: 02/23/2016)