Updated: 05/10/2019
Steve Feld's Take My Wife, Please has been named the winner of the Emerging Screenwriter's Shoot Your Sizzle Screenwriting Competition.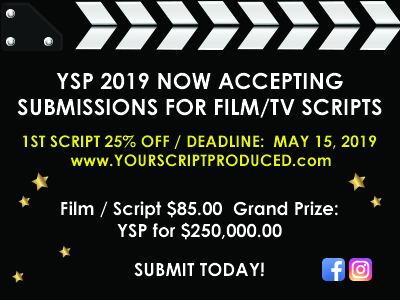 WinningScripts PRO
Spotlight
Script:
An FBI Agent wakes up with no memories in a post-apocalyptic New York City after an unknown catastrophe has annihilated all life on earth. Second Place, Screenplay Festival, 2018.
Screenwriting Contest News
Fox Hollow by Ariel Sobel has been named the Winner of the BlueCat Screenplay Contest for 2019. Benjamin Christopher won the Hour-long Pilot Category for his script Tenth Street, while Katie Blair was the Half-Hour Winner for her script, Clay. [Updated: 05/07/2019]
Austin Film Festival & Writers Conference (AFF), the premier film festival that champions the writers' contribution to film, television, and new media, has announced David Benioff and D.B. Weiss as the recipients of the "Outstanding Television Writer" Award at the 26th Annual Austin Film Festival, this October 24-31, 2019. [Updated: 05/06/2019]
BlueCat has named their top 5 Feature and TV Pilot finalists. [Updated: 04/30/2019]
Emerging Screenwriters has announced the Top 100 scripts of their 2019 Shoot Your Sizzle Screenwriting Competition. [Updated: 04/19/2019]
Women reigned victorious at the 2018-19 Fresh Voices Screenplay Competition this week with an all-star group of talented female writers dominating both the Drama and Family Film Categories. Leading them all, it was Skye Emerson's historical drama, CHALLENGER, that wowed the jury and took home the Grand Prize Award. [Updated: 04/12/2019]
ScreenCraft has announced the quarterfinalists from among roughly 2,500 submissions to their 2019 ScreenCraft Fellowship Competition. [Updated: 04/11/2019]
BlueCat has announced their 2019 Feature, TV, and Short Script semifinalists. [Updated: 04/11/2019]
Fresh Voices Screenplay Competition has named their 2018-19 Contest Finalists and Spotlight Award Nominees. [Updated: 04/01/2019]
A newly launched division of the Scriptapalooza Screenwriting Competition is now producing films utilizing the organization's relationships to attach funds and talent. [Updated: 03/27/2019]
The BlueCat Screenwriting Competition has announced quarterfinalists for their 2019 Feature, Short, and TV pilot contests. [Updated: 03/26/2019]
Austin Film Festival and Rooster Teeth are partnering to launch the Inaugural "Rooster Teeth Fellowship Award" to be presented at the 26th Annual Austin Film Festival. This new award will be available in conjunction with AFF's existing Script Competitions and is open to all scripted submissions that embody the Rooster Teeth genre. [Updated: 03/19/2019]
Partner
allows you to rewrite and resubmit for free!
We offer 6+ pages of script development notes to improve your drafts and have 35+ top Film & TV Mentors who will read, meet & guide our winners! Huge industry access to all entrants. enter today!
www.finishlinescriptcomp.com
Partner
Subscribe to
WinningScripts PRO
to put your loglines and script excerpts in front of hundreds of industry professionals. From MovieBytes.com, the Internet's #1 site for screenwriting contest info.
WinningScripts: ScriptLinks
A geeky comic book writer promotes his comic book with the aid of a young prodigious girl and a band of nerdy kids after the superhero he created steps out of a portal and into his comic book store in search of his creator.
Author: Joe Borriello
Genre: Comedy,Fantasy,Family
While competing in a virtual reality video game tournament, a tomboy, gamer girl is transported to a parallel universe where she must enlist the help of five woman warriors to defeat the games big boss or be stuck in the game forever.
Author: Mike W. Rogers
Genre: Action-Adventure,Sci-Fi
When a student with the power of astral projection is blamed for the death of a female research scientist, a pharmaceuticals maker offers him refuge but ultimately looks to manipulate his abilities for his own gain.
Author: Mike W. Rogers
Genre: Thriller
This one is pure Fun.!It's a genre buster, LA LA Land meets James Bond, meets All That Jazz and Cabaret! Asian American Black Belt goes undercover for the CIA, to help track down terrorists. Oh, and did I mention she's the Lead in a Broadway Musical? This is very musical, but there's a lot of action! This one is getting a lot of attention right now! The main Characters reside in New York, they are part of an international terrorist group.
Author: Janet Caulfield
Genre: Drama,Romantic Comedy,Thriller
It's not your mother's buddy movie. It's a combo meal. It's a little bit of Lethal Weapon, Die Hard, The Social Network with a side of Taken. Experienced FBI Agent hires and befriends an internet entrepreneur to help rescue a six year old girl taken hostage in a fall out shelter by a ruthless psychopath. Winner LA film fest Best scene 2017.
Author: Janet Caulfield
Genre: Drama,Thriller,Action-Adventure
*** Russian astronaut, thrown out of the space program, hijacks a space taxi going to the International Space Station. An intergalactic, time warp, adventure to the future.
Author: janet caulfield
Genre: Thriller,Action-Adventure,Sci-Fi
Kids and their dogs, find the rainbow bridge in a snowstorm. They teleport, fly, zoom through tunnels, and levitate, around this heaven-like universe.They have a lot of fun, but get a few surprises along the way, from messages, and musical communication with angels and whales....to a run in with a demon. They meet up with their recently departed Grandfather, and his dog, who helps them return home.
Author: janet caulfield
Genre: Fantasy,Supernatural,Animation
Locusts invade the building, the adherence schedules are off kilter, and one of the night managers is watching TV and preaching the word. Meet the staff of the Call Center where "the prisoners run the prison". But it's just a cup of coffee, for the merry go round of Managers in this wacky environment
Author: Janet Caulfield
Genre: Drama,Comedy
A disgruntled Manager at the Unemployment office is having a really bad day. First there's the dirty Geese, then the slobs in the parking lot...and to top it off? One of his employee's is feeding them! It's a comedy expressso. A bold blend of "The Office and Seinfield with a shot of "How I met Your Mother."
Author: janet caulfield
Genre: Comedy
A Veteran FBI Agent outsmarts a cult of young cyber crooks. The crafty FBI Agent with the help of a New York Company that specializes in security services and equipment, tracks down, hunts and arrests a syndicate of interns working in these cities. It's MAD MEN meets CRIMINAL MINDS.
Author: Janet Caulfield
Genre: Drama,Comedy,Action-Adventure
More WinningScripts ...