Updated: 03/19/2019
Austin Film Festival and Rooster Teeth are partnering to launch the Inaugural "Rooster Teeth Fellowship Award" to be presented at the 26th Annual Austin Film Festival. This new award will be available in conjunction with AFF's existing Script Competitions and is open to all scripted submissions that embody the Rooster Teeth genre.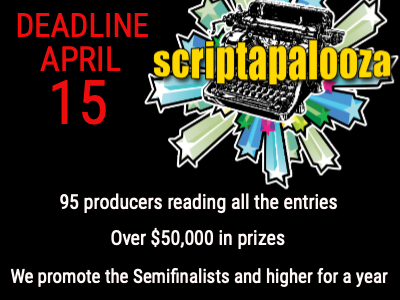 WinningScripts PRO
Spotlight
Script:
An FBI Agent wakes up with no memories in a post-apocalyptic New York City after an unknown catastrophe has annihilated all life on earth. Second Place, Screenplay Festival, 2018.
Screenwriting Contest News
Scriptation, the company behind the popular script app used on film and television productions worldwide, opened the call for submissions for its new screenwriting competition, the Scriptation Showcase. Fifteen winners' scripts will be featured for a full year in Scriptation, giving them unprecedented exposure to Hollywood professionals. [Updated: 03/12/2019]
Semifinalists have been announced for the 2018-19 Fresh Voices Screenwriting Competition. [Updated: 03/07/2019]
THE BOOK OF JOEY by Steven Block has been named the TVWriter.com People's Pilot Comedy category winner, while THE FUCKING NEW GUYS by Meredith Bagby took top honors in the Drama/Action category. [Updated: 03/06/2019]
CineStory Co-Executive Director Carlo Martinelli catches up with the 2018 CineStory Fellowship second place winner, Avishai Weinberger. [Updated: 03/05/2019]
The People's Pilot television writing contest, from TVWriter.com, has announced the finalists of their 27th competition. [Updated: 02/27/2019]
Twelve producers have requested to read Scriptapalooza TV's recently announced contest winners. [Updated: 02/26/2019]
Robert Axelrod has been named the 2019 CineStory TV Fellow for his winning episodic spec comedy script BETTER THINGS - "Goy Vey", which impressed the judges by capturing the tone of the show while also showcasing the writer's own voice. [Updated: 02/22/2019]
Greg Silverman's new media company Stampede is partnering with the HollyShorts Film Festival, the Los Angeles-based short film festival, on a first-look feature film and TV series development program. (From the Hollywood Reporter.) [Updated: 02/19/2019]
CineStory has announced their 2019 Spec Drama, Spec Comedy, Original Drama and Original Comedy category winners. The first place winner of each division is now in the running for this year's TV Fellowship, which includes a $1,000 cash prize, free tuition and housing for this year's TV retreat, and a 12-month mentorship with 2 Hollywood professionals hand-picked to help the Fellow advance the Fellow's craft and career. [Updated: 02/14/2019]
Scriptapalooza TV has announced their latest Pilot, Sitcom, One-Hour Drama and Reality Category winners. [Updated: 02/14/2019]
TVWriter.com has announced the semifinalists for the 27th People's Pilot competition. Finalists will be announced in two weeks. [Updated: 02/13/2019]
Partner
allows you to rewrite and resubmit for free!
We offer 6+ pages of script development notes to improve your drafts and have 35+ top Film & TV Mentors who will read, meet & guide our winners! Huge industry access to all entrants. enter today!
www.finishlinescriptcomp.com
Partner
Subscribe to
WinningScripts PRO
to put your loglines and script excerpts in front of hundreds of industry professionals. From MovieBytes.com, the Internet's #1 site for screenwriting contest info.
WinningScripts: ScriptLinks
girl 10 captive from birth escapes child porn ring helps cop get killer
Author: Jamie Sutliff
Genre: Drama,Thriller,LGBTQ
Spy "The Bank" operative Adam Gray is assigned to stop an illegal energy producer from starting a war between China and the United States. (The project had a letter of intent attached from Film Finances completion bond company and partial financing in place by Banco Popular in Puerto Rico.)
Author: Kevin Birnbaum
Genre: Drama,Thriller,Action-Adventure
A World War II tragedy abruptly transforms the temporary loving friendship of two ethno-racially disparate young Navy wives into a permanent parenting partnership.
Author: Stan Lieberman
Genre: Drama,Romance,LGBTQ
The enemy is within.
Author: Linda Boroff
Genre: Drama,Thriller,Action-Adventure
Danger stalks a group of young teen girls on a remote camp outing in 1962.
Author: Linda Boroff
Genre: Thriller,Family
College girl accompanies her new boyfriend to his decaying San Joaquin Valley home town for his mother's birthday and is pulled into family conflicts and lost dreams dating back to the Civil War.
Author: Linda Boroff
Genre: Drama
Biopic of the luminously beautiful but tragic 1950s film noir star Barbara Payton.
Author: Linda Boroff
Genre: Drama,Historical,Romance
Shorter version of Christmas Mitzvah script.
Author: Justine Cowan
Genre: Drama,Urban
You can find stoners, punks, Goths, and even normal Feds....in the Slugline!
Author: Justine Cowan
Genre: Comedy,Family,Urban
Fish-out-of water New Yorker inherits her father's funeral parlor in the deep South. Hysterical antics and outrageous funerals follow!
Author: Justine Cowan
Genre: Comedy
More WinningScripts ...