Updated: 07/10/2019
The Table Read My Screenplay Contest has announced Bonnie Gross, Jasmine Leyva and Anthony Fernandez as the Grand Prize Winners of their "Hollywood" competition.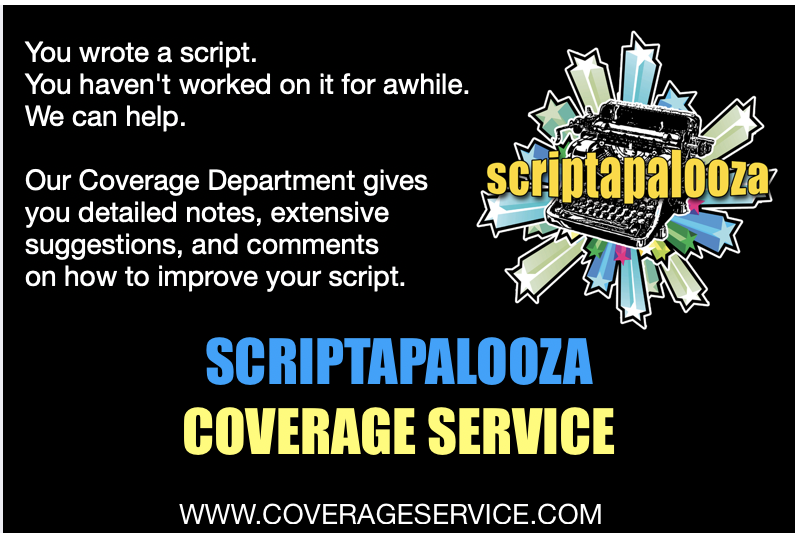 WinningScripts PRO
Spotlight
Script:
A burned out middle-age accountant and a young daredevil woman form an improbable alliance on a dangerous rescue-mission to Mexico. First Place, Screenplay Festival, 2017.
Screenwriting Contest News
In the lead up to Write/LA's Final Deadline on July 15, the competition has announced two more Industry Insiders who have agreed to each read a finalist script and provide written feedback to the writer. [Updated: 07/10/2019]
Write/LA has announced that their 2019 screenwriting competition winners will be reviewed by Script Pipeline as part of their push to help top writers from all the most respected screenwriting competitions gain more industry access. [Updated: 07/03/2019]
Official Selections have been announced for the 6th Annual HollyShort Film Festival, part of the 15th annual HollyShorts Film Festival (August 8-17th, 2019). [Updated: 06/24/2019]
A Young Man's Game by James Gould-Bourn has been named the Grand Prize Winner of the 2019 Shore Scripts Short Film Fund, and the project has been awarded $10,000 in cash. Miss Fortunate, by Molly O'Shea been named the $4,000 Second Place Winner. [Updated: 06/06/2019]
Filmmatic has named Justin Moran Season 2 Inroads Screenwriting Fellow for his Sci-fi TV pilot, Rust. The script features a crew of hard-luck space miners that happen upon an old shipwreck, launching them into a world of bounty hunters, terrorists, and a mammoth mining conglomerate set on keeping old mistakes buried. [Updated: 05/30/2019]
Shore Films has announced the 15 Finalsts for their 2019 Short Film Fund. Winner will be announced June 6th. [Updated: 05/26/2019]
Quarterfinalists have been announced of the 12th Annual StoryPros Awards Screenplay Contest. [Updated: 05/26/2019]
The Launch Pad competition, in exclusive partnership with Good Fear Film + Management and Romark Entertainment, has announced the top 10 finalists for the 2018/2019 Launch Pad feature competition. [Updated: 05/22/2019]
[Updated: 05/22/2019]
Partner
Subscribe to
WinningScripts PRO
to put your loglines and script excerpts in front of hundreds of industry professionals. From MovieBytes.com, the Internet's #1 site for screenwriting contest info.
WinningScripts: ScriptLinks
When a troubled girl's visions of her classmates' murders start coming true, she suspects her father is the killer.
Author: Danny Howell
Genre: Horror,Supernatural
A college-age fast food manager's virginity makes him a target of a cult of "living meat" eaters masquerading as workers. If one if them tricks him into eating the
Author: Danny Howell
Genre: Comedy,Romantic Comedy,Horror
Noticing how many marriages around them fall apart as soon as the kids leave home and fearing that their own marriage has an expiration date, a married couple spends the final year before their impending empty nest discovering who they want to be for the next act in their lives.
Author: Joann Collins
Genre: Comedy,Romantic Comedy
When a bullied teenager seeks refuge by an Irish castle, he travels to a magical world he never knew existed where his long-lost father turns out to be king. But the king has been kidnapped by an unknown assailant, and now the responsibility to rescue him falls to his clueless son.
Author: Danielle R Erlich
Genre: Action-Adventure,Fantasy,Supernatural
After her parents are brutally murdered, the last dragon whisperer — a 16 yr old grieving teenager named Luana — goes on an epic quest to avenge their deaths and rescue her village from blood-thirsty banshees. "Luana" is the prequel to the multi-award-winning "Legacy."
Author: Danielle R Erlich
Genre: Action-Adventure,Fantasy,Supernatural
In 1991, a group of high school seniors navigate the treachery of young adulthood, while seeking the ultimate Minneapolis experience, seeing the legendary Prince perform live at First Avenue on Halloween night, when a freak blizzard threatens their plan.
Author: Patricia Fox
Genre: Comedy,Historical,LGBTQ
The Chief of Police investigates the murder of a young woman while confronting the Sheriff, who blocks his every move for jurisdiction, in order to protect himself from the Chief finding out about his ties to both the murder victim and the killer.
Author: Patricia Fox
Genre: Drama
A Duluth private investigator, needing to pay off his bookie, agrees to payment on completion of a prominent politician's wife's case; now he has only three days to find an Ohio plumber that the client only met on the internet over a dozen years ago.
Author: Russ Meyer
Genre: Drama,Comedy,Action-Adventure
A salesman sends a text message to God flippantly when he's out for drinks with a co-worker, asking for an extra day that week to get ahead in a sales competition, he gets it, but he discovers that he's cursed with an extra day every week until he learns how to treat people.
Author: Patricia Fox
Genre: Comedy,Romantic Comedy,Fantasy
An L.A. homicide detective, who also rents spare rooms in his apartment building to aspiring Hollywood actresses, must prove his innocence when one of them is brutally murdered by someone bent on revenge, exposing the detective's dirty secret.
Author: Patricia Fox
Genre: Drama,Thriller
More WinningScripts ...