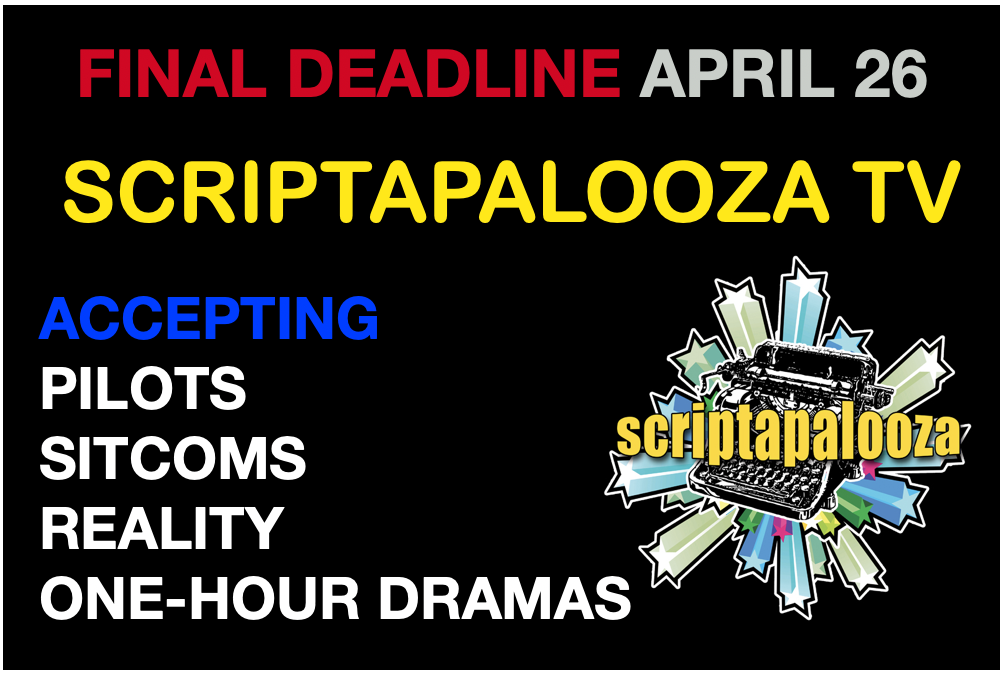 Screenwriting Contest News
Jan Tilley and Wally Lane's Justified has been named the winner of the March, 2021 Wiki Screenplay Contest. [Updated: 04/18/2021]
Ponzi by Wigham Foothill has been named the Grand Prize Winner of the 2020-21 Fresh Voices Screenplay Competition. Genre and Spotlight Award Winners have also been announced. [Updated: 04/08/2021]
ScreenCraft has announced their ScreenCraft Fellowship quarterfinalists, selected from almost 4,300 submissions. Semifinalists will be announced on April 28th. [Updated: 03/31/2021]
The BlueCat Screenplay Competition has announced their feature, pilot, short script semifinalists for 2021. [Updated: 03/31/2021]
The Fresh Voices Screenwriting Competition has announced their 2020-21 Finalists, representing the top 3% of screenplays submitted. Winners to be announced April 8th. [Updated: 03/29/2021]
Stowe Story Labs has announced the 2021 Maven Screen Media, Tangerine Entertainment, International Screenwriters' Association, PAGE International Screenwriting Awards, Final Draft, and Sidewalk Film Festival Fellowship Quarterfinalists to the 2021 Narrative Labs. [Updated: 03/23/2021]
The Write LA Screenwriting Competition has announced that their 2021 Finalists will be read and considered by up to five leading Literary Management Companies: Circle of Confusion, Zero Gravity, Fourward, Fictional Entity and Grandview. [Updated: 03/17/2021]
The Killer Shorts Screenplay Competition has announced their top 10 Finalists from among 952 submissions. The Top 3 Winners will be announced April 26th. [Updated: 03/15/2021]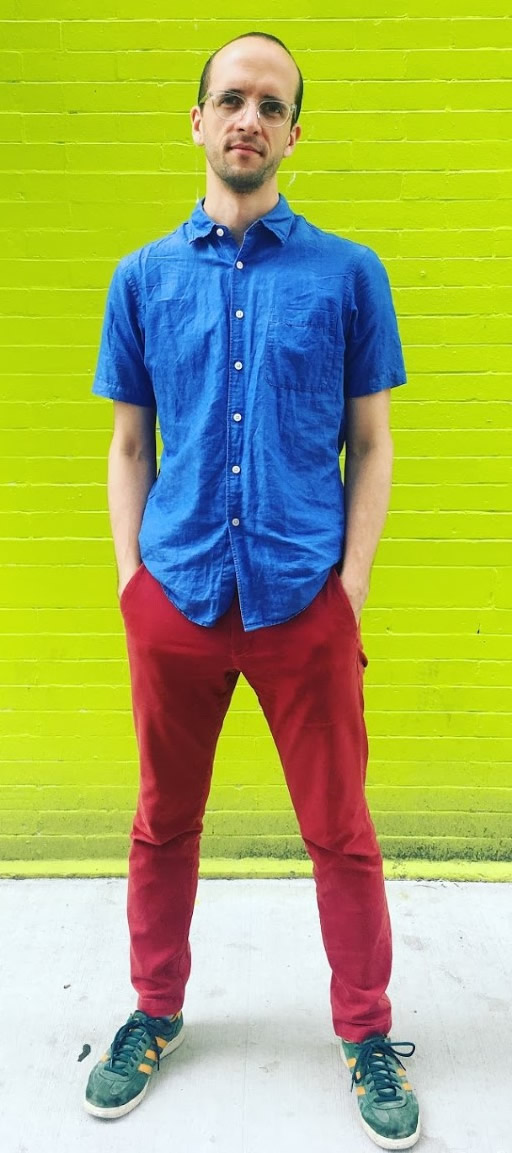 Nathan Dame's television pilot Fräulein Schreiber's Mixtape was recently named the Grand Prize Winner of the Write LA Screenwriting Competition.
[Updated: 03/15/2021]
Scriptapalooza has posted video interviews with 2021 contest winners. [Updated: 03/08/2021]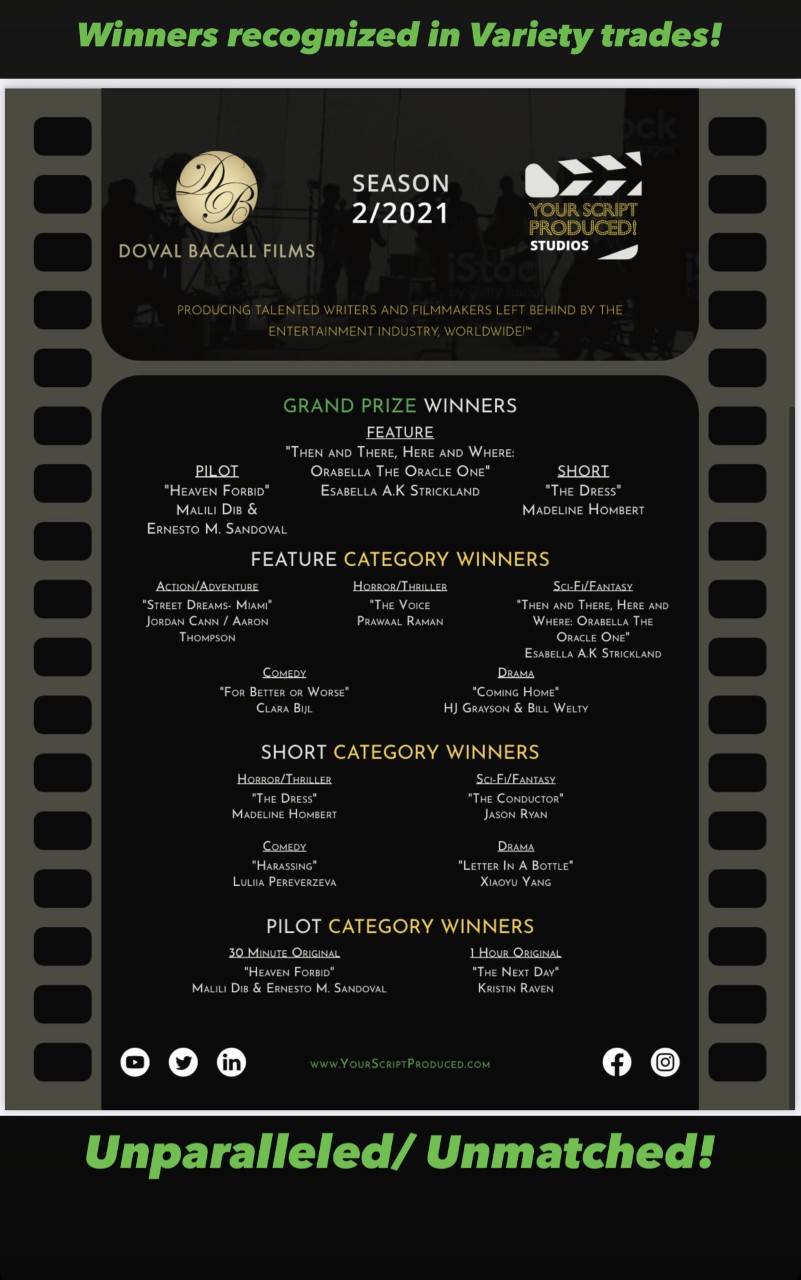 Your Script Produced has announced their contest winners in Variety. [Updated: 03/06/2021]
Contest Finalist?
Subscribe to WinningScripts PRO to put your loglines and script excerpts in front of hundreds of industry professionals. From MovieBytes.com, the Internet's #1 site for screenwriting contest info.
WinningScripts: Hollywood's Best Unproduced Screenplays
Writers: Promote your screenplays with a subscription to WinningScripts Pro!
Hollywood
IQ
News, opinions, interviews and more from Hollywood and the screenwriting contest scene.
Screenplay Contest
Deadline Alert
Final Deadlines
(Displaying final deadlines only. Click here to display preliminary deadlines, as well.)
Extended:
04/22/2021
WSPro Discount:
No
Final:
04/23/2021
WSPro Discount:
$10.00
Writers give the PAGE Awards top scores and rave reviews! Find out why ... Enter today at: pageawards.com
Extended:
04/24/2021
WSPro Discount:
$5.00
Extended:
04/25/2021
WSPro Discount:
$5.00
Submit your screenplay contest winners. A FREE service from MovieBytes.
Final:
04/26/2021
WSPro Discount:
No
Final:
04/27/2021
WSPro Discount:
No
Final:
04/27/2021
WSPro Discount:
No
Final:
04/30/2021
WSPro Discount:
No
Final (extended):
04/30/2021
WSPro Discount:
$10.00
Final:
05/01/2021
WSPro Discount:
No
Final:
05/02/2021
WSPro Discount:
No
Deadline:
05/02/2021
WSPro Discount:
$10.00
Extended Deadline:
05/02/2021
WSPro Discount:
$5.00
Final:
05/02/2021
WSPro Discount:
No
Final:
05/02/2021
WSPro Discount:
No
Late:
05/03/2021
WSPro Discount:
No
Final:
05/03/2021
WSPro Discount:
No
Final:
05/07/2021
WSPro Discount:
No
Late:
05/09/2021
WSPro Discount:
No
Final:
05/12/2021
WSPro Discount:
No
Extended:
05/14/2021
WSPro Discount:
$5.00
Late:
05/15/2021
WSPro Discount:
No
Extended:
05/17/2021
WSPro Discount:
No
Extended:
05/19/2021
WSPro Discount:
No
Final:
05/20/2021
WSPro Discount:
No
Late:
05/21/2021
WSPro Discount:
No
Final:
05/21/2021
WSPro Discount:
No
Late:
05/21/2021
WSPro Discount:
No
Regular:
05/21/2021
WSPro Discount:
No
Extended:
05/22/2021
WSPro Discount:
$15.00
Late:
05/23/2021
WSPro Discount:
No
Final:
05/31/2021
WSPro Discount:
No
Final:
05/31/2021
WSPro Discount:
No
Final:
05/31/2021
WSPro Discount:
No
Final:
05/31/2021
WSPro Discount:
No
Final:
05/31/2021
WSPro Discount:
No
Final:
05/31/2021
WSPro Discount:
No
Final:
06/01/2021
WSPro Discount:
No
Final:
06/09/2021
WSPro Discount:
No
Latecomers Submissions:
06/10/2021
WSPro Discount:
No
Extended:
06/10/2021
WSPro Discount:
No
Extended:
06/13/2021
WSPro Discount:
No
Final:
06/15/2021
WSPro Discount:
No
Final:
06/15/2021
WSPro Discount:
$5.00
Extended:
06/15/2021
WSPro Discount:
No
Extended:
06/17/2021
WSPro Discount:
$5.00
Extended:
06/23/2021
WSPro Discount:
No
Trending: Contest Queue
The following screenwriting competitions are the "most queued" upcoming contests on MovieBytes: