Updated: 09/25/2020
The HollyShorts Film Festival has announced semifinalists from a record number of over 1,000 submissions to their 7th annual screenplay contest.
Upcoming Contest Deadlines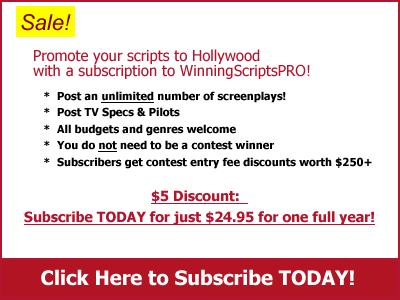 Screenwriting Contest News
A Reindeer Story by Jay Michael Jorgensen & Lisa Juslin has been named the 1st Place Winner of the 2020 Scriptapalooza Screenwriting Competition. [Updated: 09/22/2020]
The PAGE International Screenwriting Awards has announced the top 10 Finalists in each of their ten genre categories. This year's Finalists include writers from all across the United States and 14 foreign countries: Australia, France, Belgium, Spain, England, Ireland, Japan, South Korea, Morocco, South Africa, Saudi Arabia, Colombia, Mexico, and Canada. [Updated: 09/16/2020]
Fifteen semifinalists have been announced for the 2020 Write LA Screenwriting Competition. Each semifinalist will receive a free screenwriting book courtesy of Michael Wiese Productions, a phone call from head judge Tim Schildberger to discuss their scripts, and a professional logline polish from co-founder Angela Bourassa. [Updated: 09/15/2020]
Scriptapalooza has posted a video celebrating the top 30 writers in this year's Scriptapalooza Screenwriting Competition. [Updated: 09/15/2020]
The ten finalists for this year's Nicholl Fellowships have been announced. [Updated: 09/14/2020]
Quarterfinalists have been announced in the Feature Screenplay and Television & Short Script Categories of the 2020 Finish Line Script Competition. [Updated: 09/02/2020]
Ross Mayberry's Sailing Off the Edge of the World has been named the Grand Prize Winner of the 2020 Creative World Awards. [Updated: 09/01/2020]
Save the Cat! has announced Thomas Steventon as the winner of their 2020 Screenwriting Competition for his script, Gaijin & Samson. The TV category winner was Tavyn Gentry's Tira'allara [Updated: 09/01/2020]
The Tracking Board has announced the Top 100 Finalists for their Launch Pad TV Pilot Competition. [Updated: 08/15/2020]
TrackingB has announced the five finalists for their 2020 TV Writing Competition. [Updated: 08/14/2020]
Contest Finalist?
Subscribe to WinningScripts PRO to put your loglines and script excerpts in front of hundreds of industry professionals. From MovieBytes.com, the Internet's #1 site for screenwriting contest info.
WinningScripts: Hollywood's Best Unproduced Screenplays
Writers: Promote your screenplays with a subscription to WinningScripts Pro!
Best Supernatural Scripts
Hollywood
IQ
News, opinions, interviews and more from Hollywood and the screenwriting contest scene.
Screenplay Contest
Deadline Alert
All Deadlines
(Displaying preliminary and final deadlines. Click here to show final deadlines only.)
Regular:
09/30/2020
WSPro Discount:
No
Final:
09/30/2020
WSPro Discount:
No
Submit your screenplay contest winners. A FREE service from MovieBytes.
Early:
09/30/2020
WSPro Discount:
No
Final:
09/30/2020
WSPro Discount:
No
Standard:
09/30/2020
WSPro Discount:
No
Final:
09/30/2020
WSPro Discount:
$5.00
Regular:
09/30/2020
WSPro Discount:
$10.00
Regular:
09/30/2020
WSPro Discount:
No
Extended:
09/30/2020
WSPro Discount:
$5.00
Early:
09/30/2020
WSPro Discount:
No
Final:
09/30/2020
WSPro Discount:
No
Late:
10/01/2020
WSPro Discount:
No
Final, Extended:
10/01/2020
WSPro Discount:
No
Late:
10/03/2020
WSPro Discount:
$5.00
1 Week Extension:
10/04/2020
WSPro Discount:
No
Late:
10/04/2020
WSPro Discount:
No
Early-bird:
10/05/2020
WSPro Discount:
No
October Deadline:
10/05/2020
WSPro Discount:
No
Late:
10/05/2020
WSPro Discount:
No
Late:
10/09/2020
WSPro Discount:
No
Earlybird:
10/09/2020
WSPro Discount:
$5.00
Regular :
10/09/2020
WSPro Discount:
$5.00
Regular:
10/10/2020
WSPro Discount:
No
Stoker:
10/11/2020
WSPro Discount:
$5.00
Late:
10/11/2020
WSPro Discount:
No
Really Late Extended:
10/12/2020
WSPro Discount:
No
Extended Late:
10/12/2020
WSPro Discount:
No
Final:
10/14/2020
WSPro Discount:
No
Early:
10/15/2020
WSPro Discount:
No
Final:
10/15/2020
WSPro Discount:
No
Ext Regular:
10/16/2020
WSPro Discount:
No
Final:
10/19/2020
WSPro Discount:
No
Early:
10/22/2020
WSPro Discount:
No
Extended:
10/24/2020
WSPro Discount:
$5.00
Final:
10/25/2020
WSPro Discount:
$10.00
Final:
10/25/2020
WSPro Discount:
No
Final:
10/28/2020
WSPro Discount:
No
October Deadline:
10/29/2020
WSPro Discount:
No
Final:
10/31/2020
WSPro Discount:
No
Early:
10/31/2020
WSPro Discount:
No
Final:
10/31/2020
WSPro Discount:
No
Early:
10/31/2020
WSPro Discount:
No
Extended:
10/31/2020
WSPro Discount:
No
Late:
10/31/2020
WSPro Discount:
$10.00
Shelley:
10/31/2020
WSPro Discount:
$5.00
Regular:
10/31/2020
WSPro Discount:
No
Winter Discount Deadline:
10/31/2020
WSPro Discount:
No
Fall Deadline:
10/31/2020
WSPro Discount:
$10.00
Pre Deadline:
11/03/2020
WSPro Discount:
No
Final:
11/05/2020
WSPro Discount:
$5.00
Final:
11/06/2020
WSPro Discount:
$10.00
Final:
11/08/2020
WSPro Discount:
No
Final:
11/09/2020
WSPro Discount:
No
Extended:
11/12/2020
WSPro Discount:
No
Extended:
11/12/2020
WSPro Discount:
$5.00
Extended:
11/13/2020
WSPro Discount:
No
Extended:
11/13/2020
WSPro Discount:
No
Extended:
11/14/2020
WSPro Discount:
No
Regular:
11/15/2020
WSPro Discount:
No
Early:
11/15/2020
WSPro Discount:
No
Earlybird:
11/18/2020
WSPro Discount:
No
Early:
11/19/2020
WSPro Discount:
No
Regular:
11/19/2020
WSPro Discount:
No
Poe:
11/22/2020
WSPro Discount:
$5.00
Final:
11/25/2020
WSPro Discount:
No
Final:
11/30/2020
WSPro Discount:
No
Final:
11/30/2020
WSPro Discount:
No
Earlybird:
11/30/2020
WSPro Discount:
$5.00
Early:
11/30/2020
WSPro Discount:
$5.00
Final:
11/30/2020
WSPro Discount:
No
Early Bird Deadline:
11/30/2020
WSPro Discount:
$10.00
Trending: Contest Queue
The following screenwriting competitions are the "most queued" upcoming contests on MovieBytes: