Updated: 11/14/2017
"Windows Wicked," an eerie story of an eight-year-old boy and an unseen creature clawing at his bedroom window, won The Poe Contest's 24-hour Halloween screenplay contest for Chicago writer Rob Herzog.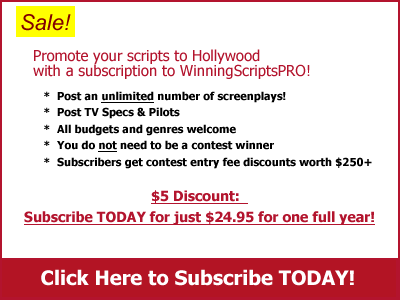 WinningScripts PRO
Spotlight
Script:
An unadventurous botanist on an isolated farm planet stumbles back into a relationship with an old flame--and onto a secret his corporate superiors will kill to keep. 2016 StoryPros Awards 1st Place Sci-Fi Winner.
Screenwriting Contest News
Shore Scripts has named their 2017 Feature, TV Pilot and Short Script finalists. Winners will be announced November 30th. [Updated: 11/10/2017]
Scriptapalooza is one of the longest-running contests on MovieBytes. We caught up with contest founder Mark Andrushko on the occasion of their 20th Anniversary. [Updated: 11/10/2017]
The Emerging Screenwriters Competition has announce their Top 100 Screenplays for 2017. [Updated: 11/07/2017]
Winners will be announced November 10th. [Updated: 11/07/2017]
WILDSound has announced their Screenplay Contest Winners for October, 2017. [Updated: 11/06/2017]
Barry Brennessel from Silver Spring, MD has been named the Best Screenplay Grand Prize Winner for this year's Flickers' Rhode Island International Film Festival (RIIFF) Screenplay Competition. Barry's winning screenplay is entitled "Anh Sang." [Updated: 10/31/2017]
The Austin Film Festival has announced their competition winners from a record field of 9,487 scripts entered in the Screenplay, Digital Series, Playwriting, and Fiction Podcast Competitions. [Updated: 10/29/2017]
Short Scripts has named their Feature, TV Pilot, and Short Script quarterfinalists. [Updated: 10/25/2017]
Scriptapalooza has posted video interviews with several of their Short Script Contest quarterfinalists and semifinalists. [Updated: 10/25/2017]
Roadmap Writers has announced K.T. Parker's script Distant Voices as the winner from among over 2,000 submissions to their Wise Words Writing Contest for writers over 50. [Updated: 10/20/2017]
Partner
Subscribe to
WinningScripts PRO
to put your loglines and script excerpts in front of hundreds of industry professionals. From MovieBytes.com, the Internet's #1 site for screenwriting contest info.
WinningScripts: ScriptLinks
A young Hollywood star returns home to be best man in the wedding of the bride he has been secretly in love with for years.
Author: Dan O'Sullivan
Genre: Drama
An ordinary high school nobody assembles a crew of misfits to join a tournament of "ratball", a kickball-oriented gymnasium sport, to give unnoticed others like himself a fair chance to play.
Author: Dan O'Sullivan
Genre: Comedy,Sports
A nineteen-year-old drops out of film school following a tragic accident and returns to his quirky Pennsylvanian hometown in hopes of finding himself again.
Author: Dan O'Sullivan
Genre: Drama
A college student who has created an imaginary girlfriend to cope with his loneliness finds getting rid of her is tougher than he thought when he falls for a beautiful personal trainer.
Author: Dan O'Sullivan
Genre: Romantic Comedy
After her fiancé is murdered by his disturbed ex-girlfriend, a woman spirals back in time to before they met and must steer him away from the girl that will one day seal his fateful future.
Author: Dan O'Sullivan
Genre: Drama,Sci-Fi,Romance
A shape-shifting alien stranded on Earth arranges for an escape ship with his race responsible for leaving him in exchange for a girl who holds the key to their survival in an interplanetary war.
Author: Dan O'Sullivan
Genre: Thriller,Action-Adventure,Sci-Fi
Four separately told yet intricately-connected stories reflect the hardships and emotions of eight people in a small town on a seemingly ordinary night that ends with life-changing circumstances for all.
Author: Dan O'Sullivan
Genre: Drama
Three complete strangers—a rising actor, a disgruntled street thug and a vocally-impaired college girl—all wake up trapped inside a strange metal-grated room with no way out and no memory of how they got there.
Author: Dan O'Sullivan
Genre: Drama,Thriller,Horror
Three college graduates use a secretively-concealed Native American cavern to travel through time, but with each obsessive visit, they become more consumed and seduced by its ominously dark influential forces.
Author: Dan O'Sullivan
Genre: Drama,Thriller,Supernatural
Two criminals who have become the most elusive bank robbers in the country are double-crossed in a heist and must chase after the crew who got away with their cut of the money.
Author: Dan O'Sullivan
Genre: Thriller,Action-Adventure
More WinningScripts ...