Updated: 05/15/2015
Quarterfinalists have been announced for the 2015 CineStory Retreat.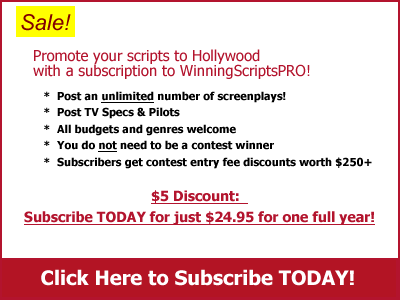 MovieBytes News
Two winners for this month. Watch the winning short screenplays performed by professional actors. [Updated: 05/24/2015]
The WILDSOUND TV Screenplay Festival has announced its May, 2015 Winners. Watch the 3 Winning Screenplay performance readings from the monthly screenplay festival. [Updated: 05/18/2015]
The AURA Screenwriter Awards has announced the winners of the 2014 competition in the Feature Screenplay, Original TV Pilot, and Short Screenplay categories. [Updated: 05/15/2015]
WILDsound has posted the winning May 2015 Feature Screenplay performance reading. [Updated: 05/15/2015]
The Asbury Park Music in Film Festival has named named their 2015 Screenplay Contest Winners: Mark Steensland for "Jimmy the Freak" (Drama) and Randy Gross for "The Obligatory" (Comedy). [Updated: 05/08/2015]
FilmMakers.com has announced the finalists in the 13th Annual Filmmakers International Screenwriting Awards Competition. [Updated: 05/08/2015]
Ron Peer's When Flesh Burns has been named the First Quarter Winner of the Breaking Walls Thriller Screenplay Competition. [Updated: 05/01/2015]
The Nashville film Festival has announced the winners of the 2015 Screenwriting Competition. The competition garnered more than 1,350 submissions from all over the world. Finalists and semi-finalists won all-festival passes to attend the festival, network with filmmakers and industry, and attend educational panels and presentations. [Updated: 04/25/2015]
Watch the TV Pilot and 2 TV Spec Screenplay winner for April 2015. Entire scripts performed by professional actors. [Updated: 04/20/2015]
Watch the winning readings performed by professional actors. [Updated: 04/20/2015]
David Schroeder's Halfway Home has been named the Feature Screenplay Winner of the 2014 Marquee Lights Screenwriting Competition. Boss Girl by Stephen M. Hunt & Peter Mackie was the TV Pilot Winner, and The Importance of Sex Education by L. Elizabeth Powers won the Short Screenplay Contest. [Updated: 04/20/2015]
Partner
Feature Length Screenplays Short Scripts and Short Stories TV Writing for New and Existing Shows, including Game Shows, Reality or Extreme Shows, Miniseries, MOW, Webisodes, Digital Series, etc.
FilmMakers Int'l Screenwriting Awards
American Gem Short Script & Lit. Festival
1st TV Script Writing Competition
Submit your material today!
Partner
Subscribe to
WinningScripts PRO
to put your loglines and script excerpts in front of hundreds of industry professionals. From MovieBytes.com, the Internet's #1 site for screenwriting contest info.
WinningScripts: ScriptLinks
An Algonquian sorcerer summons Mitchell into a magical parallel dimension where he shares adventures with Native American elves, witches and demons.
Author: Jamie Sutliff
Genre: Action-Adventure,Fantasy,Animation
An ex-Marine seeks redemption as he pursues a crazed killer who claims his victims in the Name of the Lord.
Author: Craig Peters
Genre: Thriller
A young woman infiltrates a community of armed, anti-government sovereign citizens in a desperate attempt to free her son who's been taken hostage by the group's leader, a self-proclaimed prophet
Author: Craig Peters
Genre: Drama,Thriller
A mobster, teen skate boarder and gangster queen all want to take from Tara what she has stolen.
Author: john parker
Genre: Comedy,Action-Adventure
*** This one has won many HONORABLE MENTIONS *** It's not your mother's buddy movie! It's a combo meal It's LETHAL WEAPON, THE SOCIAL NETWORK, with a side of TAKEN. Experienced FBI Agent hires and befriends a young Internet Entreprenuer to help rescue a six year old girl taken hostage in a Fall Out Shelter by a ruthless Psychopath
Author: Janet Caulfield
Genre: Drama,Thriller,Action-Adventure
*** It's INTERSTELLAR collides with GRAVITY, and NON STOP *** Russian astronaut, thrown out of the space program, hijacks a space taxi going to the International Space Station. An intergalactic, Dangerous Liaisons, time warp, adventure to the future. *** It's INTERSTELLAR collides with GRAVITY, and NON-STOP.
Author: janet caulfield
Genre: Thriller,Action-Adventure,Sci-Fi
Young Romanian Jewish girl studying to be a doctor and in love with her tutor, becomes caught up in her country's WWII tragedy.
Author: Linda Boroff
Genre: Drama,Thriller,Action-Adventure
Young ad executive impulsively parks in a reserved space when bringing his date home. When he leaves, he discovers his tires deflated and a nasty note on his car. He unwisely confronts the owner of the space and is taken hostage by two crazy women who blame him for everything that has gone wrong in their lives. And they may be right.
Author: Linda Boroff
Genre: Drama,Thriller
Two of the most unlikely heroes of Christmas are magically chained together as they journey to rescue kidnapped children and wind up leading a revolution. It's an origin story about the German legend of Belsnickel, the inspiration for our modern image of Santa Claus, and Krampus, his hairy companion.
Author: Rex Perkins
Genre: Action-Adventure,Family,Animation
A bumbling, arrogant actor becomes the last resort to disrupt a vindictive mafioso's plot to heist gold from an Italian convent through an ancient Roman aqueduct. (Screenplay Festival finalist - COMEDY)
Author: Jim Corona
Genre: Comedy,Action-Adventure
More WinningScripts ...