Updated: 11/11/2019
The First Law by D.J. McPherson and Jack Christian has been named the Grand Prize Winner of the 2019 Creative Screenwriting Unique Voices Screenwriting Competition.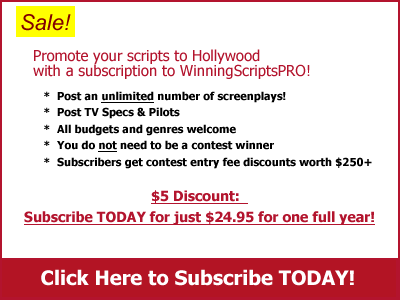 WinningScripts PRO
Spotlight
Script:
A burned out middle-age accountant and a young daredevil woman form an improbable alliance on a dangerous rescue-mission to Mexico. First Place, Screenplay Festival, 2017.
Screenwriting Contest News
Short Scripts has announced their 2019 Feature and TV Pilot (1/2-hour and 1-hour) semifinalists. [Updated: 11/10/2019]
2019 Scriptapalooza Fellowship Recipient Paula Dixon talks about the Robert McKee seminar she attended. [Updated: 11/08/2019]
The Austin Film Festival has announced their 2019 Screenplay Contest Winners. [Updated: 11/07/2019]
Ted Campbell's Blue Motel has been named the Ultimate Grand Prize Winner in the Feature Film Category of the Your Script Produced Screenwriting Competition. Midlife Drive-Thru, by Iris May & Leia Leia Vogelle, is the Prize Winner in the TV Category.

In related news,
the late Academy Award nominated filmmaker John Singleton will receive the Your Script Produced! Lifetime Achievement Award on Friday, November 8th, at the Season One Awards Dinner at Bombay Palace in Beverly Hills. The screenwriter and producer's daughter, Justice Singleton, will accept the award on his behalf. [Updated: 11/07/2019]
Avi Glick's Old Dogs and Still Waters has been named the Grand Prize Winner of the 2019 Finish Line Script Competition. [Updated: 11/06/2019]
Eight finalists have been chosen for the 2019 Write/LA Screenwriting Competition. Three Grand Prize Winners will announced November 15th. [Updated: 11/01/2019]
Finalists and Semifinalists have been announced for the 2019 NYC Horror Film Festival Screenplay Competition. [Updated: 10/31/2019]
Fang and Claw by Troy Sloan has been announced as the winner of the ScreamFest Horror Screenwriting Competition, along with four other finalists. [Updated: 10/25/2019]
Shore Scripts has announced their 2019 TV and Feature Script Quarterfinalists, representing approximately the top 10% of all submissions. [Updated: 10/25/2019]
The International Screenwriters Association (ISA) has named M Elizabeth Eller and Victoria Lucia as their Fast Track X Fellowship Winners. [Updated: 10/23/2019]
The Scriptapalooza Television Writing Competition has posted video interviews with its top winners. [Updated: 10/17/2019]
Partner
Subscribe to
WinningScripts PRO
to put your loglines and script excerpts in front of hundreds of industry professionals. From MovieBytes.com, the Internet's #1 site for screenwriting contest info.
WinningScripts: ScriptLinks
Rose Ferguson just wants the family back she's never known. Unbeknownst to Rose, an ancient evil, that everyone fears, has made sure that reunion will never take place. When all seems lost, the one thing she always sought might be her only saving grace.
Author: Dallas Gibson
Genre: Thriller,Sci-Fi,Fantasy
When a former Army Sergeant discovers that the crime family responsible for his best friend's death is holding the city of New York hostage, he makes it his personal mission to take them down no matter the cost.
Author: Dallas Gibson
Genre: Drama,Thriller,Action-Adventure
When a wealthy businessman and a waitress (each with an eight year old daughter) get married, they think they have the perfect family-unaware that their two darling angels are actually little menaces.
Author: Mandy Gales
Genre: Comedy,Family
When a professor's wife, who suffers a panic disorder, disappears mysteriously during Mardi Gras, the professor obsesses on one of his students who's writing a play with a character eerily similar to his wife and may be in on the disappearance. Winner, Writers on the Storm; Top 16 scripts, Slamdance. Previously optioned to an LA production company.
Author: Robert Rhyne
Genre: Thriller
This one is pure Fun.!It's a genre buster, LA LA Land meets James Bond, meets All That Jazz and Cabaret! Asian American Black Belt goes undercover for the CIA, to help track down terrorists. Oh, and did I mention she's the Lead in a Broadway Musical? This is very musical, but there's a lot of action! This one is getting a lot of attention right now! The main Characters reside in New York, they are part of an international terrorist group.
Author: Janet Caulfield
Genre: Drama,Romantic Comedy,Thriller
It's not your mother's buddy movie. It's a combo meal. It's a little bit of Lethal Weapon, Die Hard, The Social Network with a side of Taken. Experienced FBI Agent hires and befriends an internet entrepreneur to help rescue a six year old girl taken hostage in a fall out shelter by a ruthless psychopath. Winner LA film fest Best scene 2017.
Author: Janet Caulfield
Genre: Drama,Thriller,Action-Adventure
*** Russian astronaut, thrown out of the space program, hijacks a space taxi going to the International Space Station. An intergalactic, time warp, adventure to the future.
Author: janet caulfield
Genre: Thriller,Action-Adventure,Sci-Fi
A Veteran FBI Agent outsmarts a cult of young cyber crooks. The crafty FBI Agent with the help of a New York Company that specializes in security services and equipment, tracks down, hunts and arrests a syndicate of interns working in these cities. It's MAD MEN meets CRIMINAL MINDS.
Author: Janet Caulfield
Genre: Drama,Comedy,Action-Adventure
Kids and their dogs, find the rainbow bridge in a snowstorm. They teleport, fly, zoom through tunnels, and levitate, around this heaven-like universe.They have a lot of fun, but get a few surprises along the way, from messages, and musical communication with angels and whales....to a run in with a demon. They meet up with their recently departed Grandfather, and his dog, who helps them return home.
Author: janet caulfield
Genre: Fantasy,Supernatural,Animation
A disgruntled Manager at the Unemployment office is having a really bad day. First there's the dirty Geese, then the slobs in the parking lot...and to top it off? One of his employee's is feeding them! It's a comedy expressso. A bold blend of "The Office and Seinfield with a shot of "How I met Your Mother."
Author: janet caulfield
Genre: Comedy
More WinningScripts ...