Updated: 09/16/2019
The Austin Film Festival (AFF) has announced their 2019 Script Competition Semifinalists (top 2%) and Second Rounders (top 20%), chosen from a record field of 11,907 scripts entered in the Screenplay, Digital Series, Playwriting, and Fiction Podcast Competitions. Finalists will be revealed by mid-October and the winners will be announced during this year's Conference at the Awards Luncheon on Saturday, October 26 at the new LINE Austin Hotel, overlooking Town Lake downtown.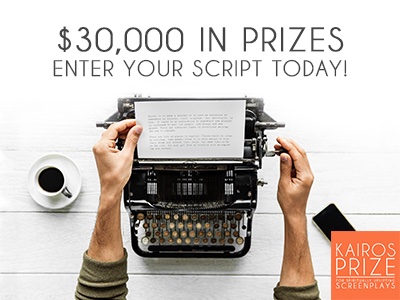 WinningScripts PRO
Spotlight
Script:
Fresh Voices Screenplay Competitition Grand Prize Winner: A small country town in middle America is plagued by a mysterious humming sound that only a percentage of residents can hear...
Screenwriting Contest News
The Judges of the 2019 PAGE International Screenwriting Awards have announced the top 10 Finalists in each of the contest's ten genre categories. [Updated: 09/15/2019]
Kerry Kolbe has been named the Winner of the 2019 CineStory Fellowship Competition on the basis of her script Swallow, about a 17-year-old girl who is desperate to study particle physics at Cambridge, like her hero Stephen Hawking. Unfortunately, she's trapped playing parent to her dysfunctional family of twitchers (a/k/a bird watchers), who drag her on a wild chase of her late mother's "spirit animal," a rare albino swallow. [Updated: 09/09/2019]
Tuck Tucker's Boy Most Wanted has been named the winner of the 2019 Scriptapalooza Screenplay Competition. Nick Robert's Jumping Into Hemingway's Pool was the 2nd place winner, and the 3rd place winner was The Girl Who Collected Sound by Steven Benedict. [Updated: 09/09/2019]
The 2019 Nicholl Fellowships finalists are (listed alphabetically by author): Aaron Chung, "Princess Vietnam", Gary Patent, "Cosmonaut", Jack Zafran, "Justice, Justice", Joel Sinensky, "The Lie Factory", Karen McDermott, "Lullabies of La Jaula", Lynn Esta Goldman, "On the Wing", Matthew Fantaci, "Scandalous!", Paul Ashton, "Slater Berricks is a Dead Man", Renee Pillai, "Boy with Kite", Sean Malcolm, "Mother", Toy Styles, "Concrete Beach", and Walker McKnight, "Street Rat Allie Punches Her Ticket." [Updated: 09/08/2019]
6,000 submissions, 400 official selections, and 10 days later, the HollyShorts Film Festival has announced their top 36 prizes for their landmark 15th year. On Saturday at Harmony Gold in Hollywood, three of the festival's films officially became qualified to be in the running for an Academy AwardⓇ in 2020. This year marked the biggest prize packages for filmmakers as well, including prizes from Impossible Dream, Studio 21, Film Augusta, Seattle Film Summit, Buffalo 8, Stampede Ventures, Kodak, Panavision, PaperChase Films, ISA and more. [Updated: 08/30/2019]
Taylor Hopkins' Stagecoach Mary has been named the winner of the Creative World Awards Screenwriting Competition. Based on a true story, the script is about a hard-drinking, cigar smoking black woman in Montana in 1885, who uses her six shooter and tough as nails attitude to defend a convent of nuns from the perils of the Wild West. [Updated: 08/27/2019]
Michael Fearths' Made You Better When I Died has been named the winner of the 2019 Scriptapalooza Short Screenplay Competition. [Updated: 08/23/2019]
Finalists have been annonced for the 2019 CineStory Feature Fellowship. [Updated: 08/19/2019]
Matt Raner has been named the overall winner of the TrackingB TV Pilot Competition. The script, titled Hechicera is about a former FBI agent who lives a lonely life in a small Arizona town, until three cartel killers come hunting for an innocent immigrant girl hiding an unbelievable secret. [Updated: 08/19/2019]
Winners and finalists have been announced for the August, 2019 Live Read/LA Screenwriting Competition. The reading will be held on Monday, August 26th, 2019, with Industry Insider Hannah Ozer, a Literary Manager with Kaplan/Perrone. [Updated: 08/16/2019]
Partner
Subscribe to
WinningScripts PRO
to put your loglines and script excerpts in front of hundreds of industry professionals. From MovieBytes.com, the Internet's #1 site for screenwriting contest info.
WinningScripts: ScriptLinks
1940s film noir satire, as hard-boiled, cynical private detective Vic Winslow wallows within the sordid, sleazy world of blackmail, murder, corruption, mobsters, and pure evil, all focused upon a lovely femme fatale.
Author: Gene Gwynne
Genre: Comedy
A gay cabaret back in the day.
Author: Gene Gwynne
Genre: Comedy,LGBTQ
The family must contend with severe water restrictions, fending off a desperate neighbor, while using son Bobby's position as a DWP stormtrooper to turn the situation to their advantage.
Author: Gene Gwynne
Genre: Comedy,Fantasy
After her parents are brutally murdered, the last dragon whisperer — a 16 yr old grieving teenager named Luana — goes on an epic quest to avenge their deaths and rescue her village from blood-thirsty banshees. "Luana" is the prequel to the multi-award-winning "Legacy."
Author: Danielle R Erlich
Genre: Action-Adventure,Fantasy,Supernatural
SUNNY, a teen runaway obsessed with a cult TV show, hitchhikes to Los Angeles for a fan convention and wins a trivia contest. Her prize is dinner with the star from the show, and an invitation to stay as a houseguest. Isolated in a mansion of the Hollywood Hills, Sunny slowly becomes tortured by evil forces with sinister motives as she uncovers horrifying secrets behind the scenes.
Author: Gina Ronhovde
Genre: Thriller,Horror
At first , Asaad believes there's something evil or something really wrong about living a comfortable life through Voodoo and is insecure about his family Voodoo heritage until he must figure out a way to deal with his insecurities before his girlfriend and his two friends are killed if he doesn't return $100,000 to his deceased cousin's enemy he's got only 72 hours to do it !
Author: Charles J Lewis
Genre: Horror,Urban,Supernatural
Facing incredible odds , four desperate Average Joes with severe sports gambling issues turn to sports betting and even robbery of an international , multi-billion dollar sports gambling corporation in order to prove their own self-worth by rolling the dice in their gnawing hunger for their second chance at repairing their lives with their families or girlfriends , paying back the massive debt owed to a sports gambling tycoon , and grasping at The American Dream .
Author: Charles J Lewis
Genre: Drama,Thriller,Action-Adventure
Shanice Wellington struggling with two jobs to pay her rent all while dealing with attempting to live her : best life " in a Millenial Era with her four friends .
Author: Charles J Lewis
Genre: Drama,Comedy,Romantic Comedy
Two middle-aged friends seeking love compete for the trophy of the heart of a beautiful , young , self-absorbed social media influencer , but they soon realize true love comes from unexpected places .
Author: Charles J Lewis
Genre: Comedy,Romantic Comedy,Romance
When a wealthy businessman and a waitress (each with an eight year old daughter) get married, they think they have the perfect family-unaware that their two darling angels are actually little menaces.
Author: Mandy Gales
Genre: Comedy,Family
More WinningScripts ...