Updated: 10/07/2019
Scripapalooza has posted video interviews with their 2019 Contest Winners Tuck Tucker, Nick Roberts, and Steven Benedict.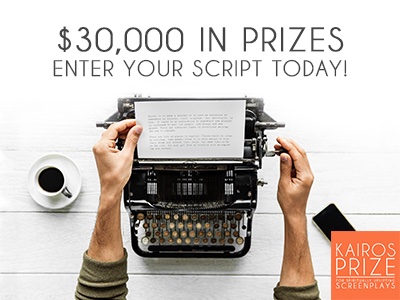 WinningScripts PRO
Spotlight
Script:
A burned out middle-age accountant and a young daredevil woman form an improbable alliance on a dangerous rescue-mission to Mexico. First Place, Screenplay Festival, 2017.
Screenwriting Contest News
Semifinalists have been announced for the 2019 ScreamFest Horror Screenplay Competition. [Updated: 10/04/2019]
Fifty quarterfinalists have been announced for the 2019 Write/LA Screenwriting Competition. Fifteen semifinalists will be announced on October 15. [Updated: 10/01/2019]
Annie O'Connell & Reem Edan have been named the winner of the 2019 Filmmatic Comedy Screenplay Awards for their Pilot "The Degenerates". [Updated: 09/27/2019]
The Table Read My Screenplay Competition has announced Rachel Kempf's Dirty Words as the winner of a table read at this year's Austin Film Festival. [Updated: 09/18/2019]
The Austin Film Festival (AFF) has announced their 2019 Script Competition Semifinalists (top 2%) and Second Rounders (top 20%), chosen from a record field of 11,907 scripts entered in the Screenplay, Digital Series, Playwriting, and Fiction Podcast Competitions. Finalists will be revealed by mid-October and the winners will be announced during this year's Conference at the Awards Luncheon on Saturday, October 26 at the new LINE Austin Hotel, overlooking Town Lake downtown. [Updated: 09/16/2019]
The Judges of the 2019 PAGE International Screenwriting Awards have announced the top 10 Finalists in each of the contest's ten genre categories. [Updated: 09/15/2019]
Kerry Kolbe has been named the Winner of the 2019 CineStory Fellowship Competition on the basis of her script Swallow, about a 17-year-old girl who is desperate to study particle physics at Cambridge, like her hero Stephen Hawking. Unfortunately, she's trapped playing parent to her dysfunctional family of twitchers (a/k/a bird watchers), who drag her on a wild chase of her late mother's "spirit animal," a rare albino swallow. [Updated: 09/09/2019]
Tuck Tucker's Boy Most Wanted has been named the winner of the 2019 Scriptapalooza Screenplay Competition. Nick Robert's Jumping Into Hemingway's Pool was the 2nd place winner, and the 3rd place winner was The Girl Who Collected Sound by Steven Benedict. [Updated: 09/09/2019]
The 2019 Nicholl Fellowships finalists are (listed alphabetically by author): Aaron Chung, "Princess Vietnam", Gary Patent, "Cosmonaut", Jack Zafran, "Justice, Justice", Joel Sinensky, "The Lie Factory", Karen McDermott, "Lullabies of La Jaula", Lynn Esta Goldman, "On the Wing", Matthew Fantaci, "Scandalous!", Paul Ashton, "Slater Berricks is a Dead Man", Renee Pillai, "Boy with Kite", Sean Malcolm, "Mother", Toy Styles, "Concrete Beach", and Walker McKnight, "Street Rat Allie Punches Her Ticket." [Updated: 09/08/2019]
6,000 submissions, 400 official selections, and 10 days later, the HollyShorts Film Festival has announced their top 36 prizes for their landmark 15th year. On Saturday at Harmony Gold in Hollywood, three of the festival's films officially became qualified to be in the running for an Academy AwardⓇ in 2020. This year marked the biggest prize packages for filmmakers as well, including prizes from Impossible Dream, Studio 21, Film Augusta, Seattle Film Summit, Buffalo 8, Stampede Ventures, Kodak, Panavision, PaperChase Films, ISA and more. [Updated: 08/30/2019]
Partner
Subscribe to
WinningScripts PRO
to put your loglines and script excerpts in front of hundreds of industry professionals. From MovieBytes.com, the Internet's #1 site for screenwriting contest info.
WinningScripts: ScriptLinks
When a fortressed plantation operated by free people in the Deep South comes under attack, two former foes work together to seek help from the North.
Author: Diana Black
Genre: Drama,Historical,Supernatural
When your guardian angel may be the Devil's "right-hand-man" and you're a nice guy who's wrongly accused and imprisoned for life, revenge is a compelling game plan.
Author: Diana Black
Genre: Drama,Thriller,Fantasy
Pilot: A group of benevolent Aliens risk exposure and their lives, to ensure the safety of a human cyborg, engineered for a future mission to help save Earth. Series: A teen cyborg engineered to develop a mind-altering Computer Game that could save the world, will have to battle a psychopathic CIA operative and a gang of alien marauders intent on enslaving humanity.
Author: Diana Black
Genre: Drama,Thriller,Sci-Fi
The Doors to God's Miracles are flung open wide for a young woman fighting fear transcending her into the Universe to return with supernatural powers, miracles and God speaks, with The Holy Spirit responding in her stead.
Author: Patricia Poulos
Genre: Fantasy,Family,Supernatural
The Devil wanders the cold, dark, concrete corridors of dripping black human residue contriving a plan to capture God's chosen-one, for only she, can re-ignite the flames of Hell.
Author: Patricia Poulos
Genre: Fantasy,Horror,Supernatural
A nurse jeopardises her family and career when a fight to save her hospital escalates into a war on discovering patients are being exterminated by predators that lurk the wards at night.
Author: Patricia Poulos
Genre: Drama,Thriller
Despite death-threats, a young businesswoman continues in her quest to save farmers' lives by making them interest-free loans, ignoring the risk to her own.
Author: Patricia Poulos
Genre: Drama,Thriller
A school-boy kicks a pebble along a magical beach when he's mesmerized by an apparition which materializes into the girl of his dreams.
Author: Patricia Poulos
Genre: Family,Romance
God chooses a young woman to be his Warrior but fails to warn her of the dangers.
Author: Patricia Poulos
Genre: Drama,Thriller,Fantasy
A 'white collar' criminal is shielded by government until a blonde bombshell in stainless steel unleashes the relentless tiger within and with razor-sharp toothed pen, sends him into oblivion.
Author: Patricia Poulos
Genre: Drama,Thriller
More WinningScripts ...