Updated: 02/14/2019
Scriptapalooza TV has announced their latest Pilot, Sitcom, One-Hour Drama and Reality Category winners.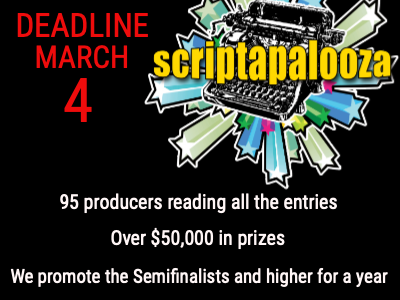 WinningScripts PRO
Spotlight
Script:
A burned out middle-age accountant and a young daredevil woman form an improbable alliance on a dangerous rescue-mission to Mexico. First Place, Screenplay Festival, 2017.
Screenwriting Contest News
CineStory has announced their 2019 Spec Drama, Spec Comedy, Original Drama and Original Comedy category winners. The first place winner of each division is now in the running for this year's TV Fellowship, which includes a $1,000 cash prize, free tuition and housing for this year's TV retreat, and a 12-month mentorship with 2 Hollywood professionals hand-picked to help the Fellow advance the Fellow's craft and career. [Updated: 02/14/2019]
TVWriter.com has announced the semifinalists for the 27th People's Pilot competition. Finalists will be announced in two weeks. [Updated: 02/13/2019]
The LAUNCH Million Dollar Screenplay Competition has announced it will accept global submissions for its second million-dollar screenplay competition from Friday, February 1st through Tuesday, April 30th, 2019. Once again, The LAUNCH will be looking for original screenplays with captivating stories, unique voices and honest emotion in any genre. The international competition is open to students over the age of 18 who are enrolled in an accredited two-year, four-year college/university or graduate program. [Updated: 02/11/2019]
The Austin Film Festival (AFF) and HUMANITAS have joined forces to launch the inaugural "HUMANITAS Originals Award". This joint initiative is a new addition to AFF's Script Competitions and is open to both feature screenplays and teleplay pilots that reflect the kinds of stories HUMANITAS has honored for over four decades. [Updated: 02/06/2019]
A Boy A Man and A Kite by Adam Matalon & Stephen Endelman, 2017 Scriptapalooza Shorts finalist, has been produced and will screen on 2/15/2019 at Regal Cinema LA Live. [Updated: 02/06/2019]
The Motion Picture Academy's Nicholl Fellowships in Screenwriting is now accepting submissions. Early deadline in March 7, 2019, with a $45 entry fee. [Updated: 02/05/2019]
Gorby and Ronnie Do Reykjavík, by Patrick Connely, has been named the overall winner of the TrackingB Screenwriting Competition. [Updated: 01/31/2019]
Fresh Voices has announced the quarterfinalists of the 2018-2019 Fresh Voices Screenwriting Competition. Semifinalists will be announced March 7th, 2019. [Updated: 01/31/2019]
Finalists have been announced in the original and spec categories of the CineStory TV Writing Competition. [Updated: 01/31/2019]
Grace by Night, by Nathan Leon, has been named the winner of the $15,000 Kairos Prize for Beginning Screenwriters. Mingo Road by Paul Cooper was the "pro" category winner among established filmmakers. The Kairos Prizes are presented annually by Movieguide, and award $15,000 to each winner whose work "greatly increases man's love or understanding of God." [Updated: 01/29/2019]
The HBO Access Writing Fellowship provides mentorship for up to 8 diverse, emerging storytellers. Following a one-week intensive of master classes, participants are immersed in 8 months of mentoring by HBO creative executives, as each participant develops a script suitable for HBO or Cinemax. [Updated: 01/28/2019]
Partner
Subscribe to
WinningScripts PRO
to put your loglines and script excerpts in front of hundreds of industry professionals. From MovieBytes.com, the Internet's #1 site for screenwriting contest info.
WinningScripts: ScriptLinks
It's not your mother's buddy movie. It's a combo meal. It's a little bit of Lethal Weapon, Die Hard, The Social Network with a side of Taken. Experienced FBI Agent hires and befriends an internet entrepreneur to help rescue a six year old girl taken hostage in a fall out shelter by a ruthless psychopath. Winner LA film fest Best scene 2017.
Author: Janet Caulfield
Genre: Drama,Thriller,Action-Adventure
*** Russian astronaut, thrown out of the space program, hijacks a space taxi going to the International Space Station. An intergalactic, time warp, adventure to the future.
Author: janet caulfield
Genre: Thriller,Action-Adventure,Sci-Fi
This one is pure Fun.!It's a genre buster, LA LA Land meets James Bond, meets All That Jazz and Cabaret! Asian American Black Belt goes undercover for the CIA, to help track down terrorists. Oh, and did I mention she's the Lead in a Broadway Musical? This is very musical, but there's a lot of action! This one is getting a lot of attention right now! The main Characters reside in New York, they are part of an international terrorist group.
Author: Janet Caulfield
Genre: Drama,Romantic Comedy,Thriller
Kids and their dogs, find the rainbow bridge in a snowstorm. They teleport, fly, zoom through tunnels, and levitate, around this heaven-like universe.They have a lot of fun, but get a few surprises along the way, from messages, and musical communication with angels and whales....to a run in with a demon. They meet up with their recently departed Grandfather, and his dog, who helps them return home.
Author: janet caulfield
Genre: Fantasy,Supernatural,Animation
A disgruntled Manager at the Unemployment office is having a really bad day. First there's the dirty Geese, then the slobs in the parking lot...and to top it off? One of his employee's is feeding them! It's a comedy expressso. A bold blend of "The Office and Seinfield with a shot of "How I met Your Mother."
Author: janet caulfield
Genre: Comedy
Locusts invade the building, the adherence schedules are off kilter, and one of the night managers is watching TV and preaching the word. Meet the staff of the Call Center where "the prisoners run the prison". But it's just a cup of coffee, for the merry go round of Managers in this wacky environment
Author: Janet Caulfield
Genre: Drama,Comedy
A Veteran FBI Agent outsmarts a cult of young cyber crooks. The crafty FBI Agent with the help of a New York Company that specializes in security services and equipment, tracks down, hunts and arrests a syndicate of interns working in these cities. It's MAD MEN meets CRIMINAL MINDS.
Author: Janet Caulfield
Genre: Drama,Comedy,Action-Adventure
When a troubled girl's visions of her high school classmates' murders start coming true, she suspects her father is the killer.
Author: Danny Howell
Genre: Horror,Supernatural
Paul, 15, makes a discovery that could be his ticket out of his oppressive life in southern Indiana, but taking it means leaving his younger brother behind.
Author: Danny Howell
Genre: Drama,Family
A pocket-sized alien prince travels to Earth to open relations, only to discover his cousin is plotting his assassination to steal the crown and achieve galactic domination, starting with Earth.
Author: Joe Borriello
Genre: Sci-Fi,Fantasy,Family
More WinningScripts ...