Updated: 08/16/2019
Winners and finalists have been announced for the August, 2019 Live Read/LA Screenwriting Competition. The reading will be held on Monday, August 26th, 2019, with Industry Insider Hannah Ozer, a Literary Manager with Kaplan/Perrone.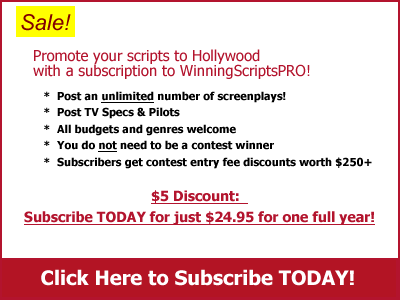 WinningScripts PRO
Spotlight
Script:
Fresh Voices Screenplay Competitition Grand Prize Winner: A small country town in middle America is plagued by a mysterious humming sound that only a percentage of residents can hear...
Screenwriting Contest News
Finalists have been annonced for the 2019 CineStory Feature Fellowship. [Updated: 08/19/2019]
Matt Raner has been named the overall winner of the TrackingB TV Pilot Competition. The script, titled Hechicera is about a former FBI agent who lives a lonely life in a small Arizona town, until three cartel killers come hunting for an innocent immigrant girl hiding an unbelievable secret. [Updated: 08/19/2019]
Scriptapalooza has announced the top 30 finalists for their 2019 Screenplay Competition. [Updated: 08/16/2019]
Semifinalists have been announced for the 2019 Scriptapalooza Screenwriting Competition. [Updated: 08/06/2019]
Quarterfinalists have been announced for the 2019 Scriptapalooza Screenwriting Competition. [Updated: 08/03/2019]
Twelve writers have been selected to participate in the 2019 Writers Lab retreat to be held October 2-6, 2019 at the Guest House Retreat Center in Chester, CT. [Updated: 08/01/2019]
Scriptapalooza has the named six finalists from among 521 submissions to 2019 Scriptapalooza Fellowship Competition. [Updated: 07/29/2019]
The PAGE International Screenwriting Awards has announced their 2019 Quarterfinalists, representing the top 10% of all entries in this year's contest. [Updated: 07/22/2019]
In the lead up to Write/LA's Final Deadline on July 15, the competition has announced two more Industry Insiders who have agreed to each read a finalist script and provide written feedback to the writer. [Updated: 07/10/2019]
Partner
Subscribe to
WinningScripts PRO
to put your loglines and script excerpts in front of hundreds of industry professionals. From MovieBytes.com, the Internet's #1 site for screenwriting contest info.
WinningScripts: ScriptLinks
When a wealthy businessman and a waitress (each with an eight year old daughter) get married, they think they have the perfect family-unaware that their two darling angels are actually little menaces.
Author: Mandy Gales
Genre: Comedy,Family
A cautious investigator is none the less drawn in, along with four other heirs, by the reading of a billionaire rare book dealer's will, they're sealed in an airtight panic room, and with only four hours air, must solve the centuries-old mystery contained in the book 'The Castilian Cypher' in order to escape.
Author: Russell Meyer
Genre: Drama,Thriller
Rose Ferguson just wants the family back she's never known. Unbeknownst to Rose, an ancient evil, that everyone fears, has made sure that reunion will never take place. When all seems lost, the one thing she always sought might be her only saving grace.
Author: Dallas Gibson
Genre: Thriller,Sci-Fi,Fantasy
A wanna-be cop inherits the family business of body disposal for the mob but when she accidently gets rid of the wrong body, she's in danger when the mob wants the dead dude back.
Author: Patty Wilson
Genre: Comedy,Thriller
A college-age fast food manager's virginity makes him a target of a cult of "living meat" eaters masquerading as workers. If one if them tricks him into eating the
Author: Danny Howell
Genre: Comedy,Romantic Comedy,Horror
When a troubled girl's visions of her classmates' murders start coming true, she suspects her father is the killer.
Author: Danny Howell
Genre: Horror,Supernatural
A reclusive writer finds new lust for life when a friendly alien sends him on a dizzying journey through alternate realities.
Author: Joe Borriello
Genre: Action-Adventure,Sci-Fi,Fantasy
This one is pure Fun.!It's a genre buster, LA LA Land meets James Bond, meets All That Jazz and Cabaret! Asian American Black Belt goes undercover for the CIA, to help track down terrorists. Oh, and did I mention she's the Lead in a Broadway Musical? This is very musical, but there's a lot of action! This one is getting a lot of attention right now! The main Characters reside in New York, they are part of an international terrorist group.
Author: Janet Caulfield
Genre: Drama,Romantic Comedy,Thriller
It's not your mother's buddy movie. It's a combo meal. It's a little bit of Lethal Weapon, Die Hard, The Social Network with a side of Taken. Experienced FBI Agent hires and befriends an internet entrepreneur to help rescue a six year old girl taken hostage in a fall out shelter by a ruthless psychopath. Winner LA film fest Best scene 2017.
Author: Janet Caulfield
Genre: Drama,Thriller,Action-Adventure
Locusts invade the building, the adherence schedules are off kilter, and one of the night managers is watching TV and preaching the word. Meet the staff of the Call Center where "the prisoners run the prison". But it's just a cup of coffee, for the merry go round of Managers in this wacky environment
Author: Janet Caulfield
Genre: Drama,Comedy
More WinningScripts ...