Updated: 04/12/2019
Women reigned victorious at the 2018-19 Fresh Voices Screenplay Competition this week with an all-star group of talented female writers dominating both the Drama and Family Film Categories. Leading them all, it was Skye Emerson's historical drama, CHALLENGER, that wowed the jury and took home the Grand Prize Award.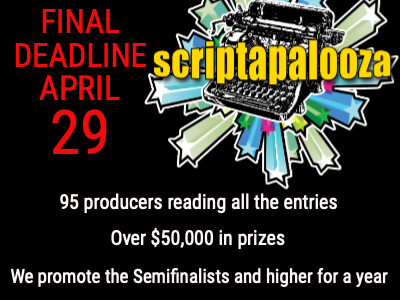 WinningScripts PRO
Spotlight
Script:
An FBI Agent wakes up with no memories in a post-apocalyptic New York City after an unknown catastrophe has annihilated all life on earth. Second Place, Screenplay Festival, 2018.
Screenwriting Contest News
ScreenCraft has announced the quarterfinalists from among roughly 2,500 submissions to their 2019 ScreenCraft Fellowship Competition. [Updated: 04/11/2019]
Fresh Voices Screenplay Competition has named their 2018-19 Contest Finalists and Spotlight Award Nominees. [Updated: 04/01/2019]
A newly launched division of the Scriptapalooza Screenwriting Competition is now producing films utilizing the organization's relationships to attach funds and talent. [Updated: 03/27/2019]
The BlueCat Screenwriting Competition has announced quarterfinalists for their 2019 Feature, Short, and TV pilot contests. [Updated: 03/26/2019]
Austin Film Festival and Rooster Teeth are partnering to launch the Inaugural "Rooster Teeth Fellowship Award" to be presented at the 26th Annual Austin Film Festival. This new award will be available in conjunction with AFF's existing Script Competitions and is open to all scripted submissions that embody the Rooster Teeth genre. [Updated: 03/19/2019]
Scriptation, the company behind the popular script app used on film and television productions worldwide, opened the call for submissions for its new screenwriting competition, the Scriptation Showcase. Fifteen winners' scripts will be featured for a full year in Scriptation, giving them unprecedented exposure to Hollywood professionals. [Updated: 03/12/2019]
Semifinalists have been announced for the 2018-19 Fresh Voices Screenwriting Competition. [Updated: 03/07/2019]
THE BOOK OF JOEY by Steven Block has been named the TVWriter.com People's Pilot Comedy category winner, while THE FUCKING NEW GUYS by Meredith Bagby took top honors in the Drama/Action category. [Updated: 03/06/2019]
CineStory Co-Executive Director Carlo Martinelli catches up with the 2018 CineStory Fellowship second place winner, Avishai Weinberger. [Updated: 03/05/2019]
The People's Pilot television writing contest, from TVWriter.com, has announced the finalists of their 27th competition. [Updated: 02/27/2019]
Partner
allows you to rewrite and resubmit for free!
We offer 6+ pages of script development notes to improve your drafts and have 35+ top Film & TV Mentors who will read, meet & guide our winners! Huge industry access to all entrants. enter today!
www.finishlinescriptcomp.com
Partner
Subscribe to
WinningScripts PRO
to put your loglines and script excerpts in front of hundreds of industry professionals. From MovieBytes.com, the Internet's #1 site for screenwriting contest info.
WinningScripts: ScriptLinks
Captained by a former death-row inmate, security in the shaky hands of a lush, spiritual guidance by a pastor who loves riddles, with passengers including a murderous boxer, a self-deluded and corrupt martial artist, madcap teenagers and a ferocious would-be serial killer — come on board for the cruise of a lifetime.
Author: Con Kringas
Genre: Thriller,Family
A broken family moves from Los Angeles to a small Colorado town with hopes of a fresh start, but they meet a neighbor so obsessed with claiming top prize at the annual Harvest Festival, he'll stop at nothing to win.
Author: Justin Hurt
Genre: Drama,Thriller,Horror
When a platoon of Marines burn a shack built from human bones to the ground, they will have till sunrise to rebuild the house or die gruesome deaths from a witches curse.
Author: Mike W. Rogers
Genre: Horror
GENRES: Thriller, Crime "Bones" meets "The Following" Pilot Log Line: A woman is forced to reconcile for the negligent deaths of two girls or die at the hands of a mysterious male voice over a prepaid phone and his chipper, pixie helper. Season One Log Line: After surviving a self-inflicted mutilation, the first victim of enigmatic serial killer, searches for allies, while flirting a *dangerous liaison with her attacker.
Author: Mike W. Rogers
Genre: Thriller,Horror
A young girl has an adventurous day when her happy hamster drinks her special juice and grows to be six feet tall!
Author: Kwiintiinaa Kimberly Williams
Genre: Comedy,Sci-Fi,Family
When an orphaned girl is adopted by her low-life aunt and uncle, they drive to a drug deal with a young couple and get stranded on a supernatural farm where they begin to turn on each other.
Author: Joe Borriello
Genre: Drama,Horror,Supernatural
When the lost love of her life tracks her down, a reclusive bar owner must face up to the mistakes of her past. The dangers are far greater than she knows as she must find the strength to take back control of her life from those closest to her.
Author: Brian Whiteman
Genre: Thriller
Trapped in an isolated snow-bound lodging, two couples discover a pair of private detectives attempting to expose their infidelities. The situation is complicated by the mysterious death of one of the detectives.
Author: Brian Whiteman
Genre: Thriller
When a student with the power of astral projection is blamed for the death of a female research scientist, a pharmaceuticals maker offers him refuge but ultimately looks to manipulate his abilities for his own gain.
Author: Mike W. Rogers
Genre: Thriller
An ex-Playboy Bunny kidnaps her two sons from school that she lost custody of to her parents for being deemed an unfit single mother by the Dept. of Social Services because she openly expresses her sexual freedom. They hitchhike from California to Florida to avoid capture at every stop on the way by a detective determined to apprehend them before they reach the Bahamas.
Author: Corey Lee Wilson
Genre: Action-Adventure
More WinningScripts ...