Updated: 05/01/2015
Ron Peer's When Flesh Burns has been named the First Quarter Winner of the Breaking Walls Thriller Screenplay Competition.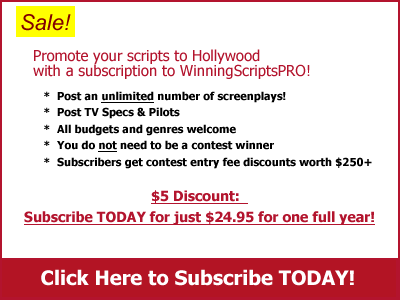 MovieBytes News
The Nashville film Festival has announced the winners of the 2015 Screenwriting Competition. The competition garnered more than 1,350 submissions from all over the world. Finalists and semi-finalists won all-festival passes to attend the festival, network with filmmakers and industry, and attend educational panels and presentations. [Updated: 04/25/2015]
Watch the TV Pilot and 2 TV Spec Screenplay winner for April 2015. Entire scripts performed by professional actors. [Updated: 04/20/2015]
Watch the winning readings performed by professional actors. [Updated: 04/20/2015]
David Schroeder's Halfway Home has been named the Feature Screenplay Winner of the 2014 Marquee Lights Screenwriting Competition. Boss Girl by Stephen M. Hunt & Peter Mackie was the TV Pilot Winner, and The Importance of Sex Education by L. Elizabeth Powers won the Short Screenplay Contest. [Updated: 04/20/2015]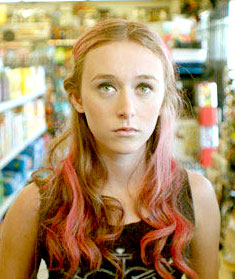 The 2010 PAGE Bronze Prize-winning indie drama SCOUT, written and directed by Laurie Weltz, is slated to premiere on Saturday, April 25, at 8 p.m. at the Newport Beach Film Festival. The movie stars India Ennenga, James Frecheville, Nikki Reed, Tim Guinee, Ellen Burstyn and Danny Glover. [Updated: 04/17/2015]
Mouth by Kimi Howl Lee has been named the $15,000 Feature Length Grand Prize Winner of the 2015 BlueCat Screenwriting Competition. [Updated: 04/16/2015]
The Fresh Voices Screenwriting Competition has named Chris Bowen's Science Fiction entry Travis 6 as their Grand Prize Winner for 2014-15. [Updated: 04/14/2015]
WILDSound has named The Third Bomb, by Phillip Parker, as Feature Screenplay Contest winner for April. [Updated: 04/14/2015]
Six Months of Wonder Woman by Kitty Percy has been named BlueCat $10,000 Short Script Competition winner for 2015. [Updated: 04/09/2015]
WILDsound Festival has announced its April Short Screenplay Winners. [Updated: 04/09/2015]
Partner
Subscribe to
WinningScripts PRO
to put your loglines and script excerpts in front of hundreds of industry professionals. From MovieBytes.com, the Internet's #1 site for screenwriting contest info.
WinningScripts: ScriptLinks
Doogle wants to date Rose but must cope with a troublesome brother's girlfriend, a bingo obsessed mom and crazy characters at the local bingo hall.
Author: john parker
Genre: Comedy,Romantic Comedy
A Mohawk shaman summons Mitchell into a magical parallel dimension that shares the same polluted sky and sends him on a mission to solve global warming.
Author: Jamie Sutliff
Genre: Fantasy,Animation
A professor's obsession with the German philosopher Heidegger leads him on a personal journey into the evils of the Holocaust and into his own fears and compels him to revisit the loves and losses of his life, while struggling to reconcile the brilliance of Heidegger's philosophy with his blind Nazi sympathies.
Author: Jeffrey van Davis
Genre: Drama
A bumbling, arrogant actor becomes the last resort to disrupt a vindictive mafioso's ingenious plot to heist gold from an Italian convent through an ancient Roman aqueduct. (Screenplay Festival finalist - COMEDY)
Author: Jim Corona
Genre: Comedy,Action-Adventure
*** It's INTERSTELLAR collides with GRAVITY, and NON STOP *** Russian astronaut, thrown out of the space program, hijacks a space taxi going to the International Space Station. An intergalactic, Dangerous Liaisons, time warp, adventure to the future. *** It's INTERSTELLAR collides with GRAVITY, and NON-STOP.
Author: janet caulfield
Genre: Thriller,Action-Adventure,Sci-Fi
A young woman infiltrates a community of armed, anti-government sovereign citizens in a desperate attempt to free her son who's been taken hostage by the group's leader, a self-proclaimed prophet
Author: Craig Peters
Genre: Drama,Thriller
When a desperate mother sets out to find help for her dying son, she's taken hostage by a troubled teen on the run.
Author: Robert Mcbride
Genre: Drama,Thriller,Action-Adventure
During the French Revolution, a rich, powerful aristocrat murders Andre Moreau's best friend in cold blood. Andre vows revenge, but the King's laws protect the aristocrat. Andre's only weapons are his courage, his sword, and his dangerous gift of eloquence.
Author: Joel Turtel & Julie Paupe
Genre: Drama,Action-Adventure,Historical
Part 4 Elves series - smart teens sabotage a nuclear missile in N. Korea
Author: Jamie Sutliff
Genre: Comedy,Family,Animation
A mentally challenged teen uses a gun to escape a troubled home.
Author: Jamie Sutliff
Genre: Drama
More WinningScripts ...